Girls are not the only ones who feel special when they wake up to a good morning text from their lover. Guys are always expected to be the one giving all of the love and affection to his girlfriend or wife, but sometimes, he needs just as much love to help him wake up and start his day in a good mood. Try to switch things up and what better way to do that than by sending your boyfriend some flirty, cute text messages to help him start his morning feeling loved and appreciated.
No matter how long or short, how funny or romantic, one text message can set the mood for his whole day! A good morning text is the best way to show him that you care about him and that he was on your mind this morning. Don't be afraid to show him the same love and affection you crave. Just one text can create a sense of romance in the air for both your boyfriend and yourself.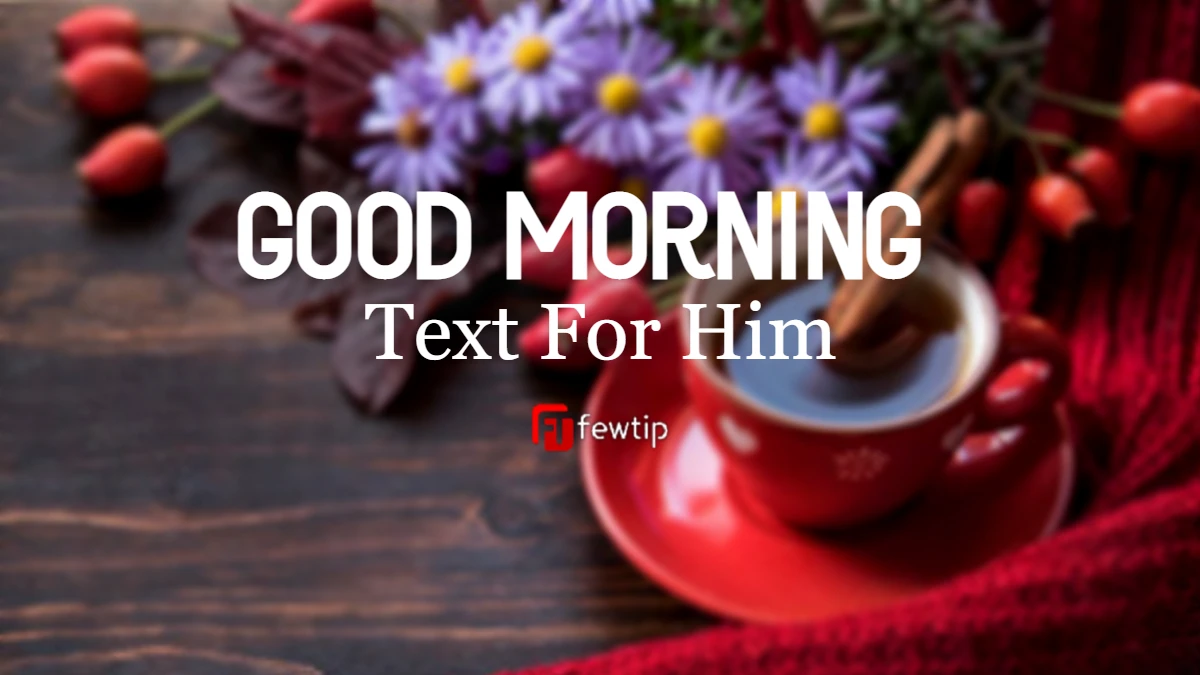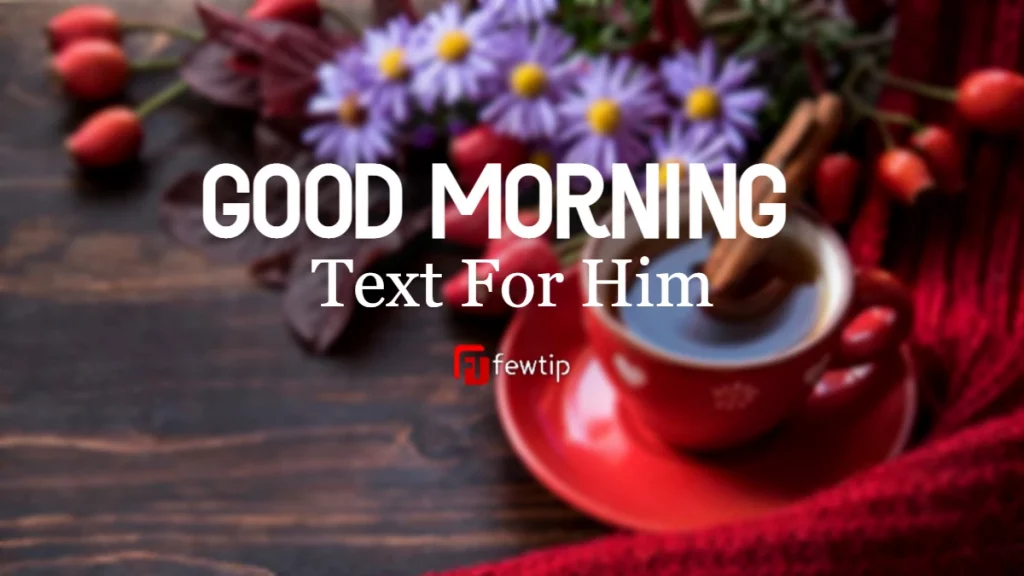 Good morning text to make him fall in love can be a great way to keep the romance alive with your boyfriend or husband. If you have been looking for a good morning text to send to your man, then here are several texts that you will find useful.
Good Morning Text To Make Him Fall In Love
1. You are awesome; the moment we have spent together has been memorable. Sweetheart, I can't ignore this magical love. It feels great being in love with someone so handsome, kind, and loving.
2. Good morning, beautiful! Open those pretty blue/brown eyes I love to swim in! I hope your day is as nice as your butt! Good morning, sweetie!
3. I want you to be the first person I see when I wake in the morning. I miss your handsomeness. Good morning honey.
4. My hero, you are the ocean and I am the beach. We are created to be together. I want to spend every moment of my life with you. Good morning dear!
5. You are my everything, and I am hopelessly in love with you. You make my heart dance and skip a beat with everything that you say and do. I'm falling for you so fast. I am glad that you completely and utterly adore me because I would be lost without you.
6. Loving you has been such an incredible journey. Loving you has taken me to places I can't even dream of. My sweetheart, loving you has made my imagination and daydreams a reality.
7. Good morning, partner. I never knew one person could turn me into such a troublemaker. I have some new ideas later; we'll get in a lot of trouble.
8. You have been so awesome; the way you cuddle and kiss me is what I want right now. These little moments with you are a blessing to my soul, I want more of your sweetheart.
9. Can you feel the love I have for you? It is enough to make even the most hopeless of people believe the very best. I look forward to every time that I can see your face and hear your voice.
10. Good morning baby, I love you… I just wanted to say that I'm missing you so much. Even though we're together morning and night, it's just the right time to let you know how empty my life was until you came into my life. Now, with every passing day, I want to spend more time with you.
Good Morning Message To Make Him Fall In Love
11. I'm sending enough hugs and kisses for you this morning, just to wish you a very good morning and also to have a day as wonderful as you are.
12. I had a wonderful dream at night. An angel was speaking to me in the dream. I woke up with your thought and remembered you were the angel I saw in the dream. Good morning my king.
13. Even though I want you right now… bad… I'm willing to wait to see you tonight. I love you, sleepyhead! I know you're looking extra sexy with the bedhead hair! Good morning!
14. I love the way you make me feel. I have never felt this way before, I never want you to stop loving me. You drive me wild when I am with you. I love you, babe.
15. I'm thinking about you this morning. I miss you so much and can't wait for us to be together again. You're my boyfriend and best friend. Good morning handsome, and I miss you so much.
16. Every day I love you more and more, that's why I want to be close to you. My life has totally changed since you came into my life; it has never been this better. I love you.
17. I hope I have a spot on your busy to-do list today! I hope your morning workout doesn't have you as sweaty as you were last night. Good morning and stay hydrated!
18. Good morning to the man who makes my days perfect and my nights peaceful. I can't wait to be in your loving arms again. The air is warm and the sun is shining. Take my love with you today to make it wonderful.
19. I am not a person who would write love letters for no reason. I am busy and sometimes lazy, but when I love someone, then I am ready to go to the end of the world for him.
20. My Love, I want to let you know that there is no single day or night that I do not dream about you. Every moment of my life you are in my thoughts. It is you that I want and it is you that my heart longs for every day. I love you.
Good Morning Texts To Make Him Want You
21. Even if you're miles away from me, I want to let you know that you are always there in my heart. I miss you so much. Good morning my sweet prince.
22. It is going to be a great day, my love because I feel so loved. I know this because you are in my life, which is proof that God loves me.
23. My world stands still, waiting on your love. My world revolves around you, my love. Being with you is a wild, wild ride. I love you, my sweetness.
24. I love you. I can't stand it anymore because I am so in love with you. My prince, I knew that you were the one for me from the moment we met, but I didn't realize that it would happen so quickly or so intensely.
25. Good morning, handsome. I'm sending you big kisses and lots of snuggles. I love you, and I hope you have the best day. You deserve it.
26. You light up every single day of mine with the sparkles of your love. I am so happy to have you as my man. Good morning, Love.
27. Babe, I know you woke up this morning at 6:59 am to see that you still had one minute of sleep left and went back to sleep. You can never miss out on any amount of sleep! Lol. I still love you, though!
28. Every day with you my love is an addition to my life's happy memories. I am lost in your love, you are my paradise and it's where I would love to be forever.
29. You are the one that I fall in love with every day. The one who I get to spend mine with forever and ever. The one that will be right next to me each morning. I love you.
30. I love the way you kiss me: the world just fades away until there is only you and I. My love for you will last till the end of time.
Good Morning Texts To Make Him Fall In Love
31. I'm going to have a good time in the shower this morning thinking about what we were doing last night! I love you! Good morning, sexy!
32. I need you in my life. You make me feel so special, so good, and can't have enough of your hugs and kisses. I am crazy about you and addicted to your love.
33. I hope you had a good rest. Remember, you are loved and never alone. My heart longs for you and skips a beat every time it thinks about your touch. Come back to me safely and finish the day strong.
34. Every moment spent with you is a time filled with cherished memories. You complete me, you compliment me, you satisfy me. It is no wonder that I love you so much. I pray these memorable memories will last forever, my love.
35. Every morning when you kiss me and tell me how much you love me, I feel complete. You make me happier than I've ever been, and I don't want to live one day without you.
36. I am happy about the day I met you. You're the true definition of happiness. I want to let you know that your smile is all I want to have a great day. Good morning baby boy.
37. I made you breakfast in bed. But I forgot we live in two different places. So now I'm eating your breakfast in bed at work! Good morning my king!
38. I love you so much, baby; I love you more than anything. Please don't give up on me. With you, I feel safe and secure. I really hope that we never lose it, because nothing makes me happier than being with you. Good morning my baby boy!
39. I fall deeper and deeper in love with you every morning when I wake up. You make me so happy– have a great morning and a great day dearie.
40. I miss you so much already. I need you to hold me close and let me know that everything is okay. When I feel alone or broken, your arms are the only place I feel safe. This is why you are so important to me. I love you! Good morning my love!
Good Morning Text To Make Him Want You
41. The first time I saw you was the beginning of an experience so amazing, I am still breathless. My love, my heart, I am yours forever. Without you, there is no me.
42. I love that we get to pray together every morning. You are not only proof that God is good, but also proof that God loves me so much for blessing me with you.
43. Can you feel me close to you, hear my heartbeat, let's seize the moment and go far away together. Make the moment memorable. I long for your love.
44. I love you so much. You are a piece of me that I can't live without. I am so glad we found each other; I don't know where I would be without your love. Good morning my sweetie pie!
45. I feel so lucky to have you in my life! I may not be near you to wish this morning But my thoughts are with you forever! Good morning my sweetheart!
46. Your morning kisses and hugs speak more than a thousand words and express a lot of love for me. They melt my heart. Good Morning sweetest boyfriend.
47. The secret to my success is you, my love. You are my good luck, my support, my strength, and my heartbeat. With you nothing in this world is impossible. Your love is amazing. I love you.
48. Good morning, babe. I just got dressed, but I can't wait for tonight when you're making all these clothes off of me! Have a great day.
49. I hope you know how sweet it feels to wake up every morning knowing that you are mine and I am yours? My dear, it is magical. Good morning my love!
50. We are apart geographically but our hearts are close to each other. A thousand miles cannot keep us apart. Our love will grow stronger with each passing day. Good morning my prince charming.
Good Morning Text To Make Him Think About You
51. Babe, I know you check your phone every morning, so… Here I am for you to think about me! Just kidding! Sort of… I love you and good morning!
52. You are the only man I ever want in my life. You make me feel whole and you are the perfect man for me, I love the way you treat me like a princess and I love you with all my heart.
53. Morning honey, waking up without you is not the same. But it definitely makes me realize more and more that I can't live without you.
54. We are right here, right now, and nothing can stop us. Our love makes us invincible, and no one can touch us. Let us seize this moment and run away together, and make these moments last forever.
55. Hello, my love. I'm sending you hugs and kisses to show you how wonderful I think you are. Your hugs make me feel safe and warm. I want you to have a blissful morning filled with lots of love and happiness.
56. It doesn't matter whether I drink tea or coffee. I will always feel the same as long as you are in my thoughts. Good morning sweetheart!
57. Good morning. I am so proud of you, honey. I know you are going to do well today. You are my best friend and I love that I get to encourage you this morning.
58. Loving you can never be wrong. Even if it is, I will love you until it becomes right. My love and my good luck charm, with you I can only succeed. Good morning dear, I love you.
59. The morning is bright and full of hope because I know God has a beautiful plan for you today. It is going to be a great day, my love.
60. Morning love, I can't stop thinking about how much of an incredible human being you are each morning and every minute of every day. You are strong and brave and can do anything you put your mind to. Jesus loves you, babe. It's going to be an amazing day.
Good Morning Texts To Make Him Miss You
61. Morning darling, long good morning messages for him cannot compare to how much I miss him so much. Who am I talking about? The one who I think of every morning, you.
62. Good morning, my love. I hope you had a restful night and are ready to take on the day. This warm sunrise brings me a special message of hope for you. It is only the start of many special days filled with happiness.
63. Enjoy this sunny morning to the fullest! May every morning bring a bright smile on your face and positivity in your life! I just want to come over, hug you tight, and kiss you good morning.
64. Good morning handsome, how was your night? I'm happy to have such a cute and loving man in my life. Life is too short, and I don't want to miss a single moment to tell you how much you mean to me.
65. A good morning would involve you having me for breakfast… but since I'm not there, my text message will have to do. Good morning my prince charming.
66. My Love, when I see you, my heart feels very happy. You have changed the way I think and feel since I met you. Your words and eyes are the light of my life. You have taken me places I never imagined I would be. My world is ever waiting for your love. I love you.
67. Morning sunshine, the sun is a reminder that it is a new day. It is also a reminder that I am here for you because I love you so much.
68. As I wake up this morning, I am sad you are not here with me. But it makes me look forward to the day we get to be together. I miss you so much and hope you have a wonderful day, honey.
69. When I see you, my love, my heart leaps for joy. You are my light and my happiness. My thoughts and dreams have changed since I met you. You make me want to be better, to be more deserving of your love.
70. I always wake up to the best morning of my life because I'm happy that you are in my life. My love will last forever; my love can withstand anything. I want to hold your hand as we walk through life together till the end.
71. Sleeping in your arms is the best feeling in the world. I did a little bit when I couldn't feel you next to me. I wish you're having a great morning and miss me too, because I do so much.
72. Your love makes me feel awesome in the morning and keeps me alive for the next day. Please accept my heartfelt Good morning message to you.
73. I know you woke up wondering why you still aren't a millionaire. But you should feel like a million bucks! You got me! Lol. Just kidding! Maybe… Have a good day, my love.