It's never too early for a smile. Sure, if you are not the morning kind, we'll let you have a sip of that coffee, then another, then finish off the whole cup, but then what reason do you have not to start the day off with a smile?
One of the best things in life is when you start your day with a smile on your face. You can easily put a smile on the face of those close to you. It can be your wife, girlfriend, boyfriend or friends.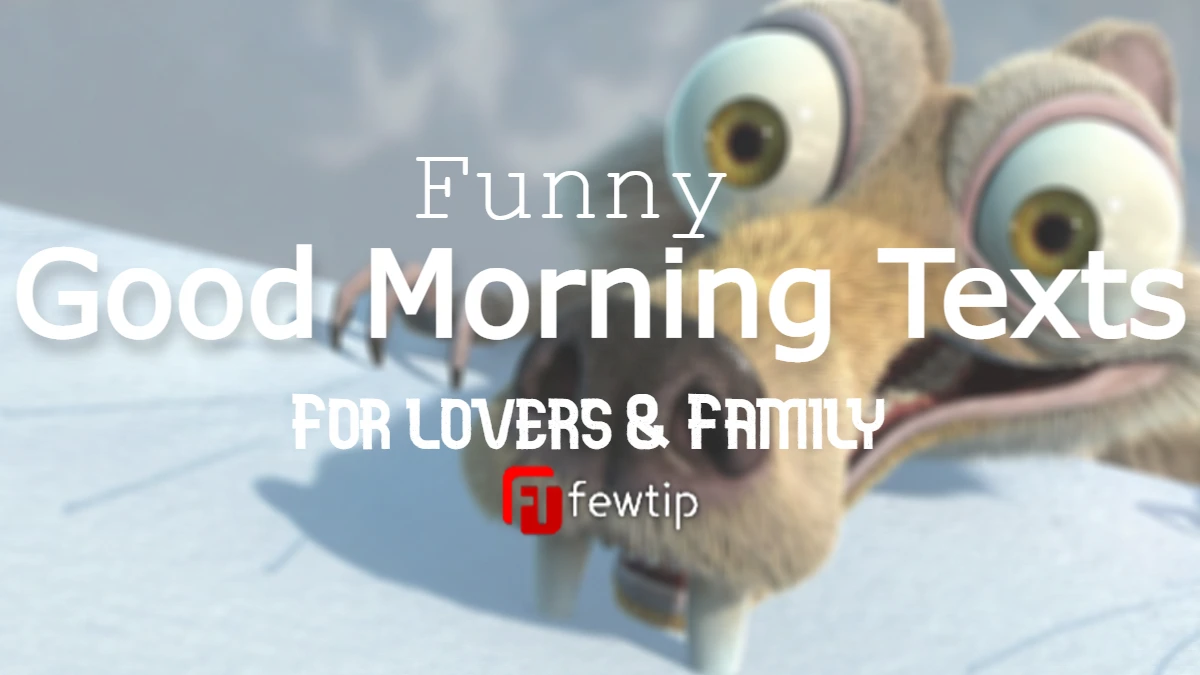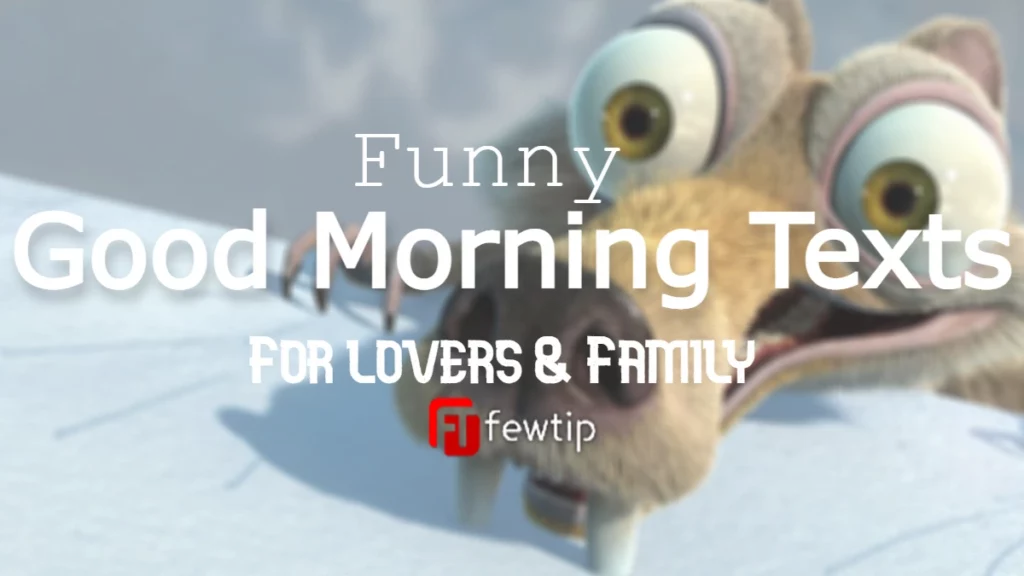 There are days you want to text that funny good morning wishes but cannot find the perfect words to use. These funny good texts will inspire you to find your own wording. Put a smile on their face early in the morning with these funny good morning texts.
Funny Good Morning Texts For Crush
1. I like my bed more than I like most people, especially in the morning. Except for you, maybe, I like you almost just as much as my bed.
2. Remember to take your time when getting off the bed. That's a trouble queens have to endure. Sorry, and good morning, my darling.
3. I always give my 100% while at work: 10% on Monday, 25% on Tuesday, 35% on Wednesday, 25% on Thursday, and 5% on Friday. What about you?
4. They said you only ask "How was your night?" when you did adult things the previous night. So how was yours? Good morning, baby.
5. Life is a book and each morning begins a new page. The first words on this page should be: Good morning, beautiful!
6. Do you want breakfast in bed? If yes, it's not possible today, because I'm already at work. Good morning, honey.
7. The night is gone and the stars are too. Clouds are out in the sky so blue. Here's a wish for my love so true. Good morning! And I love you.
8. A yawn is a silent scream for coffee. Have you gotten your fix yet? Good morning to you! And stop screaming.
9. If you did not see me as the first thing after you woke up, I'll advise you to sleep again. Good morning, darling.
10. Every sunrise gives me a new day to love you! Good morning, sweetheart. Hope you have an amazing day!
Funny Good Morning Texts
11. Don't you just hate that part of every morning when you have to get out of your bed and take part in real life? Me too, brother, me too.
12. Every morning gives me a reason to think logically so I can know who shines more, you or the sun. Good morning, baby.
13. From morning's first light to evening's last star, always remember how special you are! Good Morning!
14. Good morning! I am starting this new thing when I drink coffee out of clear mugs in the morning. That way people know where my tolerance level is.
15. A million mornings will come, but none will be as sweet as today's, because I woke up to see you. Good morning, heart.
16. Today I woke up with a horrible realization that it is not Friday, and tomorrow is not Friday either. What is even worse is that the day after tomorrow is also not Friday.
17. Good morning to the one who just earned one more day to have the privilege of spending time with me. I love you.
18. Good Morning, sweetheart! When I wake up, my first thought is of how you feel, then I get you a cup of coffee, put it down, and back away, slowly!
19. I and mornings do not see eye to eye, mostly because I just do not want to open mine. Every morning is special and you will not get them again. Good morning my dear!
20. Don't get me wrong, I'm a huge fan of the morning. It's just that it comes at such an inconvenient time of day.
Funny Good Morning Texts For Her
21. There are 2 kinds of people in this world: 1) morning people 2) people who want to shoot morning people.
22. I woke up to send a good morning text and now I'm planning to go back to bed again. I hope you will wake up to a reply from you. Good morning.
23. Roses are red, violets are blue, make sure you're on time to pick the kids up from school.
24. Good morning, dear. I know you have so many goals to start the day with. Rising early is not one of them.
25. My love, seeing you in the morning is really something! Something good or something bad? I will leave that up to you!
26. Why do they call it beauty sleep, when you wake up looking like a troll!
27. I was going to make breakfast but the alarm rang. Looks like I'll have cereal today!
28. I don't like the morning, because it starts when I'm still asleep and dreaming of you.
29. I want to kiss you, lick you, bite you, and make sure I eat every bit of you. My sweet buffalo. I really miss it. Good morning.
30. Good morning my beautiful damsel! It's raining outside, but lucky for me you shine brighter than the sun.
Funny Good Morning Texts For Him
31. Smile right when you wake up because soon enough, you'll realize it's not a weekend yet. Good morning my baby!
32. As the day begins, remember that I am your best friend…you're welcome!
33. Getting up early is the first sleep in the wrong direction! Good morning my Love!
34. Life is a 24-hour party! I've got my lipstick on and everything. And then the alarm rings … Good Morning!
35. Good morning. Have a cup of coffee and start your engines because there's still a long way before you reach the weekend.
36. Good Morning, lazy! May this day be full of productivity…from someone else! Obviously, not you!
37. The sun is up, the sky is blue, today is beautiful and so are you.
38. Sending a good morning message to someone who will wake up at noon and see this text in the afternoon. I hope you're having a fantastic day!
39. The brain is a wonderful organ; it starts working the moment you get up in the morning and does not stop until you get into the office. Good morning.
40. Hey, My night has been enjoyable. As you were sleeping so peacefully, I was on the battlefield fighting all the mosquitoes in my room and I am glad that I won. Good morning.
Funny Good Morning Texts For Your Crush
41. The best part of waking up is Folgers in my cup. The next best part is you. Just Kidding, you're my number one.
42. The morning sun is calling me. I just decided to answer another day. Good morning!
43. Good Morning! Parting from your best friend can be difficult… but I am sure you will go back to bed, in no time!
44. Always harbor positivity in your mind because you will never find it in the real world. Good morning. Have a great day!
45. This morning, remember that you have my love! Remember this throughout your commute and workday! It will keep you out of jail!
46. I'm pretty sure my pillow hates you because I want to trade it in for you! Good morning! Your sweet teddy bear misses you, I can't wait to see you.
47. I had everything I could ever want in life … then the alarm rings. Hello, world! Good Morning!
48. I may be drunk, Miss, but in the morning I will be sober and you will still be ugly.
49. Wanna make a good morning even better? Then come spend it with me. Today's a good day, the only thing that would make it better is you… and donuts.
50. Sending you a good morning message in the wake of the day and hoping it's not the only GOOD you see today
Funny Ways To Say Good Morning Over Text
51. Every morning is a blessing only if you don't have an alarm clock by your bed. With an alarm clock, it's a curse. Good morning!
52. My love, before you awaken, I think about how lucky I am. You are kind of a nightmare, in the morning!
53. To my Friend: Every morning, I think about how beautiful you are! It distracts me from your breath!
54. People often tell me to be more of a morning person. I could only achieve this if the day started later in the afternoon! Good Morning!
55. My bed and I have a special relationship, we're perfect for each other. But my alarm clock just hates seeing us together.
56. You don't look too good in the morning; I guess that's why you prefer to sleep through it. Wishing you a good morning so you'll actually wake up looking special.
57. Good morning! If you think you didn't have enough sleep last night, don't worry, you still have your chance to take some mid-day naps later.
58. Good Morning, to the special person in my life! You let me eat breakfast, silently. You really get me!
59. If you wake up to meet me every morning, I guess I'll never go to work again. Good morning, darling.
60. I know it's hard to get out of bed when you never really slept, but everyone needs me at work. I'll try my best for them! Good Morning!.
Funny Good Morning Texts To Friends
61. Sending the person who puts up with me, every day, a Good Morning message! May this morning find you even more patient than the last!
62. I was about to say 'shut up and go to sleep' to all the early risers, but it's not socially acceptable. So, good morning!
63. Good Morning, love! I wanted to convince you that you are a joy to be around, early in the day. I wanted to, but you can always tell when I'm lying!
64. I was the richest person in the world, and then it happened. The alarm bell rang. Good morning!
65. Good Morning to the person who annoys me least! Here is to another day of tolerance!
66. Wake up, my love. Flowers, smiles, and laughter are waiting for you. Good morning, Love.
67. I can't believe you did it again! You have me all to yourself for another day. I'm so excited, I'm going to make sure we both enjoy every minute of our time together today.
68. Sometimes people want to have a full conversation really early in the morning and it's okay to kill those people.
69. I love you as much as I love my morning coffee… almost. lol
70. The saddest part of the morning is waking up realizing it's not a holiday. Gonna spend the whole day with the same old routine. Good morning!