Sending your partner goodnight paragraphs is really a romantic thing. Romantic good night paragraphs will make you both closer to each other. It will make him fall for your charms and grow the love between you both.
Saying "good night" is a courtesy, like saying "good morning." Say it out of respect. The meaning can go well beyond wishing him a wonderful and well-deserved sleep. It can imply "You're the last person I have in mind before I doze off to sleep." It's a nice way to end the day and to let him know you care.
When you have someone you call your boyfriend, expressing your love for him is very important and sending him some good night texts is a good way to do that. Good night paragraphs for him helps you remind him of how much he means to you before he sleeps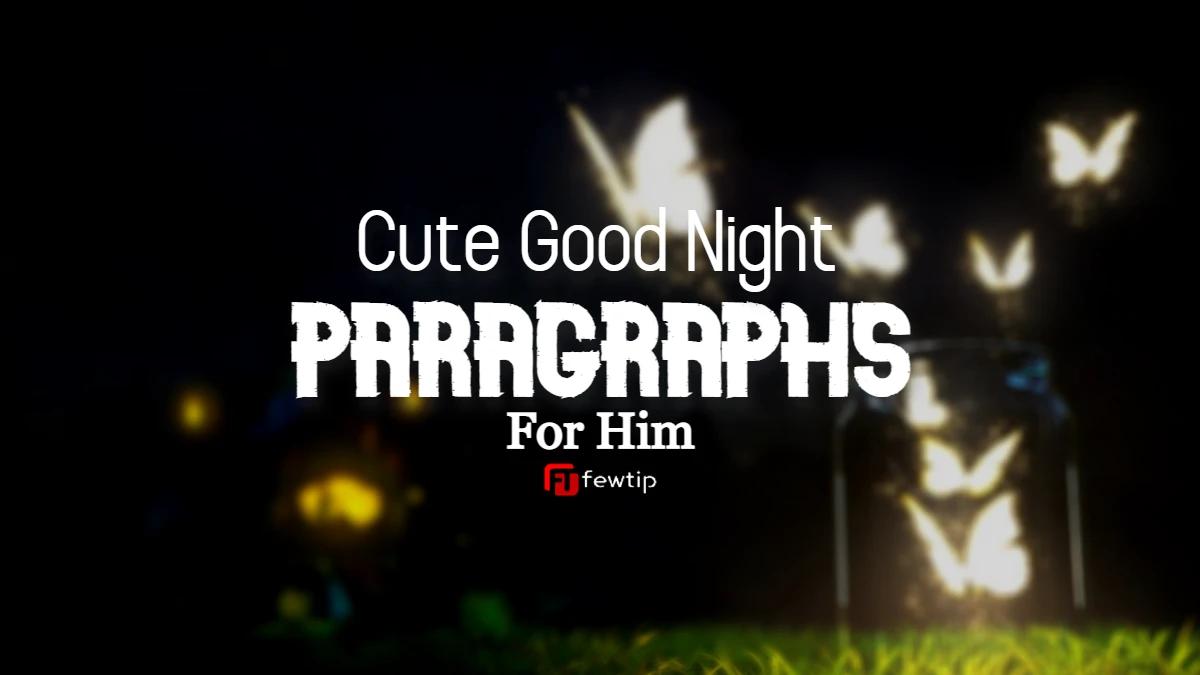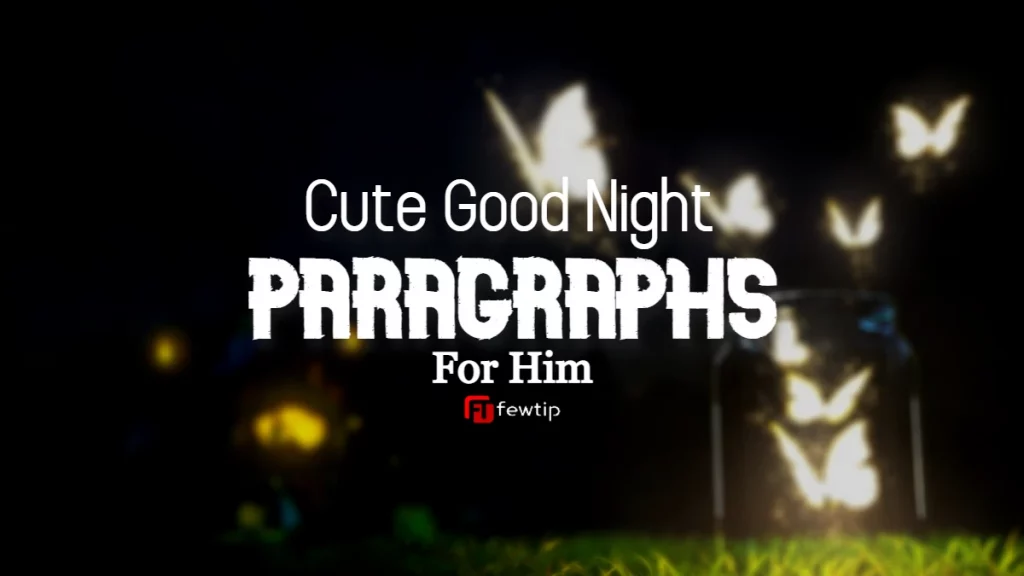 Goodnight Paragraphs for Him
1. I want to say goodnight to the only guy to whom my happiness matters is top priority, and he is my superhero and the one I can always count on. The things you do for me make me wish to live all through eternity to love you forever.
2. I want to thank you for choosing to love me. There are other ladies, but you place me above them. You treasure me even when you have nothing to gain and all my heart wants is to spend the rest of its time beating for you. Have a good night my king.
3. When we first fell in love, I thought it would be impossible to ever love you more than I already did. Every day, I love you more than I did the day before. I cannot imagine how it could be possible to love you this much, but I do. I cannot wait until I can see you again. Goodnight my prince charming!!
4. May the most peaceful sleep in the world be yours. Don't see any other girl in your dreams other than me: Jokes aside, I'm thinking of you right now because it's a very dark and cold night. I wish you were here to give me a hug and make me feel safe tonight. Goodnight my love!
5. As time has passed, it has become clear to me that I am unable to function without you by my side. Every night before I fall asleep, I wish I could hold you close to my chest till the beautiful early hours of the morning, I love you very much, goodnight.
6. Honey, before you close your eyes tonight, I think it's imperative that you know that you decorated my life and my love for you grows stronger and stronger with each brand new day. Now, kindly close your eyes and sleep tight knowing that I can never stop loving you. Goodnight, my love.
7. When I say GOOD night, I actually want you to be a GOOD boy at night. So don't think about any girl except me. Whether you have a good time or bad, I will always be there to kiss and cuddle you when it's night. Good night handsome.
8. I already know that you are the man of my dreams because I find joy in the things you do. The joy you bring to my world is unmeasurable, and I look forward to spending the remaining days of my life in your world. Make me yours.
9. I feel optimistic about tomorrow since you are the only thing that will be on my mind before I go to sleep off the night before. During the time when the beautiful breeze caresses your handsome face, keep in mind that someone cares about you deeply.
10. I cannot sleep. Can you? If not, then let's not sleep together. Even though the whole world is sleeping my thoughts would be around you! Even my dreams carry you, my dear! I love you so much. Goodnight and sweet dreams!
Cute Goodnight Paragraphs For Him
11. As you lay to sleep tonight. I hope your night is as gorgeous as your face. I can guarantee you that the affection we have for one another will be a bond that will remain for the rest of our lives. We'll remain together for as long as I'm able to breathe. Good night, my sweetheart.
12. I am confident that I will have pleasant dreams tonight; my only nightmares occur when you are not present. Having trouble sleeping because I need to tell you I miss and love you. I wish the pillow by my side was you because I miss you!
13. There is no spot more vital to me right now than being there with you. If I have my way, I would be the last thing you set your eyes on before you sleep and I will be the first person you hug when you wake. I want to be that permanent part of your life.
14. My love for you will never run out, my care and affection will never run dry. You are one remarkable thing in my life, and I am not giving it up. I will love you more than I did the previous day and I am ready to do it for the rest of my life.
15. I treasure our activities of the day, but I enjoy the play that happens in my mind at night. I get to picture our future when I am lying down. The things you do keep coming up again and again, and it is the best feeling in the world.
16. I am thinking of the most memorable way to show you how much my love for you grows. You are such a beautiful soul and even giving a lifetime of love is not enough to provide you with the best care and affection you deserve. Goodnight, my prince.
17. I can't wait to hold you and enjoy the sweet scent of your body. My mind is made up to have you in my life. I can't believe how easy it was to fall for your charms. I am delighted to have met you. Go to be with joy because I will love you for the rest of my life.
18. I will be busy tonight because I will be dreaming about you as I sleep. Nothing comes close to seeing you during the day and imagining about you during the night. It is the sweetest thing in the world. I can't wait for you to hold me tomorrow.
19. Thinking about you has gradually taken the space left in my heart. Some say money is power, but I am sure that being in love comes with this magical kind of power. When you are in love, you are in the realm of possibilities. I am confident that our union is undoubtedly growing into something beautiful in the future. Have a good night's rest.
20. I can't end my day without saying I love you because you have shown me that love is the greatest instrument in the world. I want to assure you that my heart is forever yours and as you sleep tonight, I wish you the sweetest dream in the world.
Goodnight Paragraphs For Him To Wake Up To
21. Not a single thing in the entire world can compete with your position in my world, and nothing can match the feelings of love I have for you. You're like a rose, so delicate and delectably sweet. I am spending my entire life loving you as if there is no tomorrow. I promise you that.
22. Despite the fact that it is a busy and peaceful night, I want you to know that my feelings for you have not dimmed in the least. I still care about you as if my life depended on it. As you go off to sleep in your comfortable bed, I wish you the best of luck.
23. I will continue to love you as the day progresses and the sun rises and sets. I shall continue to be your girl for as long as I am able to breathe. Nothing and no one will ever be able to separate you from me, so get a good night's sleep.
24. Your appearance was nothing short of spectacular throughout the day, and I couldn't take my gaze away from you. Your face is the only thing on my mind right now, and I adore you with all of my heart despite how the day has gone so far. Good night, and good luck.
25. To be your girl is the fulfillment of a lifelong desire for me, and I know that meeting you was a miracle. I'm not going to blow this once-in-a-million chance to make a mistake. I promise to love you in a way that I have never loved anyone before. Good night, my lord and master.
26. I can't think of anything else to think about other than your endearing smile this evening. It's as if the sound of your wonderful chuckle is playing on repeat in my head like a recorded cassette. With you by my side, life is just beautiful. For the simple reason that you are my happiness, I adore you with all in me.
27. Your love sustains my existence. It provides me with all the energy I need to stay on top of my game. The reason I am practically living is that your grin is a beacon of hope, and I am grateful to have you as a part of my family. Not only as a buddy but also as a soulmate, if you will. Good night, sweetheart.
28. Everywhere I walk, I sense your presence, and it makes me very happy. I'm overjoyed because the affection we share is always genuine and present at all times. I am always aware that I am the luckiest lady on the planet to have met the most charming man on the face of the planet. Take advantage of the opportunity to sleep in.
29. You have given me all of your love, but you are never out of love. You know the right words to say and the charming things to do in every situation. I love you, and there is no mincing of words about this, have a great night.
30. You have no idea how much being in your arms means to me, but I will wait as long as it takes because a second with you is far better than years without you. I wish you a good night's rest as the sky gets dark and I hope you dream of me.
Good Night Paragraphs For Him
31. I hope to wake up tomorrow filled with energy, and I pray that you wake up with much more strength because I need you to look your best. As you sleep tonight, remember that you are the reason for someone's smile and I will always love you no matter what it takes.
32. I have felt your love, and I know it is the best thing that can happen to any woman. I won't let this sweet love slip off my hand because I will love you and hold you like there is no tomorrow. I will give you my best to keep you happy.
33. This night is not like other nights, and it is unique because you are the thing on my mind right now. You are the sweetest guy in the world and having you in my life is the best thing that has ever happened in the world. I love you, good night.
34. You know that I love you with all my heart and I can't imagine myself losing you to anybody in the world. You are far away right now, and I can't wait for the morning sun to rise as it is the gateway to seeing you again. I love you, baby.
35. If I am to love you again, I will do it much better than I am doing right now because you are the blessing that my world needs. I have no reason for loving you, but I am sure that my heart loves you more than anything in the world.
36. I write to you because I miss your presence and wish you were here with me. Life is lovely with you in my life, but life is more beautiful when you are right by my side during the breezy nights. I love you, my Prince charming. No matter what happens, my feelings for you will never run out. I will always cherish you in my heart. I will still give you my best all day and all night for the rest of my life.
37. I will always love you with everything strength in me and pray that you get whatever you set your mind to achieve. My heart will beat for you till eternity because you are everything to me, I love you. I would keep letting you know that I love you even if you are far away from me right now. I respect you and my feelings will always be for you.
38. I can't bring myself to imagine how I'd cope if you are not here in my life. You create a lot of beautiful memories when we are together, and they are the sweet things that keep me going even when you are not here with me. I miss you with all of my heart, and I love you more than any human could imagine. You are the king of my heart.
39. When I close my eyes, you are the only thing my mind pictures. I am in love, and nothing is coming to get me out of it. I know that nurturing feelings for someone is one reason why I feel alive and complete inside of me. I wish you a good night's rest, and I promise to love you in ways you can never imagine. You + Me = Forever.
40. I want you to know that I wouldn't change anything about you because you are perfect in every aspect for me. If I assign one star for the reason why I love you, I will run out of stars because there are over a billion reasons why my heart beats for you. Nothing will take this love away. We will grow old together and actualize all the dreams we have about our future.
41. Nothing will ever be able to take away the happiness you bring me. Nothing will ever be able to take away the affection I have for you in my heart. I will love you with all of my heart for the rest of my life and will not keep anything back. You are the best, and I am here to adore and cherish you for the rest of my life.
42. With the notion of you flowing from one corner of my heart to the other, I'm lying in my bed thinking about you. With the tiny things you do on a daily basis, you have won my affection. I am grateful to have someone as important as you in my life.