Little things go a long way in a relationship. Constant efforts, small or big, with love, is what is required for a lifetime connection. You can wish your partner every day to always be on her mind.
Saying goodnight to your girlfriend is an intimate affair. Your goodnight paragraph should pack all your love in words so that she sleeps with a smile on her face and gets sweet dreams.
Sometimes, it's not easy to express your love for your partner romantically without sounding cheesy or insincere. That's why we have these cute goodnight paragraphs ideas to help you out.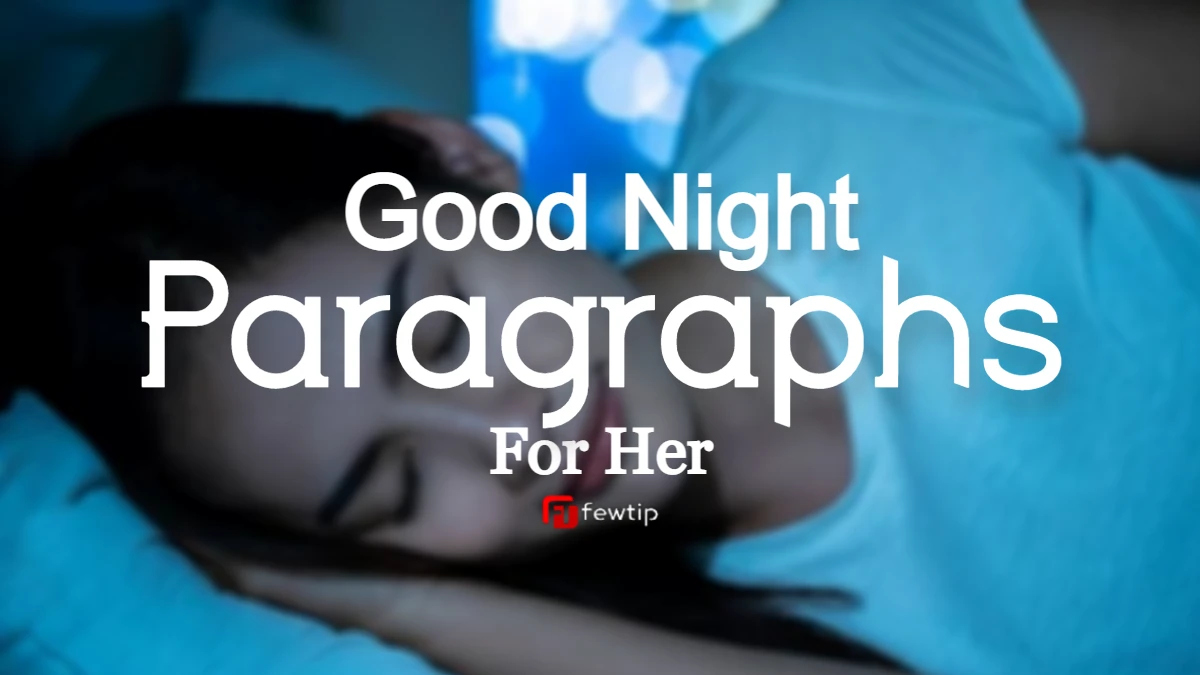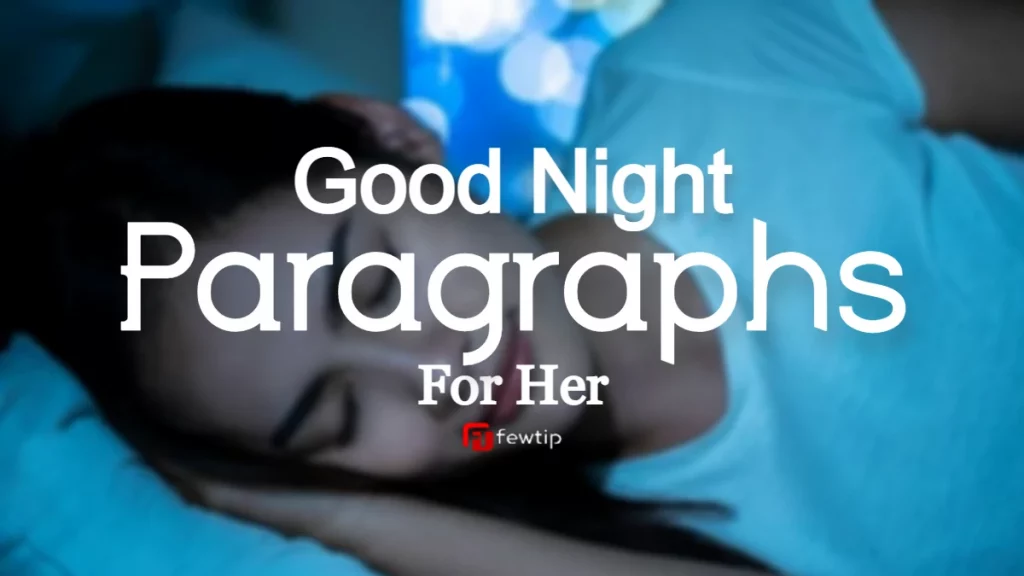 Sending a goodnight paragraph to your lady is a beautiful way to say thank you, to express how much you care, and to let her know that you're thinking about her. It's also a great way to let her know she's special to you.
Check out these beautifully composed goodnight paragraphs that will melt your wife or girlfriend's heart.
Good Night Paragraph For Her
1. Is it necessary for me to remind you how fortunate you are right now? I want you to know that you are one of the purest things on the face of the planet, and I am eternally grateful for you. I want you to know that my heart beats permanently for you. Good night, my sweetheart.
2. I always know that I am fortunate to have you in my world. Life has never been this fun with anyone else. It is one of the cold nights, and I want you to know that you are one thing that remains in my thoughts all the time. Good night, baby.
3. If I had my way, I would spend every second of every night right by your side. I will be there not just to hold you while we sleep but also to keep your nightmares away. You have no idea how much I love you, baby. Have a good night's rest.
4. I wish to see that beautiful smile when we wake up tomorrow, but for now, I hope you have a good night with the full moon shining and making the whole darkness glow. You are a treasure, and I am ready to cherish you until the end of my days.
5. When I lay on my bed to sleep, all the activities we had together kept replaying my thoughts. Picturing your smile is my favorite part because you have the cutest face ever. I hope we create more amazing memories tomorrow, have a good night.
6. I am sending this text because I am not there to give you the hugs and cuddles my body carves for all night. I am not a poet, but I will try to let you know that my feelings for you flow more than the river and stronger than electric current. Have a good night, my dear.
7. I don't know the right words to let you know the way I feel, but I want you to have the best of the night as you sleep. As every second ticks away, allow it to serve as a reminder that my feelings for you will never run dry. You are everything to me.
8. I wish you a refreshing good night's rest with a heart full of love. I am mesmerized by your beauty, and I promise to keep you closer to my heart as long as I live. You remain the brightest star in the sky, and I am the luckiest guy in the world to have your love.
9. To the girl of my desire, I wish you a nice sleep with loads of beautiful dreams about us. I know your bed will be cozy, and the breeze will be tender, but I want to be there with you. You are the queen of my heart, and I love you from my heart.
10. My understanding is that you have a lot of fairy tales on your mind, and I truly hope to be your prince charming. Go to bed and dream about us because your dreams will come true and all of your wants will be fulfilled. Have a wonderful night's sleep, my sweetheart.
Good Night Paragraphs For Her To Make Her Cry
11. As time keeps ticking by, I want you to know that you mean everything to me. Ever since I set my eyes on you, you have become my entire world. It is impossible to sleep without thinking about you. I love you gorgeous. Good night!
12. When you receive a text message from me in the morning, I'm not just saying good morning but saying that I'm honored to have someone as special as you in my life. I bless the day our paths crossed, I wish you all the good things of life today and always, and may all your dreams come true for you, my baby. Good morning my sunshine.
13. My sweet girlfriend, I send you this text to wish you a good night and show you all the affection and admiration that I have for you, for you are a woman who fights for what she wants, who is extremely brave. You motivate me to keep moving forward. I love you very much, may you have a good night and do not forget that you are always in my mind.
14. My night is exceptional, and your dreams will be the best. Life will glow and our days will have merriments. I am ready for the future because tomorrow holds much more than you can imagine. Go to bed and remember that my love is always for you.
15. Life is beautiful when you are with amazing people. I feel this sense of completeness whenever I remember the thought that I have you in my life. Here is another beautiful night for you to rest your weak body and get ready for tomorrow. Good night my queen!
16. The beauty I perceive when I gaze into your eyes throughout the day is connected to everything else. It is undeniable that you are the most wonderful thing that has ever happened to me. I want to shower you with the most sincere affection that emanates from the depths of my heart. Goodnight my love!
17. Your heart is the most lovely thing in the world. I can give up on everything in the world to have you in my life. I await you in dreamland because I can't get enough of your love. Have a beautiful night, my princess, and never forget that I love you as much as you can imagine.
18. It is my duty, and I will never let it slide by without letting you know that you mean the world to me. There is no tomorrow without today, that is why you will always be the first person I think of in the morning and the last person I say goodnight to, I love you, darling.
19. It may be painful to realize that I may not be able to spend this evening with you, but I am relieved to know that I will be dreaming about you endlessly as I sleep. I love you with everything I have in me, from the bottom of my heart. Good night and good luck.
20. The most romantic moonlight and the most tantalizing air can be found in the evening. Yes, I am aware that you can see the brilliant stars high in the sky when you look through your window. Allow all of these to serve as constant reminders of my affection for you.
Goodnight Paragraph For Her
21. I know that meeting you is a beautiful opportunity that rarely happens. I will treasure the days we share, and I will let the world know that I have met an angel in human form. I will tell you that my love for you will never wither even for a second. Have a good night, my dear.
22. Even the beautiful stars disappear when the morning comes, but my love for you is one thing that will last for the rest of my life. I have faith in what I have for you, and I know it is not just real but everlasting. Have a beautiful night's rest, my queen.
23. The day might not fulfill all the promises you wish for, but it still gives you the opportunity to see tomorrow. Thank God for life and always know that I will be there for you during the rainy days. You are my darling, and I wish you the best of the night.
24. It is one thing to be in love and another to stay in love. What I feel for you means the world to me, and tonight, I want you to know that I love you. I write to remind you that you are an essential thing in my life. Have a good night's rest, dear.
25. I can't wait to close my eyes and think about you. I can't wait to see your beautiful face in my sleep. You are divine because I find myself loving you more and more as the day goes by. The nights are temporary, and I can't wait to have you in my arms tomorrow. Goodnight, my queen.
26. I will be waiting for you in dreamland because your face is the most pretty thing in the world. I will love you as long as my heart still beats and I want you to know that I will always be by your side when you need my love.
27. Sleep well, my lovely. You have shown me that true love does exist because I have never been tired of giving you my love. What I feel for you flows from within, and it will never run dry. You might not be the first, but you will be my last. Goodnight darling.
28. I don't care if it is a dream or reality; all I want is to be with you for the rest of my life. Your love is my motivation, it keeps me going all through the day, and it keeps me dreaming all night. I am happy to have someone like you in my life. Have a good night with cute dreams of me.
29. As you sleep tonight, make sure to keep your worries away. Don't let the activities of the day interfere with the bliss that comes with the night breeze. Keep smiling because your man loves you with every energy in him. Good night, my girl.
30. The one thing I despise about having to go to bed at night is that I can't talk to you or see you at all because I have to sleep. Don't be afraid; monsters will not come to visit you today because I will protect you while you sleep. Kisses and good night, everyone.
Long Goodnight Paragraphs for Her
31. Though my beautiful girlfriend does not require her beauty sleep, I do wish you the sweetest of dreams, I wish I were in your arms tonight to keep me warm from the chilling night, I wish I can kiss you right now before you sleep, and I'm wishing you a lovely night rest, goodnight my sweet love
32. Take pleasure in your night, my love. Please don't allow anything to get to you, okay? Have a pleasant resting period. Every night, I try to stay up a little later than you do so that I may send you a good night paragraph that you'll see the following morning. My queen, you have my heartfelt affection.
33. I love you so much, my baby, and nothing can take that away. As soon as you see the dark clouds coming, know that the day is gone for good and therefore allow the troubles to go with it. Enjoy the feeling the night brings and have a memorable night's rest.
34. I am destined to be the man for you. I will be the first person to say good morning to you when you wake up and the last person to wish you goodnight as you sleep. All through the day, I will stop at nothing in letting you know that I love you with everything in me.
35. As the night envelopes my body and the moon beams above me, your affection and the memories of our time together confuse my thoughts. There is only one thing more powerful than love, and that is the affection I have for you. Thank you for being a part of my life. Goodnight.