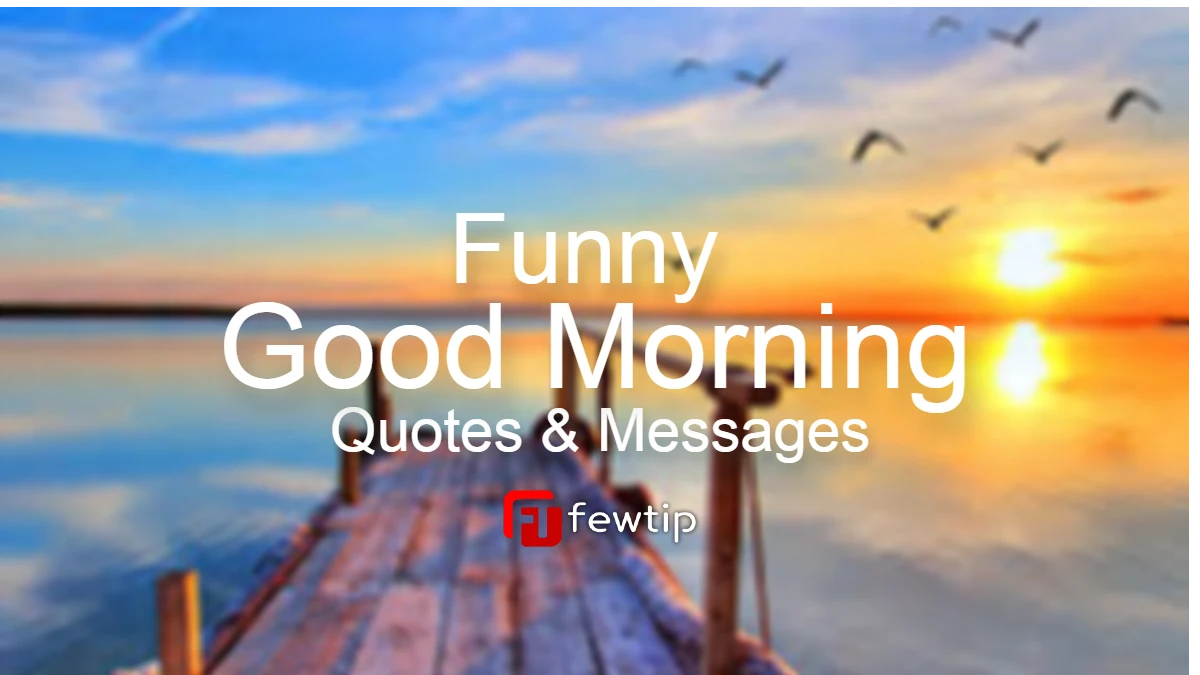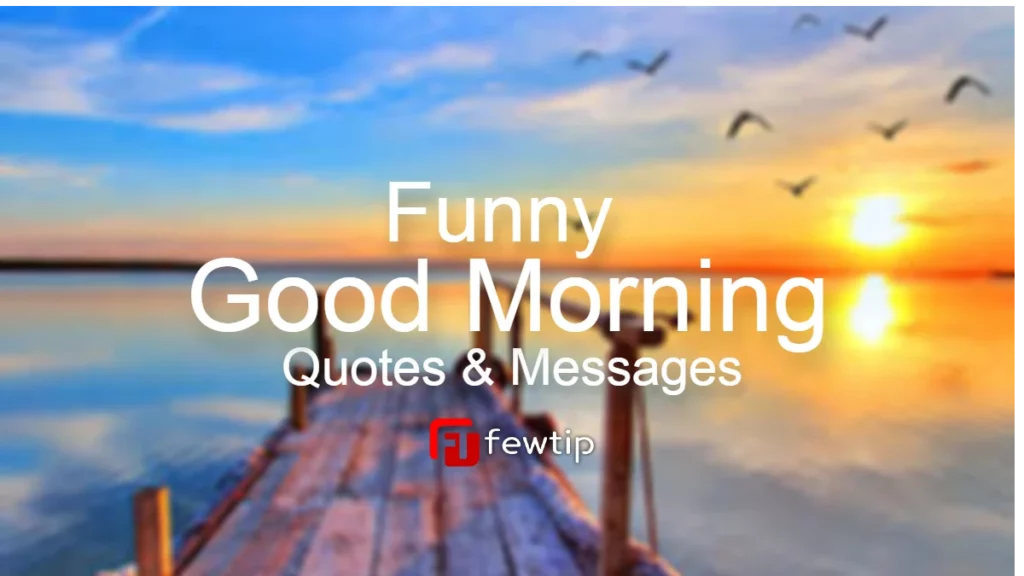 Are you a morning person? If so, you probably won't appreciate these quotes. Nope. These funny quotes about mornings, good mornings, and the people that wish such things on others are decidedly negative.
You can start some days by sending a hilarious or funny good morning message that will put a smile on the face of your friends, family members, lover and so on to make them feel special and unique.
The way you start your morning sets the tone for the rest of the day. If you have an excellent start to the day, you'll be in the perfect mood for the adventures and challenges ahead.
Be the reason for their smile and make them laugh right at the beginning of their day. These funny good morning wishes will help you bring smiles to their faces right in the morning!
Funny Good Morning Quotes
1. I love to kiss you on the lips early in the morning but darling, you really need to brush your teeth first. Good morning!
2. It's morning and I wanted you to wake up to this text, so you'll feel like Superman. Good morning to you, darling.
3. Hey! This is to inform you that there will be a one-minute silence to commemorate the loss of the mosquitoes I killed last night for you! Good morning.
4. You are my only heart, that pearl I never joke with anybody about; my sweet chocolate, the one I cherish with all my heart. Good morning my love!
5. Good morning, dear. Let's welcome one more day in our life in which we try our best to put up with each other. Best wishes to you!
6. I know how addicted you are to your phone, so I kept this here, so it will be the first thing you see when you wake up. Turns out your addiction is a good thing after all. Good morning, babe.
7. Today will be a great day. There is a chance that your boss will sleep off in the office today and will not go on with the dreaded meeting! Good morning my sweetheart has a burst of beautiful sunshine.
8. The first time I set my eyes on you, I almost hit my head on a rock because I could not take my eyes off you. I was rescued by an old woman who gave me a dirty slap for being too naughty. Good morning my heart!
9. The next time you wake up to see me beside you is when you credit my bank account. Good morning to you, honey.
10. Now that you're awake, run to where I am and get a kiss that will blow your mind. Good morning to you meanwhile.
Funny Good Morning Messages
11. The only person you should look forward to seeing in the morning is you, I bet when you see how broke you are you'll be motivated to work hard to be rich. Have a nice day!
12. Some mornings I just feel like breaking the damn alarm but then one thing always stops me. I paid hundreds of dollars to buy my phone.
13. Mornings are almost like clean slates. I say almost clean because the residue from yesterday is sometimes stuck on them.
14. The saddest part of the morning is waking up realizing it's not a holiday. Gonna spend the whole day with the same old routine. Good morning!
15. Can't wait to hold you in my arms tonight. You are all I need to be comfortable. My Bed is cold and I need your warmth, my sweet blanket. Just enjoy your day.
16. Birds scream at the top of their lungs in horrified hellish rage every morning at daybreak to warn us all of the truth, but sadly we don't speak bird.
17. You are wonderfully and beautifully made by the goddess of the night who seduces you to sleep through the morning. Resist her today and get more success.
18. I love you; I love you, I love you and I love you. You are my solid rock baby. Good morning my wonderful candy. I can't wait to unwrap you and have a lick.
19. Life is full of stress and troubles. If you want to have a good day, don't get out of bed. Keep sleeping until you die and stop life happening to you!
20. It's morning time already and it's time to widen those teeny tiny eyes. Stretch those tough buff arms, wiggle that silky slinky hair, and eat some salty malty fries.
Funny Black Good Morning Quotes
21. The brain is a wonderful organ; it starts working the moment you get up in the morning and does not stop until you get into the office.
22. Wake up and be thankful because I'm your friend. Because you'll never have a better friend than me. Good morning!
23. Do you know that the more you lie on your bed you are prone to have bedsores? And no one wants that. So, get up, and good morning!
24. You are the likes of those sweet potatoes I love eating, hmm I mean eating like food. This morning I can't get my coffee done because I am prepared to kiss you before eating you—good morning!
25. I appreciate those special times we spent together just laughing at our funny memories; hmm, those dirty talks you love to say really tempted me but thank God I did not fall—good morning sweet!
26. I heard you're having a tough time with your alarm clock. It happens when you're having an affair with your bed. Good morning, mate!
27. It must be a double dose of difficulty for you to need to get out of bed and be awesome all at the same time, but I know you can do it! Good morning
28. No matter how annoying or unserious I may look, I just want you to know that when the time comes to show you how much you mean; then the people of Pluto will know that a real man has arrived. Good morning!
29. There are no such things as monsters under your bedpost; rather, you will turn out to be the monster if you refuse to get out of there this morning!
30. My heart is fixed to you perhaps it is because you are a plumber—oops lolz; please send me one hammer of kisses and 24 pliers of hugs to relieve the pain I get from your kisses. Hmm…Sweetheart, I love you—good morning!
Funny Good Morning Messages for Him
31. Start your day with these: you are amazing, and you are delightfully brilliant! Now, tell me how wonderful I am so that my day can officially start too!
32. When you are dead, you don't know that you are dead. All of the pain is felt by others. The same thing happens when you are stupid. You have to be Odd, to be number one.
33. If you're struggling to get up in the morning, with the following funny good morning quotes you'll at least have something to laugh about.
34. I wake up in the morning and lay in my bed waiting for my mom to prepare breakfast. And suddenly I remembered that I'm the mom.
35. Sending you a Good Morning message, knowing it won't reach you, until the afternoon! Have a good day, friend!
36. What irritates me most of all about these morning people is their horribly good temper, as if they have been up for three hours and already conquered France.
37. Love is blind. Especially in the morning, because I can't see a damn thing before having coffee.
38. Good morning. Have a cup of coffee and start your engines because there's still a long way to go before you reach the weekend.
39. You are so lucky I am not your morning alarm clock; I'd kick you out of bed with cold water just to piss you off. May your bed kick you into the shower so you won't be late this morning.
40. I yawned and stretched luxuriously in the morning. I make noises when I stretch because it feels ten times better than stretching silently.
Funny Good Morning Quotes for Him
41. Congratulations! You made it to a new day. Remember to thank me so much because I was right beside you, watching over you. You looked so cute. Have a decent day!
42. If the world was kind to me, it would have slept like an Olympic discipline. Good morning to everyone living in this cruel, unjust world.
43. Good morning, gorgeous. Your love, care, and kindness keep me going each and every day. Now I can't live without you. You are my addiction. Can you please be my nurse!
44. Don't make me kill you at this hour in the morning Jimmy. It's not civilized.
45. Every morning is a blessing only if you don't have an alarm clock by your bed. With an alarm clock, it's a curse. Good morning!
46. My best wishes to you this morning is to put a smile on your face knowing how special you are to me. Wake up! Brush, shower, and get ready for work.
47. Moist groaned. It was the crack of seven and he was allergic to the concept of two seven o'clock in one day.
48. Wake up and welcome one more unproductive, leisurely day that comes with nothing for you but leaves with a promise of another similar one.
49. Sending you a good morning message in the wake of the day and hoping it's not the only GOOD you see today.
50. Special morning to my one and only candy pop. The sweetest taste ever to be created by God. Long nights full of beautiful dreams. The daylight of dreams come true; it is all about you.
Funny Good Morning Quotes for Friends
51. Don't make me rise so early by sending good morning texts. I want to dream more about you and me.
52. Loving a sweet lady like you is like a lollipop, so sweet and tempting. I love your bright face and your cute smile. Good morning my baby!
53. This is to remind you that there's another twenty-four hours ahead to experience earth again. Good morning to you, sweetie.
54. I was thinking of borrowing a kiss from you this morning. Will you give one to me? I have no problem returning it with huge interest! Good morning!
55. I call you sweetheart because once I tasted your heart while you slept and it tasted like honey. Don't try this at home, though. Good morning to you, darling.
56. Hey! I give thanks to God for sending me an angel by my side every day, but I am keeping this angel to myself forever! Good morning my wife.
57. I pray that you wake up early enough to text a good morning message to me — you that sleep too much. Good morning to you, dearie.
58. Good morning my love, I hope you have a productive and profit-filled day! And do not forget a percentage commission to the person who wished you this!
59. It is my duty to make you smile every morning because you are the only woman, I used to see every day of my life; I mean it because even my sister was looking like you until a slap landed on my cheek, I realized it wasn't you—good morning!
60. The morning is eventually here! Despite how many times you hit that snooze button of the alarm clock! Good morning, dear husband.
Funny Good Morning Quotes for Her
61. I am hearty and looking so special this morning just because you cast me a very huge smile last night. Right now, my head is pulling out of my neck for excitement. Good morning!
62. Good luck with waking up at noon, reading this good morning text on your phone, and then going back to sleep again thinking it's still early in the morning.
63. It's a great morning to let everything you hold forget and grow. Now I bow and great. If you don't understand, I also don't. Good morning, baby.
64. It is that time of the day when your mind wants to be ready, but is antagonized by your body- which just wants to sleep a little more! Good morning.
65. I feel like embarrassing you with early morning kisses but it is so unfortunate that I haven't brushed my teeth; don't worry, after our breakfast you will almost faint panting. Good morning!
66. I would love to do this every day, but life is too sweet for that commitment. Good morning to you, sweetheart.
67. They say sleeping is a form of art, but wake up and come enjoy the live and physical art at your office desk! Good morning
68. It is the time to wake up to all your phone notifications and voice mails! Good morning, dear husband!