Love, the most profound and enchanting of human emotions, has inspired poets, writers, and dreamers throughout the ages. It transcends time and space, weaving its way through the fabric of our lives, leaving an indelible mark on our souls. One of the most cherished expressions of love is the heartfelt phrase, "You are the love of my life."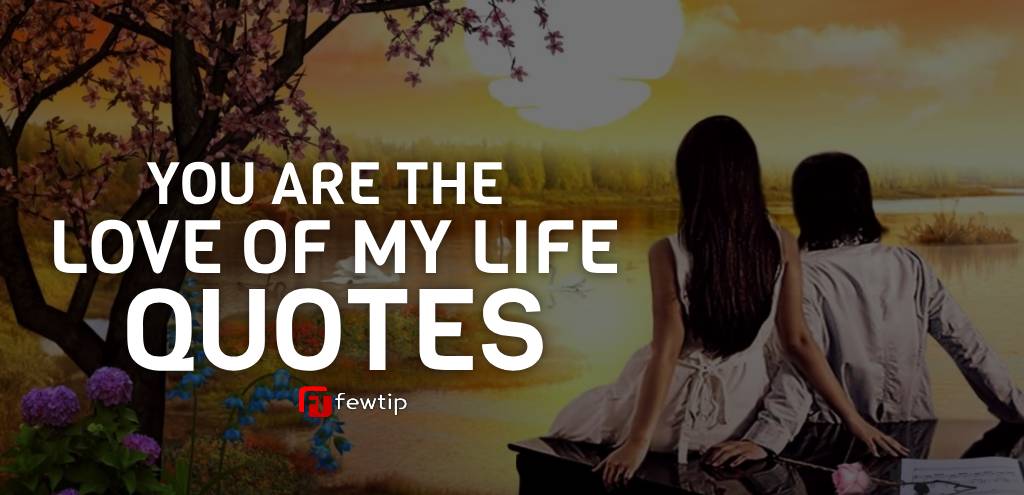 In this article, we delve into the world of love and romance, exploring a collection of heartwarming "You are the love of my life. Each quote is a testament to the intensity of love, revealing the profound connections we share with our beloved partners. Whether you're seeking inspiration to express your feelings or simply yearning to bask in the beauty of love's essence, these quotes will surely stir your heart and touch your soul.
Join us on this journey of love and discovery as we celebrate the magic of deep connections and the powerful emotions that make life worth living.
You Are the Love of My Life Quotes
1. "He's not your prince charming if he doesn't make sure you know that you're his princess." – Demi Lovato
2. "Love without sacrifice is like theft." – Practical Aphorisms
3. "Never set limits when you are loving someone." – Debasish Mridha
4. "The most fulfilling love life comes from a love of life and a life of love." – Drew Gerald
5. "I love you because that piece that remains is worth the whole and I love you by the exclusion of the other lost pieces." – Erri De Luca
6. "The heart will stretch a short love into long memories." – Darnell Lamont Walker
7. "If it's possible to send a message from heaven, I'll get one to you." – Lurlene McDaniel
8. "Real love should draw no blood from the loved and buckets from the lover." – Emily Maguire
9. "True love asks no questions, makes no reservations, but puts itself unconditionally into the hands of the loved one." – Paula Marshall
10. "I swear I couldn't love you more than I do right now, and yet I know I will tomorrow." – Leo Christopher
11. "I need you like a heart needs a beat." – Unknown
12. "Loved you yesterday, love you still, always have, always will." – Elaine Davis
13. "Thinking of you keeps me awake. Dreaming of you keeps me asleep. Being with you keeps me alive." – Unknown
14. "I would rather spend one lifetime with you, than face all the ages of this world alone." – J.R.R. Tolkien
15. " I'm here. I love you. I don't care if you need to stay up crying all night long, I will stay with you. There's nothing you can ever do to lose my love. I will protect you until you die, and after your death, I will still protect you. I am stronger than depression and I am braver than loneliness and nothing will ever exhaust me." – Elizabeth Gilbert
To The Love of My Life Quotes
16. "I love you, and I will love you until I die, and if there's a life after that, I'll love you then." – Cassandra Clare
17. "My wish is that you may be loved to the point of madness." – André Breton
18. "I choose you. And I'll choose you over and over and over. Without pause, without a doubt, in a heartbeat. I'll keep choosing you." – Anonymous
19. There will be a forever, I assure you, we will make that happen and show it to the world.
20. You were like my dream come true; you are everything I have ever dreamed of.
21. For so long, I have been waiting for your arrival, the moment when my life changes for the better.
22. You may not see how much I love you, so I'll say until there are no days left.
23. This heart is in my hands for you to do what you want with it, that is how much I love you.
24. Wherever I may be, I will always love you, I will always be here waiting for you.
25. My love, you are the sunshine to my day and everything that you could ever be.
26. Sometimes, I think of how lucky I am to have you in my life.
27. There are times when it feels like you are the one, I have been waiting for all this time.
28. Truly, the heavens above have answered my prayers from the very first moment that I met you.
29. To the love of my life, I just want to thank you for showing yourself to me.
30. My love, you are the sun of my life, the one that makes everything I see so bright.
Love of My Life Quotes for Him
31. Your hugs are the best thing in the world, they make me feel all warm and giddy inside.
32. If tomorrow is the day I day, I can totally say that I am so glad that I met you.
33. Maybe we will be better partners in our next lives, even better than what we have now.
34. You make me smile when it feels like my whole world is crashing down, baby.
35. So, let's go cruising all over the world, let me show you how much I truly love you.
36. The first time our eyes met, I already surrendered all of me and my heart to you.
37. I want you to know that I will always love you and be with you no matter what happens.
38. I know I am clumsy, too happy-go-lucky, too careless but I promise to look after you with care.
39. You will never be forgotten even after you are gone, you will remain in my heart forever
40. There are days when you are away and all I can think about is when I will see you again.
41. I Just Can't-Wait for the Love of My Life to Finally Become My Legal and One and Only Wife.
42. I Knew That You Are the Love of My Life the Moment the Door of My Secrets Opened Up to You Voluntarily.
43. You Are the Love of My Life, My Dear Husband, You Showed Me How to Open My Heart Again Despite the Terrible Things That I Have Encountered Before.
44. I Am So Blessed That My Soul Mate Is Also the Love of My Life.
45. The Love of My Life Showed Me the True Meaning of Love and What It Is Capable of Doing Of.
You're The Love of My Life Quotes
46. Babe, you mean more to me than Romeo and Juliet meant to each other. I will love you until the day my Creator takes me away from this earth.
47. There first time in my entire life that my head agreed with my heart's decision was on the day I first set my eyes on you.
48. My heart wants nothing but to be close to yours forever. Babe, your love is the reason I wake up with a smile on my face and joy in my heart every blessed day.
49. The most precious thing in my life is you, my dear. Thank you for deciding to spend your life with me. I love you so much.
50. The first time in you are my world and source of joy. Thank you for teaching me what true love actually is.
51. We sometimes fight and cry, but we also make things right and bright when we tell each other these three beautiful words: "I love you".
52. I don't experience true happiness until I'm enveloped in your warm arms. And that's why every little time with you is very precious to me.
53. Babe, the happiest day of my life was when I found out that you also loved me.
54. A simple "I love you" from you to me is worth more than all the wealth in this world.
55. Life's journey became enjoyable and heavenly the moment you told me you love me. My love for you will never end, my dear.
56. "I love you every minute of my life; you`re my love and my life. Not all people are lucky to find the sense of their life. I am happy, because I had found it when I met you – the love of my life." – Rabindranath Tagore
57. "Your words are my food, your breath my wine. You are everything to me." – Sarah Bernhardt
58. "The best love is the kind that awakens the soul; that makes us reach for more, that plants the fire in our hearts and brings peace to our minds. That's what I hope to give you forever." – The Notebook (read more quotes from The Notebook)
59. "I may search for another thousand years but still may not find someone as sweet and loving as you are." – Smokey Mack
60. "I saw that you were perfect, and so I loved you. Then I saw that you were not perfect and I loved you even more." – Angelita Lim
Good morning, Love of My Life Quotes
61. "Life has turned into a beautiful garden ever since you entered into my life. You have changed my life and made me feel so good. I feel so loved and cared for. You are the best thing that happened to me." – Kamand Kojouri
62. "To be fully seen by somebody, then, and be loved anyhow–this is a human offering that can border on miraculous." – Elizabeth Gilbert
63. "If you find me not within you, you will never find me. For I have been with you, from the beginning of me." – Rumi
64. "You were made perfectly to be loved – and surely I have loved you, in the idea of you, my whole life long." – Elizabeth Barrett Browning
65. "If I know what love is, it is because of you." – Hermann Hesse
66. "What we have once enjoyed we can never lose. All that we love deeply becomes a part of us." – Helen Keller
67. Every morning, I am grateful for the very beautiful decision of choosing the finest lady whose love has completely transformed my life. Good morning my sunshine.
68. Good morning my love. I dreamt about you last night and woke up with such a great feeling of joy because I know that you are not just a dream, but the reality of my life.
69. The morning is beautiful, the day is bright. Together we are rising and shining for the world to see.
70. I wish I have the right answers to the question I seek, wish to find out which is more indispensable, my love for your hugs, or my craving for your companionship, this is a challenge I am ready to live with so long as I get lots of both, good morning my dear.
71. Dreams visit us when we are asleep but the wise God wakes us up each daily and gives us every chance to realize them, my dear…., Make yours count, good morning my love.
72. Good morning my heartbeat, I pray God's blessing on you and grant all your heart desires as you journey through life.
73. Good morning my sweet love. Since I have to fall in love with and I am completely stuck, our hearts are one inseparable entity. So glad to know, we are meant for each other.
74. It's a new day. Yaay! We are going into it to explore opportunities together, leaving behind our past mistakes. This is a journey you will never walk alone dear. Good morning!
75. Being alive with you is a blessing from the Lord, my honey. His abundant grace in our lives will carry us onto blissful relationships.
Love of My Life Quotes for Her
76. Though the night was dreadful, the morning will herald you into great joy. Good morning sweetheart. I wish you a good and blessed day.
77. You are always on my mind; you mean the world to me. Morning, afternoon, and night. Every moment. I admire all of you and represent most especially your aura of resilience. Good morning my love.
78. I want nothing else but you, the thought of you alone mesmerizes my heart. I still can't fathom how my life would have been with someone as nice as you, good morning my better half.
79. You make my life worth living, my superwoman, every morning I wake up with a beautiful smile that makes me go worthwhile, I thank God immensely for the blessings thus far, good morning my lady.
80. Good morning, dear, did you miss me? I miss you every single day, life with a partner like you is like a hell of a fun ride, can't wait to see you soon.
81. True love needs only two essential things, time to be spent together with your partner and a loving heart that endures forever. Good morning to you my prettiest wife.
82. So, I love you because the entire universe conspired to help me find you. Paulo Coelho
83. From the day you walked into my life, you're all I think about. You're the reason I breathe. You are the stars in my sky. I wouldn't want this any other way. You're the love of my life. Kemis Khan quotes
84. The greatest happiness of life is the conviction that we are loved; loved for ourselves, or rather, loved in spite of ourselves. Victor Hugo
85. I love you without knowing how, or when, or from where. I love you simply, without problems or pride: I love you in this way because I do not know any other way of loving but this, in which there is no I or you, so intimate that your hand upon my chest is my hand, so intimate that when I fall asleep your eyes close. Pablo Neruda
86. To live is like to love – all reason is against it, and all healthy instinct for it.Samuel Butler
87. I saw that you were perfect, and so I loved you. Then I saw that you were not perfect and I loved you even more. Angelita Lim
88. The best thing you can do is fall in love. My life has been changed by falling in love.Russell Brand
89. True love is usually the most inconvenient kind. Kiera Cass
90. Being deeply, passionately, and intensely in love is being deeply, passionately, and intensely in life.Kamand Kojouri
Romantic Love of My Life Birthday Quotes
91. To love someone is to see a miracle invisible to others. Francois Mauriac
92. You are my anchor that pulls me back from despair; you are my inspiration to live each new day. Hearty cheers, love.
93. No book can contain the reasons I love you. Just know that I do. Happy birthday, sunshine.
94. Thank you for illuminating my life and chasing all darkness away. Hearty cheers, mon amour.
95. I'll choose you over and over, I'll write a new chapter with you, I'll go on new adventures with you. Where you are is where I'll be from now till eternity. Happy birthday, my crown.
96. Wishing the world's sweetest lover, a super-duper birthday!
97. God gave me the most precious and priceless gift: you! Happy birthday, honey.
98. God made the best decision when he sent you to earth. Happy birthday, dearest.
99. The sun is so bright but can't outshine your bubbly personality. Hearty cheers, mon Cherie.
100. My allegiance lies with you and so does my love. Happy celebration, darling.
101. The aroma of your love has never reduced but has gotten stronger. I celebrate your uniqueness today. Happy birthday, lover.
102. My fierce and rugged love partner, I'm at peace with knowing and loving you. Hearty cheers, sweetheart.
103. My heart, my love, my all in all, be happy and rejoice always. Happy birthday, dearest.
104. You are so sweet and kind, so loving and thoughtful and I can't hold back any of my love for you for you've given me this and more. I celebrate you, my heartbeat. Happy birthday.
105. Knowing you was never a mistake, loving you is my best decision. Hearty cheers, baby.
Romantic Things to Say to the One You Love
106. Let's make merry and be glad, let's bask in the warm sunlight of the day and enjoy the tranquility of the sunset. Today is your day and it's all about you. Happy birthday, my yummy cupcake.
107. What would I do without you? How will I function without you by my side? You keep me captivated and enthralled. Happy birthday, sweetheart.
108. You're strong and smart, bold and courageous but most of all, you're tender, loving, and caring. Thank you for all you did for us. Happy celebration, my love.
109. Do you know how much you mean to me? I tried to place a value on you but I discovered that I can't, you're beyond what I asked for. I love you so much. Happy birthday, sweetheart.
110. All galaxies and confluences join me in celebrating an icon, a worthy man, and an astute lover. Hearty cheers, darling.
111. It's been just a few years since you've come into my life but it feels like forever! Happy birthday to the love of my life.
112. To the husband of my youth, the father of my kids, the big brother of my siblings, the son to my parents, I just want to say thank you for all you do. We all join our heartfelt and warm wishes together and send them your way. We love you so much. Happy birthday, baby.
113. If the beat of my heart could compose a song to express my love for you, then it will always be an erratic one, my heart will always beat fast for you regardless of the year. Happy birthday anniversary, lover.
114. When I think of all you have done for me, my heart is filled with gratitude towards you. Thank you for loving me. Hearty cheers, mon Cherie.
115. As the clock never gets tired of greeting the numbers with its arms, I won't get tired of saying 'I Love You'. Happy birthday, my best lover.
116. How deep and vast beyond measure is your love for me, you scaled the wall that no one dared to and you charged into my world and took over. I'll forever be grateful for that. Hearty cheers, my prince.
117. Your love is sweet and refreshing, I'll never get tired of drinking deeply. Happy birthday to the love of my life.
118. I Can't-Wait for The Time to Come for Me to Meet the Person Who Will Become the Love of My Life and I Can't-Wait to Become Hers Too.
119. You Are Love of My Life; I Swear to You with My Life.
120. I Want to Let the Whole World Know That the Love of My Life Is No Other Than You.
121. I Trust you, Not Because You Are My Friend but Because You Are the Love of My Life.
122. I Will Do All My Best, All My Might and All That I Can Make You Happy and Content Because of Everything I Will Do for The Love of My Life.