Everyone likes to be shown or told that they are loved. When you are not waking up next to the man you love the most in this world, the next best thing to do is to send him a good morning message to let him know that he was the first thing on your mind.
Saying good morning to someone is about as routine as it gets. Unless, of course, that someone is a guy who commands your lust and/or obsession. In that case, a morning greeting is a chance to remind your boyfriend or husband of what he means to you.
To help you get the day started in fittingly frisky fashion, we've compiled the following list of good morning messages for him.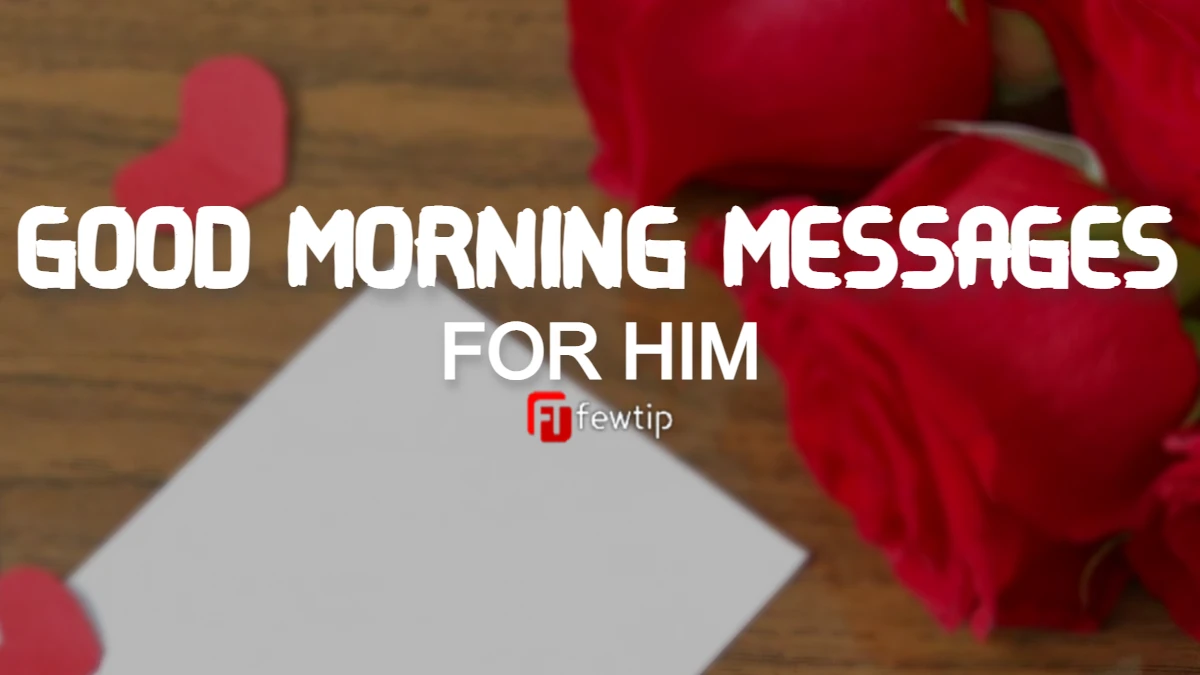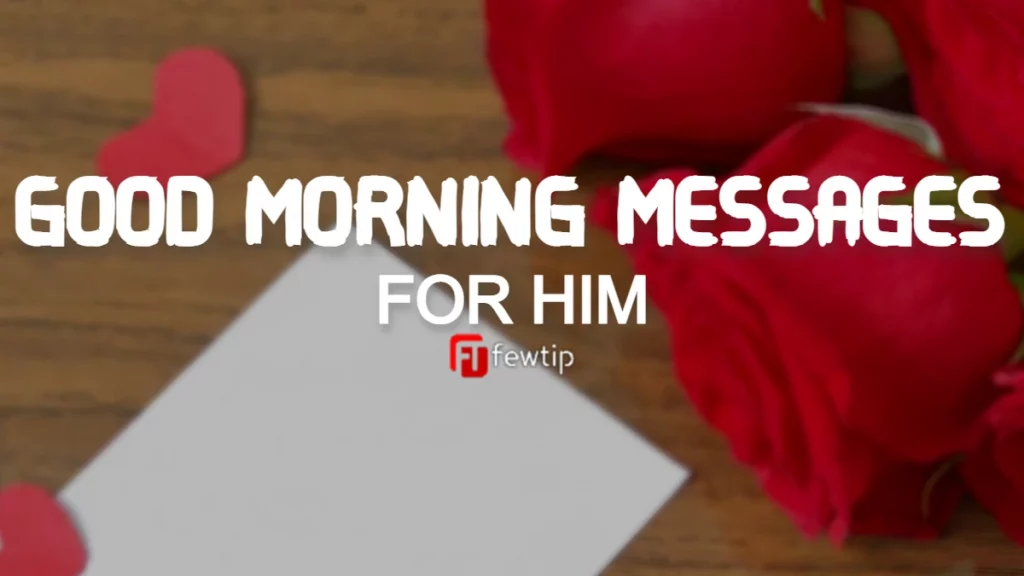 Good Morning Handsome Have a Great Day
1. Good morning to the man who can annoy me like an alarm clock but brighten my day like the sun. Love you!
2. It's so funny how you're prince charming in my dreams but a nightmare when I wake up. No wonder I love sleeping so much. Just kidding, babe, good morning!
3. I was considering borrowing a kiss this morning? Any interest? I promise to return it with huge interest.
4. Besides your hug, your kiss is the best part of my morning… So am I going to get one or not? Good morning!
5. I woke up just to say good morning and now it's time to fall back asleep. Wake me up with a reply?
6. Morning honey! Today is a great day to be positive. Who knows, maybe your boss will be eaten by wolves? See, positive thoughts already!
7. There are two kinds of people in this world: morning people and the people who want to kill morning people.
8. Morning babe! I made you breakfast in bed, but then I remembered we live in two completely different places. So, now I'm eating your breakfast, in bed!
9. Let's have a competition to see who sends the earliest morning text… oh wait, it's me! I win!
10. Good morning babe. I just wanted to let you know that I'm applying to be your assistant. I have a degree in cuddling, a certificate for breakfast in bed, and a doctorate in sex. I hope I get the job!
Hello Handsome Good Morning Gorgeous
11. Morning love! Just so you know, I've declared today my imaginary birthday so be sure to attend the party later in our bedroom with lots of gifts and special birthday wishes. Oh, and don't forget about showering me with attention all day either!
12. Good morning. I was having some serious thoughts today about becoming a nun and going celibate… any thoughts?
13. Morning sweetheart. Just wanted to tell you that if you were a library book, I would steal you away!
14. Morning dear! I watched one of those ghost shows last night and it had me thinking about how I want you to be my boo. What do you say?
15. Morning baby. I was just thinking, you're a lot like pizza… I want to order you, have you come over here, and fill me up!
16. Morning hot stuff! Your face is so handsome, they should make it illegal.
17. "Every morning, I look back and imagine how life would have been without you. Thanks for coming into my life, baby. Love you forever. Good morning."
18. "Love tickles me every morning, and says "It's another day, let's go enjoy" and all this is because you're there with me. Let's enjoy our day, baby. Good morning."
19. "I'd choose you over and over again, you mean the whole world to me. Welcome to this beautiful day. May God guide you through, handsome."
20. "As you wake up this morning, I just want you to know how I feel about you. No matter what, I'd keep loving you baby. May God keep you for me, my love."
Good Morning Handsome
21. "Wake up lazy bones! It's time to embrace a new day. Welcome success and happiness. Have a great morning."
22. "Good morning to the guy whose hugs make my days sweeter and kisses make my life brighter."
23. "The alarm clock went off and I got up. Before I could think of anything else, you were already knocking at the door to my heart."
24. "It is time to say goodbye to the shining stars and greet the morning sun. Smile for me, beautiful and enjoy your day."
25. You have my best wishes this morning and every day. I love you, darling.
26. It was fate that brought us together, but love keeps us together. Good morning!
27. A loving morning hello and hugs and kisses to last the whole day.
28. Thank you so much for always being right there for me. Good Morning my handsome.
29. I want to let you know that you are one of the biggest achievements of my life. Thank you for all the love and support. Good morning, sweetheart!
30. Good morning, my love! Be with me today and tomorrow, and forever! I love you.
Good Morning Handsome Quotes
31. Good morning, dear boyfriend. Thank you for loving me unconditionally. I promise to love, support, and care for you until the last day of my life.
32. Here are some morning hugs and kisses for my man. Wake up, sleepyhead. I hope you have a fantastic day. Good morning, the ruler of my heart.
33. A good morning is a morning spent with you. Today I can't wake up next to you, but I still hope that you are having the best morning and feeling grateful for everything that you have. I sure am grateful for having you in my life.
34. My heart skips a beat when I think about you. I hate waking up and not seeing you next to me. Anyway, I still hope that you are having the best morning and feeling amazing. You deserve all of this world's happiness.
35. Can I teleport to your bed? I miss waking up next to you more than you can imagine. May this morning make you feel like life is a very special gift, and you mean so much to this world. Rise and shine, baby.
36. Every morning starts with a smile, because when I wake up, I immediately think of you. The thought of you wakes me up, and no cup of coffee can compete with it. May your morning be the brightest one, honey.
37. The light you bring to my life is brighter than a thousand sunrises.
38. Good morning… Here's to you. I miss you; I love you, and I'm always thinking about you.
39. I love you for our memories together, our walks on the sand, and our future together.
40. You are my sun, you brighten my day, for all you do for me, good morning and I love you!
Romantic Good Morning Handsome
41. You are the beautiful source of my joy today. Good morning.
42. You are my canvas, love is the landscape, devotion for you is my painting!
43. I send you a billion roses from my heart to ensure your day has a lovely scent!
44. The best feeling of waking up is being held by you. I love you!
45. A million words cannot describe my intense feelings for you. I love you!
46. Good morning darling. You are the beauty in my mind's landscape.
47. There's never a moment when my mind is not loving you. Good morning!
48. The essence of my heart's loving sentiment is your smile. I love you!
49. My moments today will be spent in joy knowing we are in love!
50. All I do, I do it for you my love. Wishing you a day filled with sweetness.
Good Morning Handsome Funny
51. You are more precious to me than all the world's gold. Good morning darling.
52. Good morning sweetheart. May your day be beautiful knowing you are deeply loved.
53. You're my sunshine in the day and my shiny star at night. God bless you for me, baby. Good morning my love, have a wonderful day.
54. Life would have been boring without you, I'm happy you're in my life today because you're the source of my joy. Have a sweet day ahead. Good morning, handsome.
55. Top of the morning to the love of my life. You mean the world to me and I will never stop loving you. Have a beautiful day ahead. Enjoy yourself to the fullest.
56. As each day comes, I love you more because I grow in love with you every day. Welcome to this beautiful day, may God bless your journey through the day. Love you.
57. I fell asleep thinking of you. But now I woke up and you're still on my mind. You're literally all that I think about.
58. I wish I could go to sleep and wake up in your arms forever.
59. Hey sweetie pie, I just have a quick question to ask. Would it be possible for the both of us to cancel every plan that we had set for today and just be in each other's arms for the whole night? Or is that a little too much?
60. I woke up this morning and you weren't here with your arms around me. So if you could fix that later on today, that'd be nice.
Good morning My Handsome Man
61. Every day is a good day when I start it with you.
62. I had a dream about you last night and when I woke up next to you, I knew my dream came true.
63. You are everything I could ask for and more. Seeing your face in the morning is what keeps me going.
64. Being with you makes me believe I can do anything. You are my light every morning and my sweet kiss goodnight.
65. When I wake up in the morning and see you sleeping, it brings a smile to my face. I just want to hold you and hug you.
66. I love to make you coffee in the morning, a fresh cup warms me up almost as much as you do.
67. It's not really a good morning if I wake up and have to leave you. I want to be with you all day long.
68. I'm sending you a hug via this message; I hope you can feel it.
69. Good morning sweetheart. Being in love with you makes every morning better.
70. I'm glad I fell in love with you, you make everyday brighter.
Love Good Morning Handsome
71. Can I have you for breakfast in bed this morning?
72. Have I mentioned this morning how lucky I am to be with you? You are the best!
73. Good Morning my everything, I love you so much.
74. Today is a beautiful day with goodness embedded. My love goes in with great expectations and God will make you happy. Have a blessed day.
75. My love, I'm refreshed by the thought of you every morning. May God guide you for me and make you successful. Have a great day baby.
76. Every day I wake up thanking God for all the good things in my life and you're top of the list. Thank you for being there my love. Have a lovely day.
77. Wake up my love and get ready for work, because the day is ready to favor you. Have a lovely day ahead baby. May all your dreams come true.
78. Baby, every day comes and goes and I'm greatly convinced that I wanna grow with you. Good morning to you my love. Go and enjoy your day.
79. Life can be useless in the association of wrong people, but with you, everything changed and I looked forward to each day with you. Good morning my love. God bless your day.
80. Wishing a good morning to the person whose kisses are the reason for my happiness. Love you.
Good Morning Handsome I Love You
81. I promise to be your best friend, your partner in crime, and your lover forever. Have a good morning.
82. Good morning, I just wanted to remind you that the time I spend with you is the most important thing in my life.
83. I woke up this morning and realized that you are the best thing that ever happened to me. Good morning to the best boyfriend ever.
84. When the sun rises and you're not here, the sun just isn't as bright. I wish you were here babe.
85. Since I met you, you've changed my life, you make me the happiest girl in the world. Good morning and I love you!
86. Good morning to the sweetest guy a girl could ask for. I'm glad you're my boyfriend.
87. Every morning my love for you grows deeper. You are my dream come true.
88. You are the reason I want to wake up every morning, it is my biggest wish to be with you forever.
89. This morning I thought I'd send some love to you. I hope you can feel all the love I'm sending.