Turning thirty is coupled with fun and responsibilities. 30th birthday is a whole lot of milestone for whoever the celebrant might be considering it comes with huge responsibilities.
Is a transition to full adulthood. For some, it can be a dreadful experience, at the realization that one is not getting younger.
A lot of people and even our Lord Jesus himself started the journey to real fulfillment in life at the age of 30. So, through inspirational, motivational, and even funny happy 30th birthday wishes, you can encourage and cheer up the special people in your life on their 30th birthday.
The list below will help you in expressing your feelings emotionally and physically. Just scroll down the page to get from our well-composed collection of Happy 30th funny Birthday Wishes.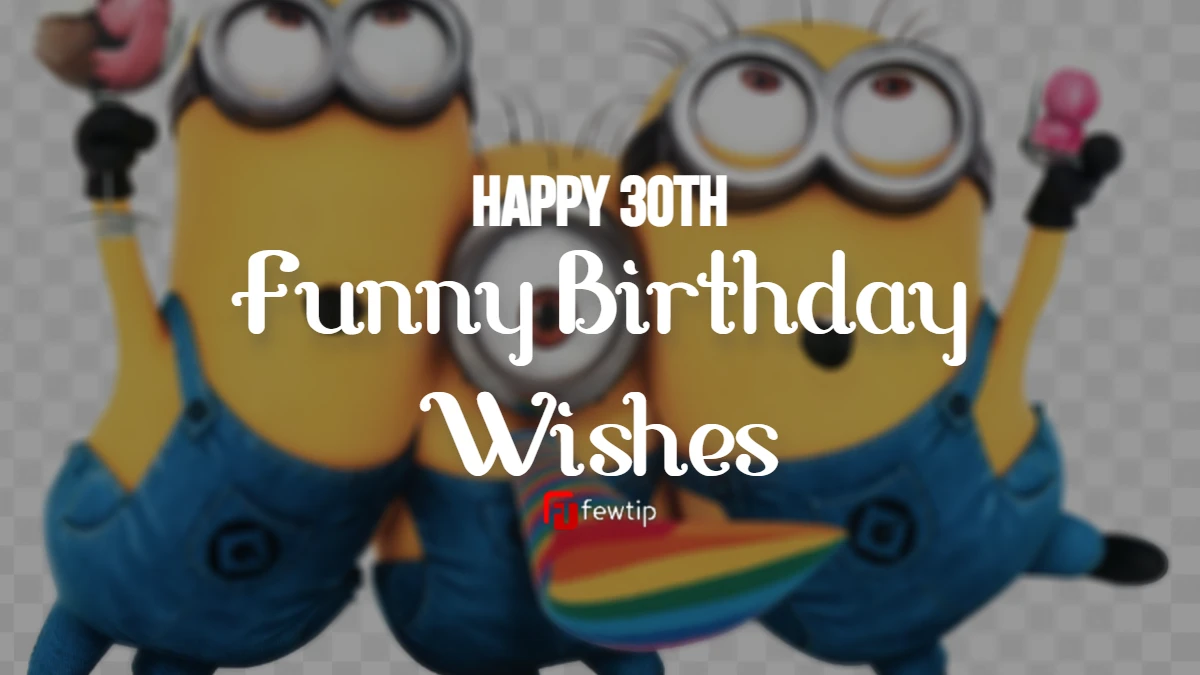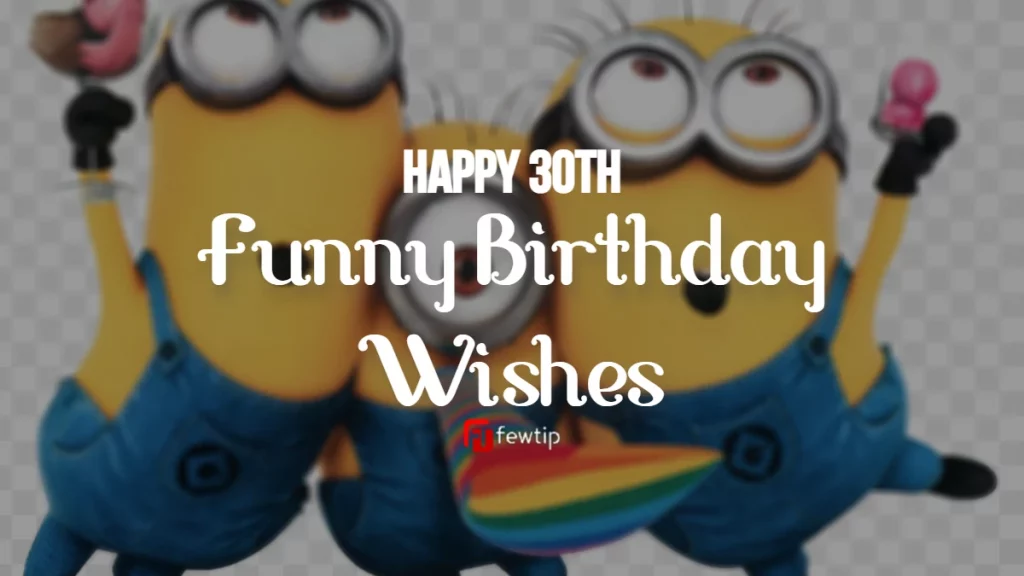 Happy 30th Birthday Funny
1. Thirty is the time to really start living your life to the fullest so that by the time you're old you would've experienced life's best.
2. 30 isn't over the hill, it's more of a plateau, with a bright light way off in the distance…
3. I can't believe it took you thirty years to grow up. Better late than never though. Happy 30th birthday.
4. The happy thing for you right now is you are going to celebrate your 30th birthday. The sad part is, you will end up single and die alone. Happy 30th birthday!
5. Happy Birthday! And thanks so much for turning 30 before me! Signed, your 20-something friend.
6. May the candles on your birthday cake shine brightly, as you celebrate 30 years of a fantastic life!
7. 30 is only a number that comes after 29 but, as a rule, never quite arrives on time. Happy 29th birthday…again!
8. Hope your 30s will be as incredibly fun as your 20s… without the hangovers!
9. When you were twenty, you felt like growing up and becoming thirty. When you will be forty, you will wish you could go back to being thirty. So to conclude, being thirty is just perfect. Happy birthday.
10. Everyone says 30-year-olds should settle down. I think You've just settled.
Funny Happy Birthday 30th
11. Life before thirty is for making mistakes and life after thirty is to repent for all of them. Happy birthday. Happy 30th birthday.
12. Whoever says that 30 is the new 20 is not very proud of his achievements or looks way older than 30 years. Happy 30th birthday dear!
13. Is that a birthday or the end of this month? Anyways, have a day as good as the joke. Happy 30th birthday.
14. Welcome to 30, when you're old enough to know better, but still young enough not to care.
15. The 30th year of your life is rich with significant changes. My wish for you is that everyone makes you smile!
16. Happy 30th birthday! I'm so fortunate to have you as my child. You make me so proud!
17. When I turned 30, my life instantly improved. I guess moving out of my Mom and Dad's house at 30 was a good idea. Happy 30th!
18. So, the big day is here, the one you have dreaded since you turned 29. You are finally 30… and it isn't so bad, after all. And it only gets better. Enjoy Your Day.
19. The best part about being thirty is that there are no uncertainties in life. You are sure that it's all going to go downhill from here. Happy 30th birthday.
20. Life not only begins at 30, it begins to show. One good thing about turning 30: Is that you're not turning 40 yet.
Happy 30th Birthday Funny For Her
21. Wow, you're 30 now. There's no better time in your life to celebrate with friends or family…except if you're 29 or younger. Happy 30th.
22. May the scary and shitty memories of your 29th birthday celebration also haunt you on your 30th birthday.
23. Do you know that once you become 30, you never get dirty? Nah, that's not real, but it would be cool nonetheless.
24. Stop worrying about your age. There'll be many other problems to worry about in life after you turn 30.
25. Don't worry about being 30. You'll get over it within a decade.
26. Turning thirty is the moment when you are old enough to understand life's bigger responsibilities but young enough to shirk some of them while you still can. Happy 30th birthday.
27. Good news! You are 30 years old. Bad news! Nobody gives a damn about that. Happy 30th birthday to the funniest friend in the world.
28. When high schoolers start looking like preschoolers to you… you might be a 30-year-old. Happy Birthday!
29. Some people believe that the most important events in life occur before 30. You and I both know that each life is unique and often, the best is yet to come. May your 30th birthday bring more possibilities for the future!
30. I'm in the unpleasant duty of telling you that your 20s have lost the battle against time. From now on, the 30s are in command of your hopes and dreams. Happy 30th birthday!
Happy 30th Birthday Wishes Funny
31. Turning 30 doesn't mean you can't still party. It just means you've gotten really good at it! Happy Birthday!
32. May memories of your 30th birthday be reflected on, in the coming years, with joy and laughter!
33. Welcome to the 30+ Club! You have to turn 40 to get out! In the meantime, enjoy the membership benefits, while you still can. Happy 30th birthday!
34. You might think that turning 30 means your life will be cold now that you are old. Cheer up, these are the best years ever, or so I have been told!
35. 30 is a nice round number. Let's just hope it doesn't correspond to your figure. Happy 30th birthday to my daughter.
36. Just because you have turned 30 and have officially become an old man/woman doesn't mean you can't put on your party hat to enjoy this day. Happy birthday.
37. Welcome to the club of 30 years old. Responsibilities, headaches, debt will give you tight hugs pretty soon. Happy 30th birthday daughter!
38. They say your 20s are overrated. Of course, they are usually pretty old. Happy 30th Birthday!
39. Turning 30 is a milestone that allows you to feel more confident in your abilities and continue to go after what you want.
40. After 30, your body has a mind of its own. Welcome to the middle ages. Happy 30th birthday!
Happy 30th Birthday Daughter Funny
41. You're 30 today, and that's way too young to be old. So kick up your heels and dance!
42. Turning 30? Look on the bright side. You're still too young to be the FIRST LADY.
43. Congratulations for turning thirty. From here on, life is less about knowing how old you are and more about believing how young you feel. Happy birthday.
44. The one and only achievement of your life is turning 30. Rest, only God knows what you are good at. I wish you a forgettable happy 30th birthday.
45. Oh wow! You are now thirty years old! Congrats! You are going to get older and fatter.
46. Don't worry about turning 30. You will always be the same irresponsible person I know.
47. You have always dreamed big and focused on the future. May your thirties exceed all of your expectations!
48. Lots of people make jokes about turning 30. But it's not too bad…if you don't mind that 40 is just a hop, skip, jump, and pull muscle away! Happy 30th birthday!