One of the best things you can do to make your significant other or spouse feel very special and loved is by sending them lovely good night sms just before they go to bed to let them know that you are thinking about them. Many people who find themselves in meaningful relationships would tell you that there is nothing as beautiful as receiving a lovely good night sms from the one you love right before going to bed.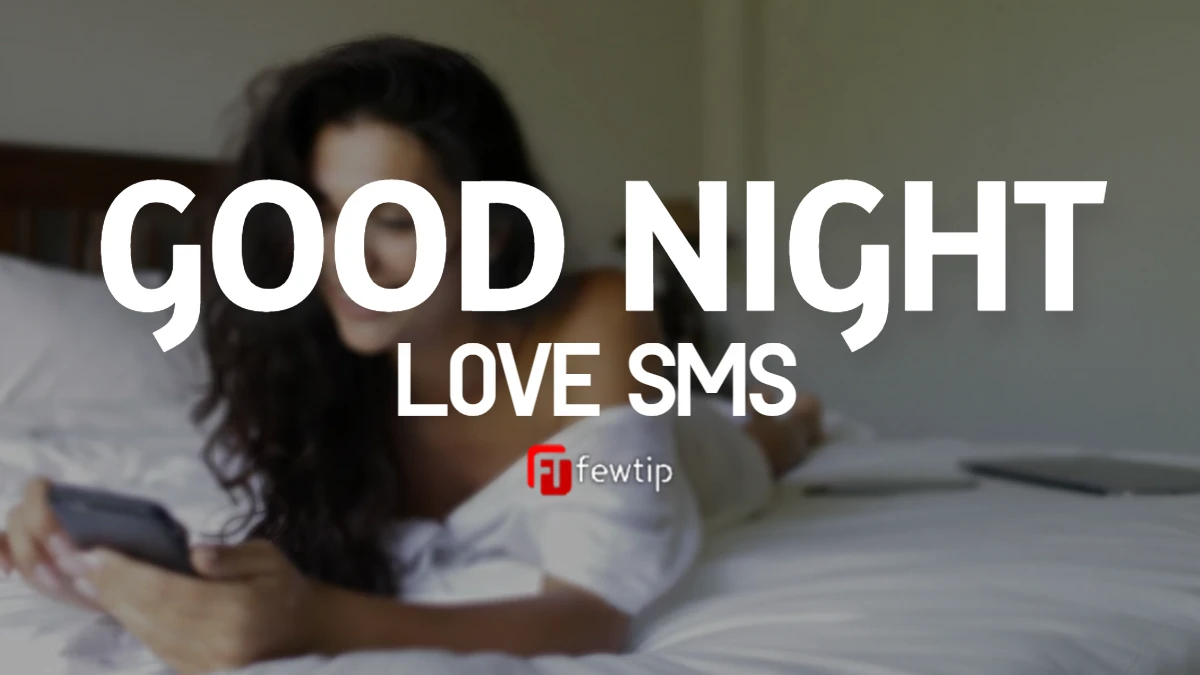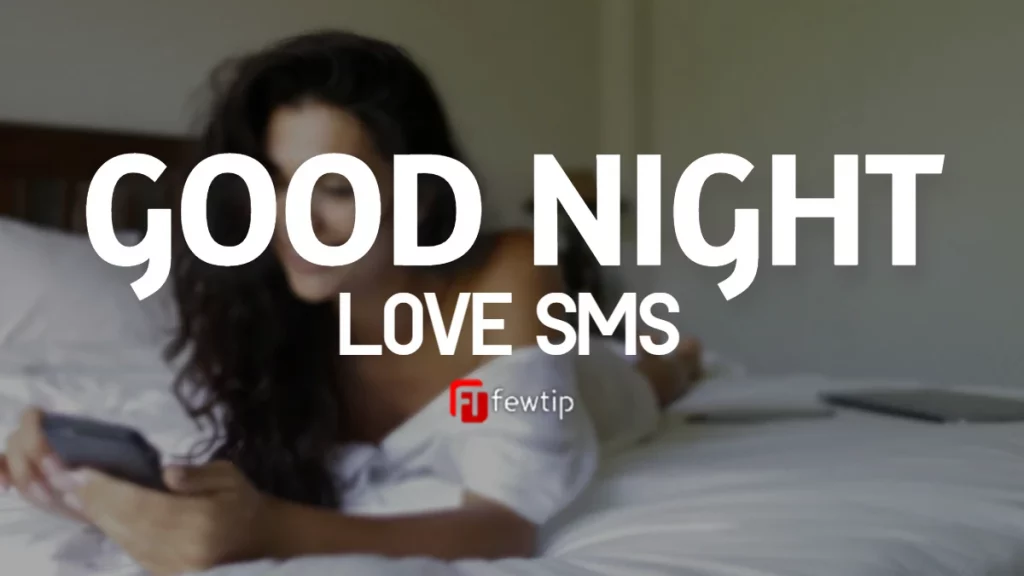 Whether you are far apart for a short time or if you just want to wish your loved one a good night of sleep, send him/her an sms that expresses your love for him/her. Nights can be long and lonely, but it is always wonderful to feel loved and know that the last person he/she has spoken to for the day is her true love.
Knowing how important good night sms can be in rekindling or strengthening romantic relationships, we have dedicated this page solely for that. On this page, we have an impressive list of some of the most lovely good night sms to send to your sweetheart (spouse, boyfriend, or girlfriend) to let them know how much they mean to you and that you are thinking about them. This will no doubt put a smile on their face before they drift off to sleep. Choose a suitable one from the lovely sms listed below:
Good Night Love SMS
1. Good night my sweet lady. I hope today was lovely as you are and I hope you wake in the morning feeling beautiful as ever. I love you to the stars.
2. I'm the luckiest girl in the world to have the pleasure of saying hello to you each morning and goodbye to you each night. May the most pleasant dreams greet you, sweetheart.
3. Sweet lady, have a blissful night ahead. I hope you will wake up feeling as majestic and beautiful as ever. Never let anything put you down.
4. There are a lot of days which have passed and yet there are many to come. Among all those days I will not let this night go by without telling you that I love you and may all your dreams come true. Goodnight my love.
5. We may be far away from each other, but our souls are always connected with love, darling. Have a good night. Let my love be the one to warm your heart tonight. Sleep well, baby.
6. I have been thinking about you so much, you are the person that I care for most. Just wanted to wish you …Good Night In this lovely night, may the shining moon protect you through the night, may the wind blow away your stress, and the twinkling stars hold your hand and guide you the way! Good Night!
7. May the stars bring you closer to my love and may the moons show you of our special you are to me. Good night. My hope for us is that we should never be apart and that our love keeps flourishing till the end of our time. Good night.
8. As you go to bed, know that this night will not last forever, but our love will. You are the best thing in my life, sweetheart. I love you so much. Good night.
9. I hope and wish your night will be filled with so much rest. I love you. The thoughts of you have become my regular path that I even go there blindfolded because I'm not afraid to get lost in you. Have a restful night.
10. I long to feel your arms around me and to taste your sweet kisses. Being apart from you is agony, so may peaceful sleep surround us both until the first morning light peeks through the window. Goodnight honey!
Good Night SMS To My Love
11. The day we had must be repeated many times because I believe so much in who you are and in what you do. Please continue to be you, and I hope you have a night that will help you prepare for an even better day tomorrow. I love you.
12. I am proud to know that I have you for life because you are my support system. As you sleep, think of us, and all the good times we will have. Goodnight, sweetheart. At night, the moon gets light from the sun, and the sun gets light from you because you glow too much. Thank you for being my ever-present helper and for standing by my side. Have a good night's rest.
13. When we are apart in sleep, the dream of you keeps me company. So for you, I leave this persisting message: even in the darkest night, the light of your love shows me the way. Good night my sweetheart.
14. Good night my love! I wish to be with you even in my dreams. Because you make them colorful for me! I think of you every day and every night because you are the one for me. I love you so much! Good Night!
15. Here another day comes to an end; it is nice to have a friend like you. Thank you for being that friend. Good Night and Sweet Dreams. Before I close my eyes for a night-long sleep, I count my blessings instead of problems, you are a blessing to me. Good Night!
16. Thank you so much for the wonderful night we had. I hope that you sleep well and that you have dreams as beautiful as you are.
17. I sleep peacefully at night knowing that I have such an amazing man to share my life with. I look forward to seeing what tomorrow brings. Until the morning, my sweet love!
18. We have had a good day together my girl and I hope that you have a good night. You must sleep well because it will be a good day tomorrow filled with your smile, your love and your hope for the future. Goodnight my lady!
19. Goodnight, dear girlfriend. I think about you all the time, and I know you have what it takes to face your fears. May this night be peaceful and restful. Get enough sleep because you need the energy to glow tomorrow.
20. In sleep, we must be apart, my love, but rest assured I will dream of you till we meet again. Goodnight, my darling. Wishing you a sweet night with peaceful sleep and tender dreams.
Good Night Love SMS For Her
21. If I could list all the things I am grateful for today, you will be at the very top. Have a good night, my precious! My heart misses you too much right now, so please go to sleep early and meet me in my dreams! Sweet dreams I love you!
22. A kiss to my love, I will be by your side soon, Good Night. Good night my love. May your dreams be as sweet as the tales by moonlight and May the stars guide and keep you warm through the night.
23. My pillow has been my companion for nights, since you are not here to show me your feelings am sending my own through message. I love you. Good night.
24. Honey, this is just to let you know that I'm thinking of you as I lie in my bed. Have a good night and dream about me because I will surely see you in my dreams.
25. I have lost touch with other routes to happy land because you've become my favorite route. Let the night calm your nerves. You alone is the way. The way to the path I've always longed for to travel through. May the Lord bless your night.
26. Although the sun has set on this day, it will never set on our love. It will forever burn brightly, shining light on each aspect of our lives. We'll speak again when the sun rises. I love you, always and forever.
27. My love, my heart, my everything. This is the time of day when I wish I could be there with you, and I hope you have a night that will give you a chance to reflect on the amazing things you have done.
28. Every day has been special since I met you. Your bright smile has taken the night away and has given me hope. Because of you, I believe that true love exists. I am forever grateful to you. Goodnight.
29. I wonder how well you sleep at night, and what kind of dreams you have. I wish I could step into them as you step into mine. Goodnight my beautiful. The brightest thing in this world are your two eyes when you look at me, I don't want to see stars at night but your eyes. Good night my love.
30. I'm so in love with you that I don't know anymore when my nights end and when my days begin. Good night sweet dreams my love! I'm not afraid of turning my lights off as long as you keep coming back to my dreams every night. Goodnight dear!
Night Love SMS
31. Bed-time brings sweet dreams, may your dreams be as sweet as our love. I love you. Good night. You are the only person that I want forever. I can't let this night pass without wishing you a beautiful night. Sweet Dreams my love.
32. So many people have come into my life, some with right intentions and others with bad intentions. But no one has ever given me this amount of Joy. I'm happy to have you. Good night.
33. Hey lovely. I hope today was kind to you, and I know that I had a good day thinking of you. May you have a good night, and I will be here for you in the morning when you wake up.
34. I wish I was there to watch you drift peacefully off to sleep, your dark lashes fluttering softly against your tanned skin. I'll have to settle for the next best thing- wishing you good night and sweet dreams!
35. You are the first thing that comes to mind when I wake up and the last thing when I sleep. Thank you for always making me happy. I hope to hear your angelic voice tomorrow. Goodnight, my love.
36. Good night my darling and sleep tight because you will have a hard day tomorrow. Remember that I am always with you, even if I am not with you physically, but in the mind permanently. Sweet dreams my love.
37. May the angels protect my queen when she falls asleep. Good night, sweetheart. You are the world to me, sweetheart. Good night, beautiful lady. Sweet dreams. Every night when I think of you, it reminds me how lucky I'm to have you! Good night, love.
38. You are the reason why I tend to hold my pillow so tight. You are the reason for my sleepless nights. And I cannot sleep without saying Good Night! Let the most beautiful dream come your way tonight, may you feel relaxed than ever… Good Night!
39. As each night comes and goes, I'm always counting down to the day that I can finally call you mine with full assurance. Good night my queen. Every night I catch my sleep with the thought of you. I wonder how my life will be if you are not a part of it. I love you. Good night.
40. I consider myself to be the luckiest person in the entire universe to have someone as sweet and caring as you in my life. Thank you for being that special one in my life. I love you more than I can ever say in words. Good night.
Good Night Sms
41. After a stressful day, the undeniable reward is rest so I wish you a restful night Cherie. Sleep well. Not just because you're too tired but because you beautifully deserve it.
42. When I say my good night prayers, you're the first thing I thank God for. I'm asking Him to send extra love to you tonight since I can't be by your side. Sweet dreams, honey.
43. My Princess, You are the last thing I think about before I fall asleep and the first thing I think when I wake up. I love you – Sweet dreams. You have no idea how much you have made me smile today. I won't stop thinking about you all night! Goodnight my love!
44. All the stars combined would still not amount to the brightness you have brought in my life. You are constantly running on my mind, and I hope to spend more days and nights with you soon. Goodnight, beautiful one.
45. To my darling, sweet dreams to you on this beautiful night. May your dreams be full of wonderful things and many good things! Goodnight my love. Finally, the night has come and it is the time when I'm lying on the bed and missing you and just praying for your sweet dreams. Good night, beautiful.
46. Before you go to sleep, know that there's someone who loves you like crazy. Good night, sweetheart. To the sweetest girl in the world who is lying in bed and reading this message: I hope that this good night message for her will make her smile. Good night my love!
47. Saying Good night is not a custom; it's a way of saying, I remember you in my last minute of the day… Good Night. Here I am, close to you tonight, don't be afraid… I am just covering you with a blanket of love, Good Night. I Love you.
48. I am jealous of the night because it's always there to guide and see you smile but I'm always happy to know I am the cause of your immersive happiness. Good night.
49. Goodnight my Darling, my Love, my Angel! Today has been special for you and I hope that you wake up in the morning knowing that you are as loved as ever. Please, sleep well and we will talk in the morning.
50. Sleeping without you is hard, but knowing you are too tired to face tomorrow would be even harder. May sleep find you quickly so that you have the energy to enjoy another day of fun adventures with me.
Good Night Love Sms
51. Knowing I will spend the rest of my night dreaming with you is enough to get me sleepy. I never want to lose what we have. Sleep well, dear one.
52. With a good night love message, wishing you the sweetest dreams as you drift off to sleep. Good night my love! I know that it's tough for you to fall asleep without me. Let it be the biggest nuisance in your life. Good night my love.
53. My love for you has no end, no boundary. It's a blessing to have you. Good night, my dear. No matter how dark the night is, the moon of my life will always be shining with the light of a million stars. Good night my love!
54. If you feel lost, bored, or missing someone, you know what you are suffering from, my love for you. Good Night! You look tired tonight; May your eyelashes hug each other as you fall into the land of dreams. Sweet Journey! Good Night my Love!
55. I am so grateful for the time that I can spend with you. You are the best girlfriend ever. I love you. Sleep well and have wonderful dreams. I sleep with the hope that when I wake up in the morning, You will be in my Reality. I love you. Good night.
56. I want to always be in your thoughts and heart like you are always in mine. Good night, my love. Having you in my life makes me realize how miserable my life was without you. Good night, my love.
57. Days are too busy, hours are too few, seconds are too fast but there's always a time for me to ask how your day went. Good night my love. I miss you and hope you're fine. Have a dreamy night Dark. The thoughts of you are decorated with roses and my heart has become so jolly for your sake. Have a blessed night, sweets.
58. Even in my dreams, I know you'll protect me. Goodnight, my knight in shining armor. I love you to the moon and back. The only thing sweeter than having you as my man during the day is having you in my dreams at night. Goodnight, baby.
59. My dearest love, I hope today treated you well. There was so much going on, and I was proud of you through every step. You are strong and beautiful, and I wish you a good night of sleep. I love you, and I'll be here in the morning.
60. Thinking of you makes me jealous of your pillows and sheets because they get to touch and feel your warmth. I wish I could run my hands through your hair and smell your baby face. Have a divine night.
Good Night SMS
61. May your dreams be as soft and sweet as your tender kiss. Good night my Princess. Every day I spend with you is the best day of my life. Can't wait for the morning. Good night baby.
62. You're the only thing I think about before I fall asleep and when I wake up. Sweet dreams, honey. I'm so thankful to you that you choose me and love me unconditionally. Good night, love.
63. Life is amazing, when you are mine, I will always treasure you. You are close to my heart each passing second. Good Night! It is a memory that unites dreams and reality. Dreams touch our hearts and souls, Hope you'll have the sweetest dream tonight… Good Night
64. Good Night, darling. Sleep well and may all your dreams be about beautiful and happy things. Remember how much I love you. I look forward to seeing you tomorrow.