Deaths are an inseparable part of the cycle of life, but it is still as traumatic and haunting for us. The death of a family member or close friend creates such grief that can hardly be washed away even after many years.
Though nothing can compensate for the great loss, expressing love for the deceased on their death anniversaries can be relieving. Death anniversary quotes and remembrance messages can express how much we miss the person we lost and how much we yearn for them!
Do you have a friend or family member who is approaching the death anniversary of a husband? If so, you are a good friend for acknowledging it. Many times those important dates pass without recognition.
Some death anniversary quotes to express such emotions are listed below.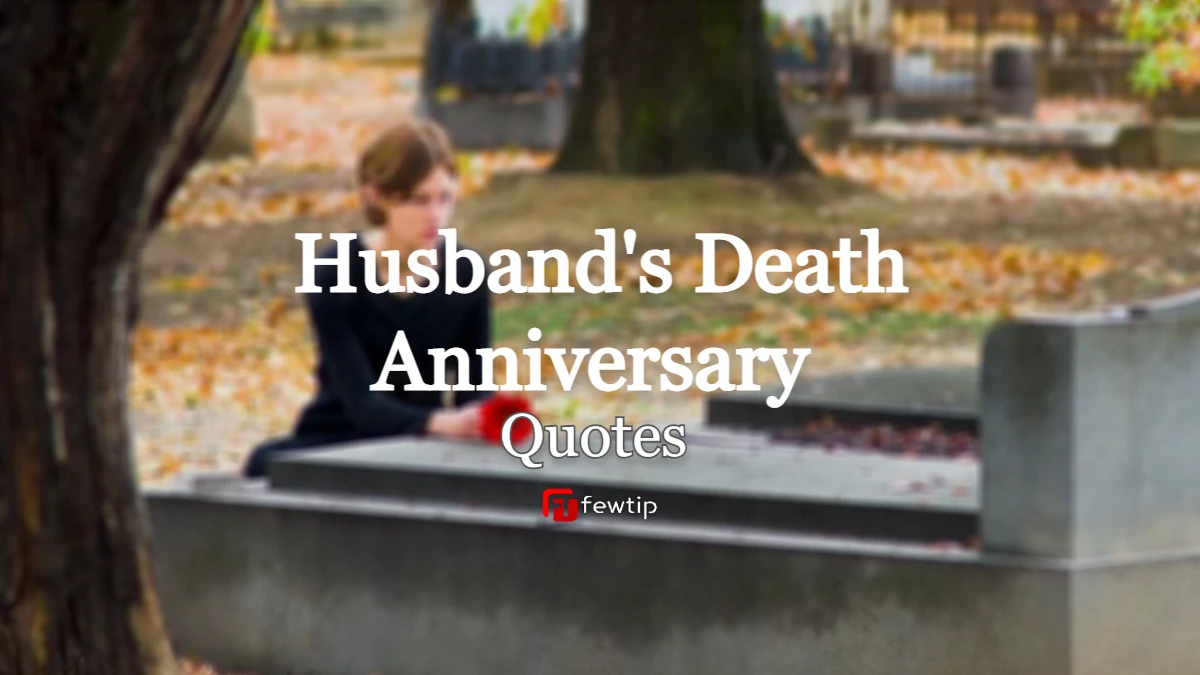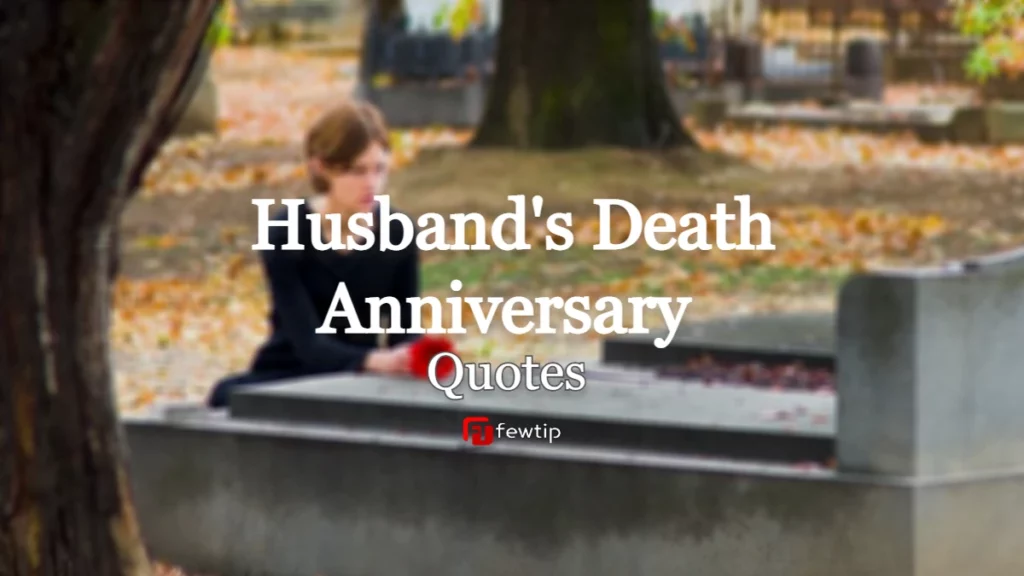 Husband Death Anniversary
1. Don't tell me that my grief will pass, that I will soon be free. Accept me in my ups and downs. I need someone to share. Just hold my hand and let me cry, and say, 'my love, I care.
2. Life is fleeting, indeed. To think that it was yesterday that we first met. See you on the other side. Losing you is my biggest regret and I miss you, everyday honey.
3. Good men must die darling, but death cannot kill their names. While we are mourning the loss of our friend, others are rejoicing to meet him behind the veil.
4. Man is mortal but the love for them is immortal. Though you are not present here with all of us, your memory is stored in our mind. Rest peacefully in heaven!
5. In my grief, my tears give testimony to the love I have for you. I get through each day without you because of the love we shared. Even death did not end our love.
6. Grief is a journey that never completely ends. The scenery changes and the terrain becomes easier, but there is no point of arrival. That's okay.
7. Those we love don't go away, they walk beside us every day. Unseen, unheard, but always near; still loved, still missed and very dear.
8. At the blueness of the skies, and in the warmth of summer, we remember them. Should you shield the valleys from the windstorms, you would never see the beauty of their canyons.
9. Dearest husband, not a day goes by that I don't feel your absence. I miss hearing you recollect memories from your childhood. And I miss your invaluable advice.
10. I shall always love you, even in death. You were more than a husband; you were my best friend. Even though you died, I still feel you near, watching over me. I know that someday we shall be together again. When a spouse dies, it's no longer us, just me.
Husband Death Anniversary Quotes
11. Here is one of the worst things about having someone you love die. It happens again every single morning. Don't tell me that you understand and don't tell me that you know. Don't tell me that I will survive, that I will surely grow. Don't come at me with answers that can only come from me. RIP HUSBAND!
12. Dear, You have touched countless lives in your lifetime, and even after your death, you live through your good deeds. We will always miss you! You are alive through my prayers and wishes, so rest peacefully.
13. The life of the dead is placed in the heart of the living. To live in the hearts of those we love is never to die. Although it's difficult today to see beyond the sorrow, May looking back in memory help comfort you tomorrow darling.
14. I can't touch you anymore, can't hear you, can't see you but I can feel you all the time because you are alive in my heart. My love, we'll meet again one day!
15. I felt your love every day and still feel you near, loving me. I never wanted to be without you, but your love comforts me. Life without you by my side is possible because I still feel your presence. You left this world, but not my heart dear.
16. How you loved someone is reflected in how you grieve. This day is important, and how you feel about it is important too. It's been one trip around the sun without the light of your love. I hold your memory as a glimmer in my heart. RIP HUSBAND!
17. Sometimes I just look up, smile, and say I know that was You. In your life, you touched so many, in your death many lives were changed through you my darling.
18. I'll be seeing you in all the old familiar places that this heart of mine embraces all day through. She was no longer wrestling in the grief but could sit down with it as a lasting companion and make it a sharer in her thoughts.
19. In loving memory of my husband, who was the most honest, kindest, and loving man I have ever known, may his soul forever be in peace.
20. Not even death can steal the love I feel for you. Death may have robbed me of you, but it didn't rob me of our love. A spouse's love is stronger than death. I shall never stop loving you. No matter where my spouse has gone, we still share the bond of love.
Remembrance Husband Death Anniversary Quotes
21. Happy 64th Birthday – Turning 64 is a great stunning milestone that requires celebration. You might be wondering what's so spectacular about birthday celebrations. Birthday's is an event that brings to us good and the boring memories of our lifetime. It also lets us know how good and great we are becoming by adding to the tally with a lot of experience.
22. To your celebrant who's celebrating their 64th birthday, trust me they also want to be shown love and expect a lot from you like birthday cards, a gift box and a lot more. The collection below is a well-composed list of Happy 64th Birthday, 64th Birthday Quotes, Funny 64th Birthday Wishes, Happy 64th Birthday Wishes that you can copy and paste to your loved ones on their special day.
23. Amusing Happy 64th Birthday Quotes and Wishes For Celebrant
24. My dearest husband, I have plenty of people to do things with; I just have no one to do anything with. Grief is like living two lives. One is where you 'pretend' that everything is alright, and the other is where your heart silently screams in pain.
25. You had left this world long years ago, but your memories are still fresh in our minds. May you rest peacefully in heaven. Even though you are no longer here, you often cross my mind. I hope you are in a better place, my love.
26. The past year has been the longest, toughest and saddest 365 days for me as you were not by my side. May the afterlife be kind to you. An entire year has passed since you decided to leave us and move on to the next life. I do hope that you're in a better place.
27. My heart still can't accept that you are not with us anymore. You were my strength. In this one year, there's not a single day that I didn't miss you. It's not easy for me to move on from this pain.
28. It's already been a year and I still can't believe you're gone. I still miss you every day and even after a year I'm not strong enough to accept you're really gone. You are missed more and more each day.
29. It's been 1 year since I lost you, but I can never forget about you. RIP! Having to live a life without you in it has been difficult. In loving memories, you shall continue to stay with us, forevermore.
30. There is nothing more painful than to live without your loved one. I can't explain how much I've been suffering since your death. This was the hardest year of my life.
Death Anniversary Message For Husband
31. Every single second we spent together was a wasted opportunity to tell you I love you. Each year I think it will be easier and each year I miss you just as much.
32. 1 year has passed since you left dear earth, but my heart is still wounded for you. I pray for your soul to be in peace forever. May your soul rest in peace dear.
33. It's the body that dies, not the soul. You'll always be with us in our hearts. There is nothing that I can do for you other than praying. May God bless your soul!
34. A year has gone by but your memory will never fade. I love you and will forever hold you in my heart. Time is supposed to be a healer but after a year it's still as painful as the first day. You will live on in the wonderful memories I have.
35. The biggest enemy of our life is death with which we can never win. Nothing can fill the emptiness of my heart that is created after your death. I'll always miss you. May God give you peace!
36. Death is never an end, but a To Be Continued. They that love beyond the world cannot be separated by it. Death cannot kill what never dies, which is your love dear.
37. We are nobody to question God's will. But it hurts that he called you so soon. May your soul rest in peace! You will always be remembered, darling.
38. Honey, You were the light of my life and your love still shines bright. The memories we shared comfort me every day. Although you are no longer with me in life, I still feel your love. I honor our life together by focusing on the joy we shared.
39. There's nothing quite as sad as the moment when the person with whom you experienced your best memories becomes a memory too. Keeping that memory alive can bring you comfort.
40. Perhaps they are not the stars, but rather openings in Heaven where the love of our lost ones pours through and shines down upon us to let us know they are happy my dear.
1st Death Anniversary Message For Husband
41. The holiest of holidays are those kept by ourselves in silence and apart. The secret anniversaries of the heart. Hope smiles on the threshold of the year to come, whispering 'it will be happier.
42. It's hard to accept the fact that you aren't here anymore. Not a day goes by that you don't cross my mind. The loss of a loved one leaves us with an aching hole that never quite fills up.
43. Each day, for 365 days, you have marked your loss with memory. That's a powerful thing, and it makes your connection stronger. Some years are just unbearably hard, and yet we bear them. You have shown your strength this year.
44. My husband, I hide my tears when I say your name, but the pain in my heart is still the same. Although I smile and seem carefree, there is no one who misses you more than me.
45. There is not a day when I do not think of you and the love you have shown towards me. You are forever alive in my heart. Having to part ways with you was heartbreaking. But there is comfort in the fact that someday we shall meet again. Miss you dear.
46. Life is eternal, and love is immortal, and death is only a horizon, and a horizon is nothing save the limit of our sigh. Those we love and lose are always connected by heartstrings into infinity. Rest on my dearest husband.
47. The pain of losing you is immeasurable. I know the biggest star in the sky that is shining the most is you. I hope you are living well in the world of the creator.
48. Ours was a great love story that we will continue together someday. When we meet again, I shall hold you in my arms and never let you go. Our love was our bond, and even death could not break it. Your death left a gaping hole in my life that I fill with the love we shared.
49. We can measure time, but we cannot measure loss. It has been a year, but there is no way to set a milestone or a limit on the grief. Take your time.
One Year Death Anniversary Quotes For Husband
50. When he shall die, Take him and cut him out in little stars, And he will make the face of heaven so fine That all the world will be in love with night And pay no worship to the garish sun.
51. Sometimes, only one person is missing, but the whole world seems depopulated. Without you in my arms, I feel an emptiness in my soul. I find myself searching the crowds for your face—I know it's an impossibility, but I cannot help myself.
52. Honey, life has been tough, but you taught me one thing— never give up. I'm trying to become someone you'd be proud of. And I pray for you every single day. Dear, nothing can fill up the space you left behind in our hearts years ago. I wish I could have one more chance to be with you!
53. Everything reminds me of you and makes me feel connected to you. I will cherish you forever. You are never out of my heart or thoughts. You may be gone, but I can still see your face and hear your laughter.