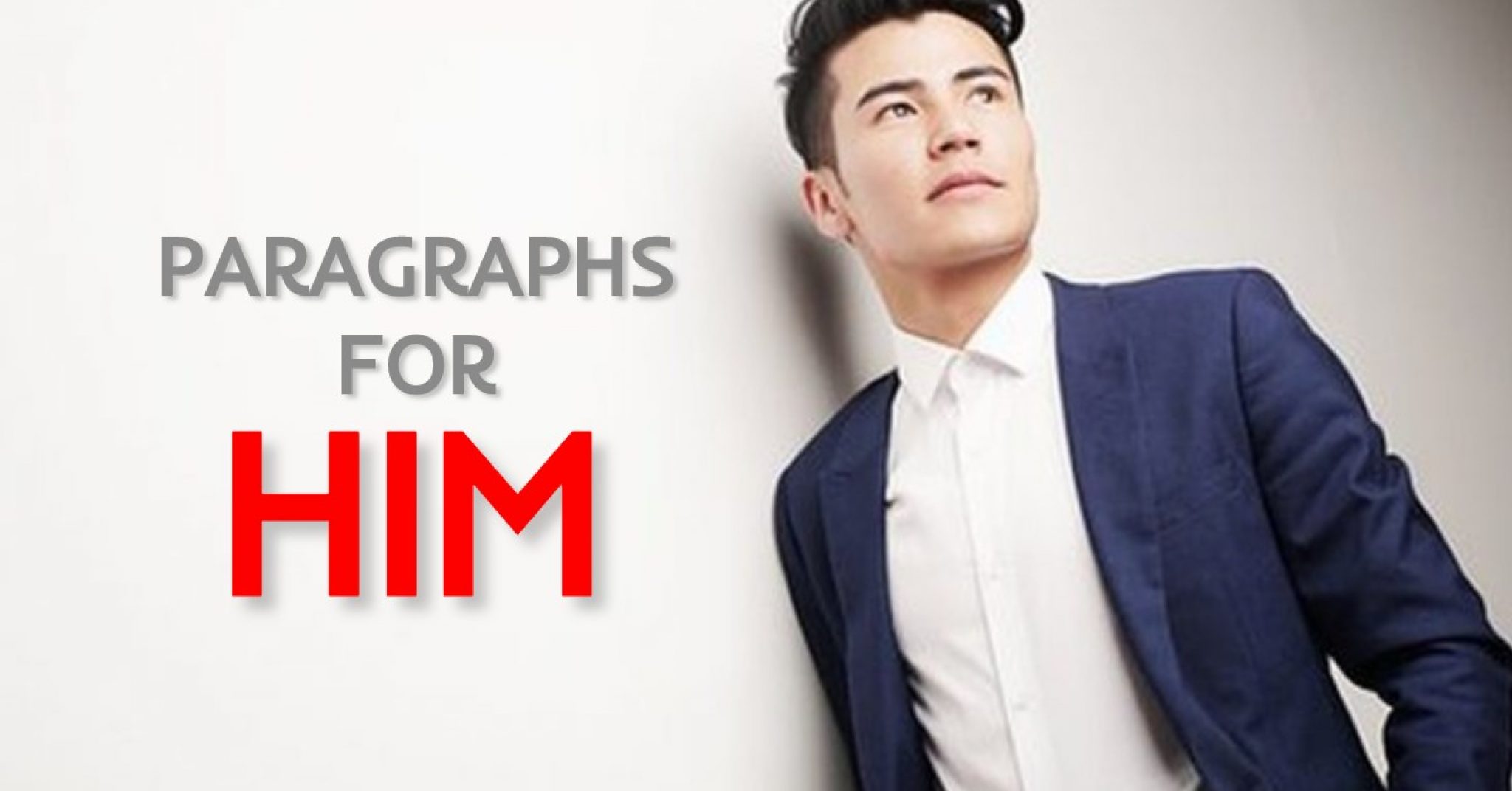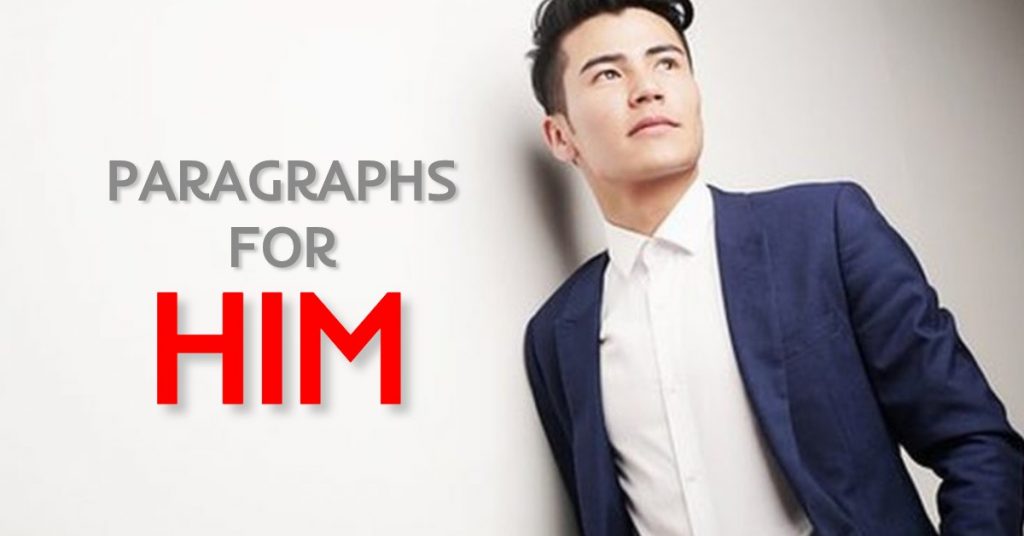 They say words without actions mean nothing. That's true, of course. But at the same time, actions without words can also be misunderstood or incomplete. So it won't hurt to know exactly what to say, especially when it comes to romantic relationships. You can just copy and paste one of these incredibly cute paragraphs for him or use these words as an inspiration for your own "I love you" paragraph.
You can copy and paste these passionate messages for your boyfriend or anyone who catches your eye. Let that special someone know how you feel about them with these love paragraphs for him.
I've always known and appreciated the specialty in you and only your love brings amity and solace to my world. I can't love you enough baby, can I love you forever? I have a truckload of load that can last a lifetime.
I fell in love with you the same way I fall asleep. At first, I feel nothing, remaining oblivious of my need to rest. Then I start to feel my body succumbing to something I would initially choose to ignore. And without warning, there I go – slowly at first, and then all at once I fell for you.
I can't measure the love and care you give to me; it will be too expensive to repay. You are my strength in everything I do because without you; my life would be miserable.
Sometimes I wish every girl in this world should have a caring boyfriend like you. But then I realize that I would be extremely jealous if it happened.
You are only mine forever and I don't want anyone to enjoy the love I have in life.It has been three years since we first met, and I first fell in love with you. But, my heart still skips a beat every time I see you. Every single day offers me a fresh new opportunity to know more about you, and I want you to know that I fall in love with you afresh every day.
I love you in a place where there's no space or time. My love is everlasting, ever growing, and ever present. My love for you knows no bounds. I was drawn to you and your soul in a way I can't explain. It was like I just knew, here he is. This is it. He is it. You'll never know how much you mean to me. I can only tell you that my soul will love you forever.
My love for you is an eternal wine that can never go old, nor sour. It is an everlasting baby and shall outlive this generation, this world and all that is in it. True love never dies, and I am glad that is what we share.
Spending time with you is undoubtedly the greatest thing ever. It's the most enjoyable thing I have ever done in my life. When I'm with you baby, I have the time of my life and time flies by. The little things you say to me always put a smile on my face. But when we are apart, I really miss you and couldn't wait to see you again. I am truly blessed. I love you to infinity and beyond.
I have for the first time found what I can truly love—I have found you. You are my sympathy—my better self—my good angel; I am bound to you with a strong attachment. I think you are good, gifted, lovely: a fervent, a solemn passion is conceived in my heart; it leans to you, draws you to my center and spring of life, wraps my existence about you—and, kindling in pure, powerful flame, fuses you and me in one. – Long Paragraph for Him
I wanted to take the time to tell you just how much you mean to me. You've become a rock in my life, something solid and secure I can lean on. Knowing you're by my side makes me so eternally grateful, that I can hardly put it into words. I had felt happiness before, but nothing prepared me for the happiness I feel when I'm.with you.
We understand each other. We listen to each other. We inspire each other to become stronger with each passing day. You are the best boyfriend of all. You are so amazing, and you do everything to make sure I'm taken care of. I love you.
Long Paragraphs for Him Copy and Paste
You're my everything and I mean that. I will never forget all of the fun things we've done together and the amazing times we have spent together. You have my heart forever and always and nothing will ever change that.
I'm thinking about breakfast right now, but nothing seems good enough, I could get a fresh cup of coffee, and it wouldn't warm me up as you do, I could make a pillow from pancakes, and they wouldn't be as soft as your lips, I could get a crepe filled with whip cream, strawberries, and powdered sugar and it still wouldn't be as sweet as you.
You are no doubt the best thing that ever happened to me in life. I'm so blessed that I finally found the missing part of me. Loving you has opened me to see the world in a different dimension. Now, I've realized how beautiful life can be, only when you are with the one that makes your heart ring. Your love is the energizer that I need to keep living. I'll hustle for a bright future for us because we will live like kings and queens in my world
Sometimes, all I wonder is how your heart works. Does it beat for me? Can I dance to the beat? Baby, all of me is falling for you. Will you hold me? All I need is a yes from you. All that's required is your acceptance. It's in you. I find comfort and happiness while I face the challenges life presents to me, I will be complete if you become mine forever.
No one can explain the reason why I love you so much not even me but God alone. I have really missed you and will always cherish you till the end of time. Whenever the night comes, I feel like closing my eyes and never opening it again because I see you in such state of my life. You are my precious love, my darling and the sweetest husband in the world. I love you so much.
Whenever you look at me with those piercing eyes, love radiates through my body, making me quiver. I love the truth, I behold in your eyes, it builds my confidence in you. You need not say a word about how you feel for me, your eyes tell it all. How could it be that you mean so much to me, when you only represent one thing in my life and that's love, indeed love is the greatest. If the city walls, the bulletproof and the bodyguards cannot guarantee your safety, be rest assured that you're safe in the citadel of my heart. – Long Paragraph for Him
I can do everything for you because you deserve my love in any length. You are so much amazing and sweet to be with in every minute of this life; a success found in a lifetime—my one and only jewel and incomparable treasure divinely sent to me by God. I love you now, tomorrow and forever.
I wish I could find someone as special as you are ten years ago while I was in series of heartbreaks and frustration perhaps those experiences would never have found a space in my entire life; thank God I found you and since the very first day I got married to you, never have you made me regretted it.
Long Paragraphs for Him Copy and Paste Long Distance
I appreciate all the good things you're doing for me. You make me feel beautiful, needed, and cared about, even from thousands of miles away. I wish I could be there to hold you. I love you so much!
I was looking for happiness. Then I met you, and you gave me that happiness. I can't imagine life without you. Come back soon
I am jealous of the moon that lulls you to sleep because I can't. I am jealous of the sun that kisses you awake because I can't. I hope to see you soon.
The miles between us mean nothing because I love you here, there and everywhere. I miss you. I miss you and me together. I miss us.
I don't cry because we've been separated by distance, and for a matter of years. Why? Because for as long as we share the same sky and breathe the same air, we're still together.
The first time I saw you, I just knew I had found someone wonderful. From then on, all I want is just to be with you. You brighten my day with your smiles and words.
If I could do anything to be with you right now, believe me, that I will.
I appreciate you, darling, thank you for your care and love, not minding the distance, I feel your presence with me every day. Let's make the world jealous of our love. I love you with everything in me and I would never stop loving you. See you soon, baby.
Every day I long to hear your voice to brighten my day, I long to feel your touch, I long to stare into your eyes and see the future. You're not here, yet you make me happy, you're my sunshine and you brighten my world. I'm indeed to have a woman like you in my life. Love you till eternity darling.
No matter what the storm of distance does, we would keep sailing through the wind and remain standing together as our hearts join forever. I can't wait to have you by my side, and every day I live, I love you more and long to see you. I miss you, darling. You're the best.
Even with the long distance between us, I know we can always make this work. The fact that you are mine fills me with much excitement everyday baby; I love you more than you can even think of. So just continue to love me like I do you.
Paragraphs for Long Distance boyfriend
I was looking for happiness. Then I met you, and you gave me that happiness. I can't imagine life without you. Come back soon.
You are the most caring person I've ever met, and you have made my life better in more ways than I could ever count. I couldn't imagine my life without you around (and I would never want to!). I miss you so much!
Nobody can ever take your place in my heart; you're the only one who makes me happy. You are all I need in my life. I'm anxiously waiting for you to come back.
Being with you is like having a wish come true. Living with you by my side is another wish that I'd like to have come true. Please come back soon, baby.
By giving the special man or woman in your life a romantic letter, you can rekindle the spark in your relationship or you can keep that flame going strong. When you present your special person with romantic letters, you will find that a little bit of effort can have a strong impact on your relationship.
I appreciate all the good things you're doing for me. You make me feel beautiful, needed, and cared about, even from thousands of miles away. I wish I could be there to hold you. I love you so much!
I love it when you call me and want me to feel included in your adventures and life. I'm really looking forward to the day that I get to experience those adventures with you in person! I love you, babe.
I'm happy to see that our relationship is standing the test of time. Thanks for loving me wholeheartedly despite the distance between us. You are my heart's desire!
Cute Paragraphs for Boyfriend
I am so stranded with passion since the day you left. I wish I were there to hug and kiss you, rest my head on your chest and sleep off while my head is still on your treasures chest. I am so much in love with you, the most interesting man I have ever met in my life. I love you!
You have truly changed my life in ways you will never understand. Everything was going wrong in my life until the day I made you. You have made and always make everything in my life better. You make my heart skip a beat from your cute good morning text messages to those adorable nicknames you come up for me.
There is no day that breaks that I do not love you more than I used to do. No matter the situation in hand, it is all the same to me. I can never be comfortable without you, so why should I stop loving you? You are the most handsome man I have ever met in life.
I once had a competition with adjectives, and I won, because adjectives failed to give me a word that described how much you mean to me. I love you more than words could ever describe.
I can't believe there was a time in my life when I didn't have you. I can't believe there were mornings where I didn't wake up next to you. I can't believe there were evenings where I didn't kiss you goodnight.
I just wanted to take this time to say thank you. Thank you for everything you've done for me. Thank you for loving me and accepting me unconditionally and providing me with undivided love and attention. I thank you for all the laughs we've shared and the great times we have had. You've always been my rock in hard situations and the sunshine when it's cloudy outside. You're my everything and I LOVE YOU.
Happy Anniversary Paragraphs For Him Copy And Paste
Never in my life I could've thought that someday I will marry the most special and beautiful human being in the world. My love for you is one of a kind. I'm still falling in love with you each and every day. Happy anniversary, husband!
Every morning spent with you is magical. You fill my life with so much happiness, every day I thank God for bringing you into my life. Many more years to come, darling. Happy anniversary.
I absolutely love our anniversaries, because we have an opportunity to remind ourselves about the most important day of our lives. I gave my heart to you, and I would do it again if I could. I love you, hubby, happy anniversary.
I've been in love with you as long as I can remember myself. Life without you doesn't make any sense. I'm the happiest woman alive, because every morning I wake up with the most kind, supportive and understanding man in the world. Happy anniversary, honey.
I'm so grateful that we've been able to share our lives, our love, and our laughter all these years. With you in my life, I eagerly look forward to the special surprises that each new day holds for us.
I know I'm the one your heart belongs to, and to be honest, I'm really happy, because my head is always spinning over you, I love you baby, and I was blessed to say "yes" at the altar. happy anniversary paragraphs for him
I never knew what heartbreak is. I have never encountered pain and disappointment. And I have such a wonderful family life because of you, sweetheart. Congratulations on our wedding anniversary!
My love, with you I became a better person. Without you I am incomplete. Thanks for choosing me as your better half. Loved you, love you and always will. Happy anniversary!
You're not only a great husband and father, you're an incredible lover, too! I can't wait to spend every moment of our anniversary together! When I met you I knew that our relationship was going to be something special.
Here's to a wonderful anniversary and a year filled with adventure! You have a unique, charming sense of humor, a quick wit, and that oh-so-sexy smile. In short, you're simply irresistible! Happy anniversary to my husband, lover, and best friend!
May this anniversary be our most memorable one yet! You fill me with passion, pride, and pleasure. Today, on our anniversary, I want to let you know that I feel so blessed to have a desirable, faithful, and loving husband like you in my life.
I know you're the right man for me because even when we don't see eye to eye on things, our love stays just as strong as ever. May this anniversary be another special milestone in our ever-deepening relationship.
Side by side you and I can face anything that comes our way. I thank God for bringing you into my life. Happy Anniversary, my love!
Thank you for being the kind of husband I can count on to treat me with the love, respect, and care that I need to thrive. I love you! Happy Anniversary! With each year that goes by our love grows stronger and stronger.
Celebrating the Anniversary of Relationship, Marriage or Work is something Exciting and needed to be celebrated Properly. You can send any of the above anniversary paragraphs for him that will make him share tears of joy. Remember to share this content with friends if you find it interesting.