Deaths are an inseparable part of the cycle of life, but it is still as traumatic and haunting for us. The death of a family member or close friend creates such grief that can hardly be washed away even after many years.
Though nothing can compensate for the great loss, expressing love for the deceased on their death anniversaries can be relieving. Death anniversary messages and quotes can express how much we miss the person we lost and how much we yearn for them!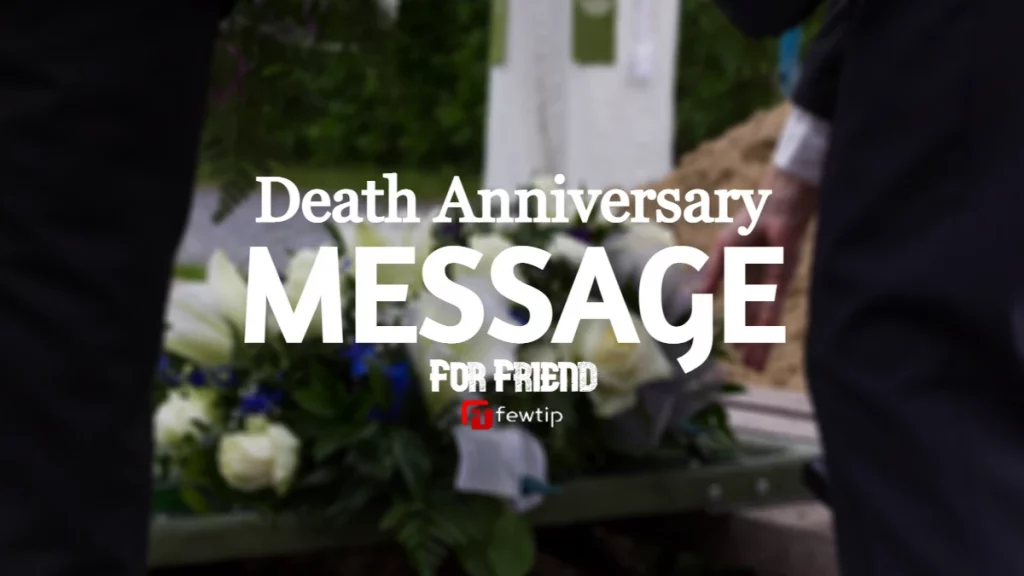 An anniversary of a loved one's death is always tough. It can open old wounds and rekindle memories that we haven't thought about for a long time.
The pain never fully goes and is often at it's rawest and most vivid on days like anniversaries. But whilst for some it's a day that brings back unwanted grief, for others it's a chance to celebrate someone's passing.
And if appropriate then you may want to offer your condolences on the anniversary of a loved one's death to their family or friends. Reaching out with a message or card can show they're in your thoughts and you're there for them.
Some death anniversary messages to express such emotions are listed below.
Death Anniversary Message For Friend
1. Life is fleeting, indeed. To think that it was yesterday that we first met. See you on the other side. Losing you is my biggest regret and I miss you every day dear friend.
2. While we are mourning the loss of our friend, others are rejoicing to meet him behind the veil. In your life, you touched so many, in your death many lives were changed.
3. Your beautiful smile and memories will remain alive in my heart. We feel incomplete after you have closed your eyes. Death is indispensable. So, we will meet on another side one day.
4. Since the day your loved one passed, many years have gone by, but just know that they have always been with you and will forever be at your side.
5. Losing a loved one is an unparalleled tragedy- however, seeing them again in Heaven is jubilation waiting to happen.
6. Unseen and unheard but always near and missed very much. Whenever a gush of wind comes near me, I just look up, smile, and think that it was you.
7. It's hard to accept the fact that you aren't here anymore. Not a day goes by that you don't cross my mind. The loss of a loved one leaves us with an aching hole that never quite fills up.
8. To live in the hearts of those we love is never to die. Death is nothing to us since when we are, death has not come, and when death has come, we are not.
9. Man is mortal but the love for them is immortal. Though you are not present here with all of us, your memory is stored in our mind. Rest peacefully in heaven!
10. I know that this day is always difficult for you and I spent some time thinking about you this morning. I hope that time will heal your wounds. Know that I am there for you.
Death Anniversary Quotes For Friend
11. There is not a day when I do not think of you and the love you have shown towards me. You are forever alive in my heart. Having to part ways with you was heartbreaking. But there is comfort in the fact that someday we shall meet again, friends.
12. Perhaps they are not the stars, but rather openings in Heaven where the love of our lost ones pours through and shines down upon us to let us know they are happy.
13. Death leaves a pain that no one can cure. I think of you every day every time. During this time our prayers and love are with you. Dear Friend.
14. I am thinking of you and praying for you today as you remember the death of your [husband]. [He] truly was a great [man]. We think about [him] often. I wish you much comfort today and always.
15. Gone from my life forever, but never gone from my heart and mind. Your terrible loss is often in my thoughts; therefore, I wish you comfort, peace, and strength as you continue to cope.
16. The past year has been the longest, toughest and saddest 365 days for me as you were not by my side. May the afterlife be kind to you. An entire year has passed since you decided to leave us and move on to the next life. I do hope that you're in a better place.
17. It's already been a year and I still can't believe you're gone. I still miss you every day and even after a year I'm not strong enough to accept you're really gone. You are missed more and more each day.
18. It's been ten years since you left us but your smiles and memories are still alive in this heart and house. Hope you rest in a better place. It is quite hard to accept that you have gone. Every day you cross my mind and fresh all the moments we spent together.
19. Even as you remember this painful day, I hope you think of all the beautiful times you were able to have with your mother. She was so loving and kind, and I just know she would want you to smile today. I do, too. Please let me know if you want to talk or go for a walk.
20. It's been one year since we lost [name]. I wanted to make sure you knew that you're in my thoughts and in my heart during this time. I think of you and [name] often and I'm wishing you peace and strength.
Anniversary Of Friends Death
21. It's been 1 year since I lost you, but I can never forget about you. RIP! Having to live a life without you in it has been difficult. In loving memories, you shall continue to stay with us, forevermore. 1 year has passed since you left dear earth, but my heart is still wounded for you. I pray for your soul to be in peace forever.
22. Every single second we spent together was a wasted opportunity to tell you I love you. Each year I think it will be easier and each year I miss you just as much. A year has gone by but your memory will never fade. I love you and will forever hold you in my heart.
23. We dreamt of living a long life together but the dreams had been shattered. Last year you left me here and went to heaven alone. I still think you are here by my side because I can feel you.
24. My heart truly goes out to you in this time of painful sorrow. Someone so uniquely special and dear to you could never be forgotten. On this anniversary, I hope that you take comfort from my love, support, and prayers. I know that you will make it through this intense and painful time.
25. The days after you leave are the toughest and painful days when I don't find you by my side. Rest in comfort. Sometimes, I look up towards the sky and smile because I feel that you are up in the sky. I believe you have not gone away, you are living with us, listening, and seeing us. Rest peacefully in heaven.
26. Dear Friend, You are alive through my prayers and wishes, so rest peacefully. You had left this world long years ago, but your memories are still fresh in our minds. May you rest peacefully in heaven.
27. Many caring thoughts are with you today. When someone you love dies you never quite get over it. You just learn to slowly go on without them. But always keeping them tucked safely in your heart
28. Feeling apart makes me sad but I find comfort when I think that one day we will meet again. Even though you are not here now, I feel you next to me. Hope you are in peace and comfort on the other side.
29. While your loved one may no longer walk on this green Earth, the days that they spent here were incredible. The life they lived and the people they touched will stay in our memories forever.
30. It broke my heart to lose you, but you didn't go alone; because God sent his angels down to carry you home. Remembering you is easy- the things you used to do and say. The hard part is having a lost loved one in you- the heartache never goes away.
Death Anniversary For Friend
31. You are missed daily and every day, you are that special person which meant to us more than anything else in the world. Remembering you is easy but missing you is heart pain.
32. Dear Friend, life has been tough, but you taught me one thing— never give up. I'm trying to become someone you'd be proud of. And I pray for you every single day. Dear Friend, nothing can fill up the space you left behind in our hearts years ago. I wish I could have one more chance to be with you!
33. Those we love don't go away, they walk beside us every day. Unseen, unheard, but always near; still loved, still missed and very dear.
34. We are nobody to question God's will. But it hurts that he called you so soon. May your soul rest in peace! Will continue to remember you, friend.
35. I want you to know that I am truly sorry for your loss. On this anniversary, it is important that you realize that I am only a phone call away. In this difficult time of loss, know that we are all by your side. I am certain that your loved one is looking down on you from above.
36. When someone near to us is in heaven. A little bit of heaven is in our home and lives too. The person living close to our heart never leaves us, they reside on the kindness they shared with us and the love they have spread with us….. You will always be remembered, Friend…
37. Even though you are no longer here, you often cross my mind. I hope you are in a better place. ___ years ago, ____ ( name), you left us. But even to this day, you live on in our memories. Some day we shall meet again.
38. When he shall die, Take him and cut him out in little stars, And he will make the face of heaven so fine That all the world will be in love with night And pay no worship to the garish sun.
39. The pain of losing you is immeasurable. I know the biggest star in the sky that is shining the most is you. I hope you are living well in the world of the creator, dear friend.
40. I know today will be hard for you, but remember that you have so many people who love you and will be thinking of you. Let me know if there is anything you need. I hope you will get through this and believe you will.
1st Death Anniversary Message For Friend
41. You have touched countless lives in your lifetime, and even after your death, you live through your good deeds. We will always miss you!
42. The hard part wasn't losing you. It was learning to live without you. Because someone we love is in heaven there's a little bit of heaven in our home.
43. We all wish you peace and comfort in the days ahead. Rest peacefully. You will always be in our memories, prayers, and heart. We miss you every day and every time. Rest in peace. There is no sorrow that the earth can't heal but the pain we are feeling is cureless on this earth. Rest in comfort.
44. I know that this is an extremely difficult time for you. I want you to know that you are in my thoughts, and in my well-wishes. I cannot imagine what you must be feeling right now, but know that I am here for you no matter what. Please accept my utter heartfelt condolences on this anniversary.
45. The previous year since the funeral has been a painful time for us all; be that is it may let us find joy in our wonderful memories of our lost loved one.
46. The gloomiest time is when that person becomes a memory for you. Who was the source of all your happy memories? Our loved ones never depart away, they are with us every day.
47. Dearest friend, not a day goes by that I don't feel your absence. I miss hearing you recollect memories from your childhood. And I miss your invaluable advice.
48. Although it's difficult today to see beyond the sorrow, May looking back in memory helps comfort you tomorrow. They that love beyond the world cannot be separated by it. Death cannot kill what never dies
49. I can't touch you anymore, can't hear you, can't see you but I can feel you all the time because you are alive in my heart. My love, we'll meet again one day!
50. I am extremely saddened by your loss. I know that this anniversary is an immensely distressing period for you. Please take comfort in the fact that I am here to provide you with any assistance you want or need. I hope that my friends and condolences bring light to your life during this time.