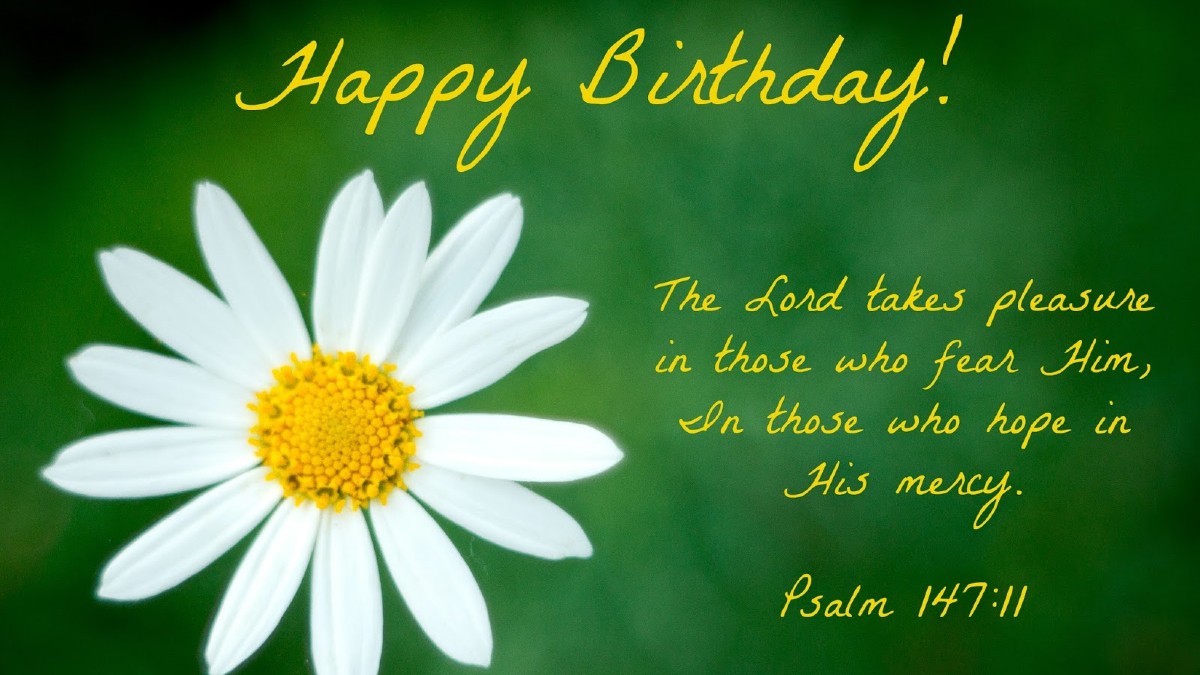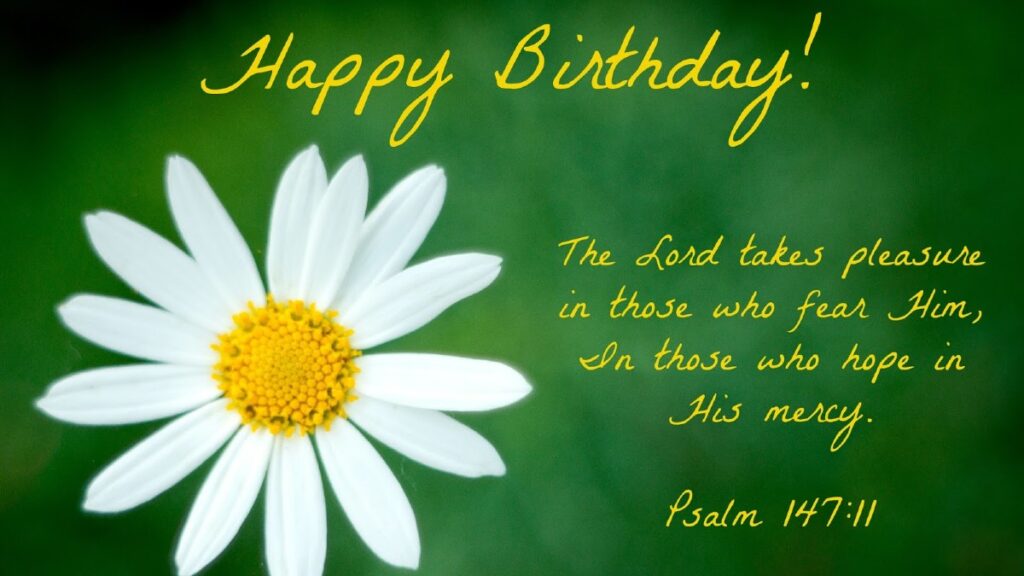 Birthdays are memorable because it's the day and time that we honor someone who has a significant impact on us and how thankful we are to be able to have them in our lives. If your friend or friend or Christian person is celebrating their birthday, you can consider a unique way to celebrate by sending them a personalized Christian birthday greetings.
Christian Birthday Wishes
1. May your prayer in Christ grow stronger and His blessings increase each day. May your birthday be a reminder of God's love in your life. Happy birthday!
2. Thank you for being a loving brother and more than that, for being a friend. I wish you stronger friendships like that of David and Jonathan. Happy Birthday!
3. Today, we celebrate the life of a woman whose faith no trial in life has been able to defeat. Dear, may God and the Holy Spirit continue to renew your strength for countless years to come!
4. Each one of us is special in His sight. May you feel Him watching over you with loving affection, not just on your special day, but always! Blessings on Your Birthday.
5. May God give you the strength and make you prepare to overcome all the barriers in your life. Happy birthday! You're a born winner!
6. You are one God's most beautiful masterpieces. Today is a day to celebrate His works and a gift to us all. Thank you for the warmth you have brought to our lives. May you have a birthday full of God's blessings.
7. In that moment you take a breath before blowing out your candles, considering that you are the greatest wish the Lord has made.
8. You have all that pertains to life and godliness. May this New Year usher you into more of God's arrangements for you. Happy Birthday my dearest!
9. Even though God has already brought you to a ripe old age, may He bless you with so many more years of life that people will praise Him whenever they speak of you.
10. May Jesus Christ continue to bless you abundantly and keep you safe in his loving care. On your birthday enjoy His divine presence in your life. Have a Happy and Holy Birthday.
Christian Birthday Wishes For Friend
11. May God warm your heart and grant peace upon you, not only on your birthday but for every single day of your life! Happy birthday, dear.
12. To better prepare them on the coming journey, send them off with a prayer and a beautiful Christian birthday wish.
13. If you feel that a simple spiritual sentiment is an appropriate way to greet someone, then here are the top 60 religious birthday wishes that you can take inspiration from.
14. Today will be a fabulous day because we celebrate that it is your birthday. I ask God to bless you always, and that love never is lacking in your heart!
15. Should you ever feel weak, I pray that God gives you strength to take you through. Should your heart be filled with fear, I pray that you remember to reach out to the hands of God and let Him be your guide. Happiest Birthday!
16. I may not have as many brothers as Joseph did but I am glad I have you. I pray you always have people who will stand up for you even in this new age.
17. May this new age bring with it the realization that no bad situation is permanent and that God still has a plan that He will execute in your everyday life.
18. I am really thankful to God for having you in my life and may He keep showering you with all of his blessings. Happy birthday, once again. Love you.
19. Happy birthday, my dear. On your birthday I pray to God for your health and well-being. May Jesus give you all the success, pride, and prosperity. Have a great year ahead.
20. I pray to God that he makes sure that there is never a shortage of love and care in your life. May this birthday become the most memorable day in your life!
Christian Happy Birthday Wishes
21. May every day of your life bring glory to the name of Jesus. I pray that you continue to live in the light of His gospel. Happy birthday!
22. Though you may blow out your candles, the light of the Lord will always shine on you and his warmth shall be a comfort.
23. God has brought you this far and trust me, He does not deal in incomplete projects. On this birthday, He will continue to perfect all that concerns you.
24. Today, we celebrate the life of not just an average person but someone who has taken it upon himself to exemplify what it means to live a Godly life.
25. May all your dreams turn into reality and may all your wishes come true, this is my prayer to God on your birthday! Happy Birthday To You!
26. May God answer all your prayers and fill your life with happiness and smiles. I wish you a very happy birthday to you, dear friend!
27. Celebrate the life that God has given you by sharing your joy with others and by spreading His message of love to everyone. Happy birthday to you dear!
28. Happy Birthday! I pray that your special day will be filled with all the glory and the wonder of God's unfailing love and may you feel his presence working on your life all throughout the coming years!
29. Your birthday has arrived, and I thank God for giving you another year on Earth. I hope you continue to build a life of successes and beatitudes, and never forget that Christ accompanies you!
30. On your birthday, I wish that your faith in God will become even stronger and that God's love will keep you going. Happy Birthday!
Christian Birthday Wishes For Daughter
31. On this very special day of your life, I pray that you may find happiness in every situation. May there always be a reason to smile in every moment of your life!
32. Great people like you deserve all the best blessings in this world. May God shine light upon the roads of your life always! Have a blessed and amazing birthday!
33. I wish I am with you to celebrate this special day. Please know that you are in my thoughts and you are in God's embrace forever. Wonderful Bday to you!
34. God loves you, dear brother, and that is why he has allowed you to continue walking through this world of joys and beatitudes. Take this opportunity and do your best to honor our Lord and thank him for the miracle of life. Happy Birthday!
35. Just like this birthday card that I lovingly placed inside an envelope, so may you be enveloped by the love of Jesus on your birthday
36. God makes all things beautiful in His own time. As you add to your age, may his newness overshadow you and all that is yours.
37. On this blessed day, may your future be highlighted by discipline so effective and blessings so abundant that there will be no question they came via the highest God!
38. On your birthday, I pray to Lord Jesus to bless your life with lots of good luck, prosperity, and good health! Happy Birthday, dearest friend!
39. Every day is a great day to celebrate God's wonderful works. But today is a great day to celebrate you, one of God's most wondrous creations, wonderful birthday!
40. Look in the mirror. Yes, the person staring back at you is one of God's most beautiful Masterpieces. Have a wonderful and blessed birthday!
Christian Birthday Wishes For Brother
41. On this day, may you feel the Lord's loving presence working in your life! Enjoy your day for you deserve to be happy. Wonderful birthday!
42. Your presence in this world is a blessing, and God knows it, so it has allowed you to continue on the path of life and has placed us by your side to accompany you on the way to your happiness. Happy Birthday.
43. I am lucky to have a wonderful friend like you! God knows that I need someone who I can share my ups and downs with! Thank you for gracing my life with your friendship! Have a blessed birthday!
44. The road of faith may not be the easiest to take. This is the reason why God gives us a choice to go on our own. So be happy and celebrate the amazing choices you made in your life on this special day of yours. Best Bday!
45. Congratulations on your day, and may God bless you. I hope you enjoy your family and keep in mind that God's love is always with you. Happy Birthday!
46. As you celebrate your birthday today, may Lord also open your eyes to appreciate the wonders of His hands. Wishing you all the best of everything! Happy Birthday.
47. One cannot be more proud of a brother than I am of you. A new year begins for you today. I ask the Father to grant you great success and that many will come to your light.
48. My daughter, you are not just any child or any girl. You are unique. I asked for you from God and He gave me you. Today, I hope you always remember this.
49. Today is a wonderful day worth celebrating, because today God Almighty gifted you with life. May you share the joy of salvation with everyone around you. Happy birthday!
50. A prayer for you on your birthday: May God bless you and grant you long life, prosperity and happiness for all your days!
Christian Birthday Wishes for Husband
51. May God grant you all your desires this birthday even beyond your wildest imaginations. He is able to do exceedingly and abundantly above all you could ask or think.
52. Today, we give thanks to you for being a living example of the Christian faith, and we especially give thanks to God for putting someone like you in our lives.
53. May the Holy Spirit send you the gifts of wisdom, maturity, and understanding this year. Have a Happy and Holy Birthday.
54. Always remember that my prayers are always with you no matter how far I am. You're a beautiful soul and God loves you! Happy Birthday!
55. May your days be showered with happiness and a bountiful of blessings to grace your way. Happy birthday to you!
56. On your special day, I pray that God will continue to warm your heart and lift your spirits while granting you peace and serenity on this very special day of yours.
57. I ask God to illuminate your path and lead you to the greatest happiness, because you are an extraordinary, kind, and kind human being, and you deserve to cultivate joy in your life. Happy Birthday.
58. I hope you have a happy birthday in the company of everyone you love, and may God grant you all the prosperity, love, and health you can ask to live a full and happy life. Congratulations!
59. In this new age, you will truly become like a pillar in the king's palace. Your inner and outer beauty will spring forth and God's glory will radiate all over you.
Christian Birthday Wishes For Sister
60. You are as beautiful as the shining sun. No heart is purer than yours is, friend. God can see that, as we all can. God bless you and happy birthday sister.
61. Thanks be to God who gives us your shining light. You are an inspiration to us all and I am so glad to be able to wish you a blessed birthday.
62. Today, as you celebrate a new year, I wish you long life and happiness so I can continue to enjoy the blessedness of having you as my sister.
63. When God made you, He created the model human being, complete with all of the extras! Hope your special day is brimful with the special blessings of God.
64. Wishing you a day filled with happy memories and a year with numerous reasons to be thankful about. Happy Birthday to one of the sweetest persons I have ever known. May God bless you.
65. You are always the reason for our smiles and our joys. May God bless you with the same happiness that you bring for us every day! Happy Birthday!
66. The gift of life is a blessing to be treasured, You will share your love and joy with others for sure! Pray hard and work hard for your heart's wish God will surely hear and grant you the strength for this! Have a blessed and happy birthday!
67. On this day of yours, take God's hand and get excited for he's got a lot of great things planned ahead of you and in the years to come. Happy Birthday!
68. On the date of your birthday, I pray to God to take your hand and lead you along the path of prosperity, for you deserve no less than to achieve the greatest happiness.