There is nothing weird about saying, "Thank you for being my friend." to your friend. Well, it may appear odd to some people. But don't your friends deserve some appreciation messages for the things they do to cheer you up or just being by your side? So, why not send a heartfelt thank you message to your friend?
Did a friend recently help you out in a significant way, and you can't find the words to tell them how much you appreciate their kindness? Sometimes it's hard to know what to write to show someone just how much you appreciate them. Fortunately, I'm here to help!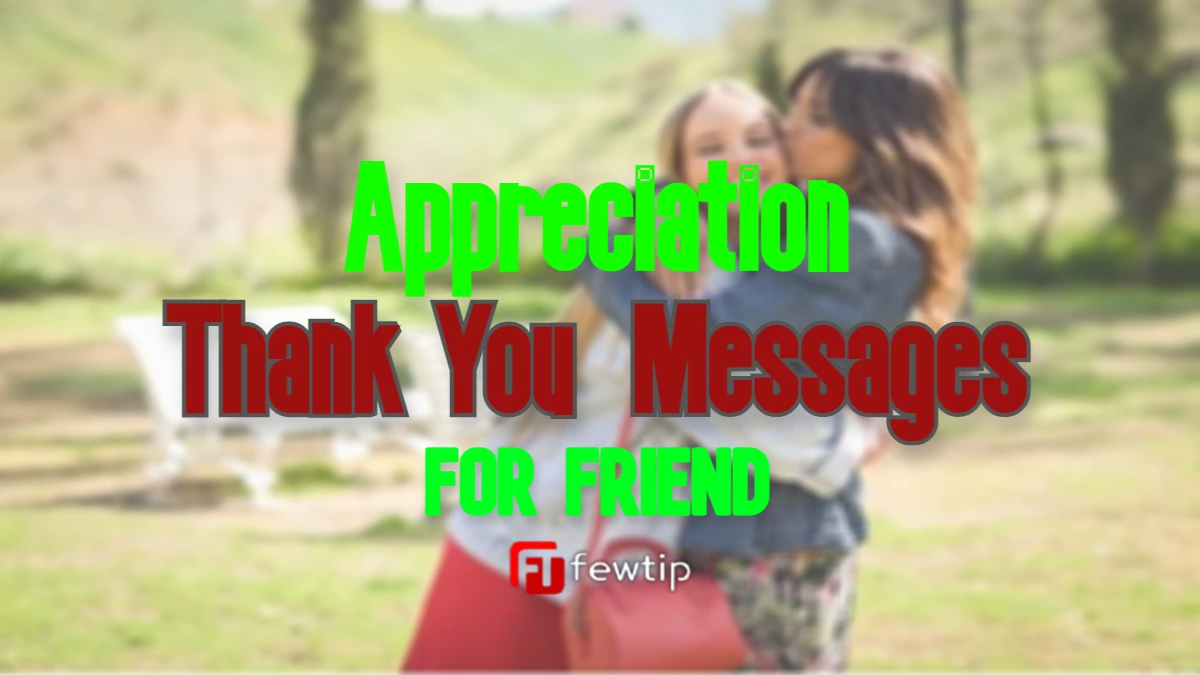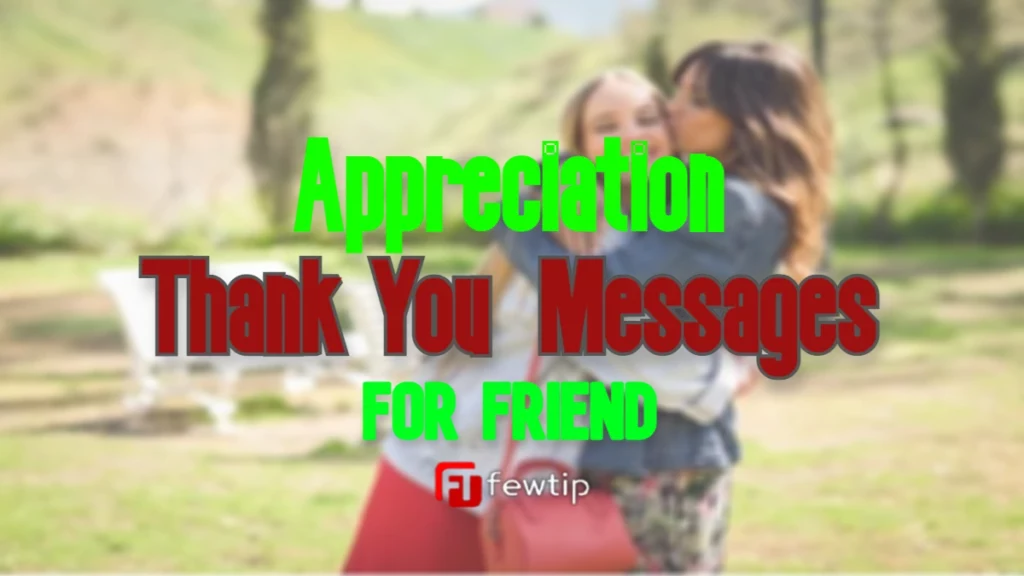 This article is an original collection of messages, quotes, and sayings that you can use to write a wonderful, heartfelt thank-you to someone who helped you through a tough time or gave you the perfect gift. You can use the examples below to craft your own unique appreciation messages or just use them as they are.
Appreciation Thank You Message For A Friend
1. I know I don't talk about how grateful I am to have you in my life, but it doesn't mean I don't feel that way. Thank you for being my friend.
2. Although we seldom speak or see each other, when we do it brightens my day. Your friendship reminds me of the good old days; your smile and wonderful sense of humor will always remain with me. Should you ever need me in any way, don't hesitate to call. Love always,
3. I am not exaggerating when I say that you are God-sent. In fact, I owe my sanity and well-being to your constant love, unwavering support, and deep commitment to me. Thank you, over and over again!
4. Thank you for being my friend, you have filled my life with pleasure and amusement and have spread so many colors around it. I wish to walk along with you till the last moment of my life.
5. Do you know how I understood that we will be friends till the end of time? I realized that, even if we don't talk for months, we still gonna feel the same about each other in the end. I'm really thankful for that, mate.
6. Just saying thank you to you will never be enough to express my appreciation for you; you are one of a kind! I feel so pleased and special whenever I'm around you!
7. Your jokes are annoying, you're totally crazy and too clingy, but I like you the way you're. Thanks, pal for being so weird.
8. I've been called a weirdo more than once. I tell them a man is made by the company he keeps. Hey, just kidding, but thanks for being a loyal fellow weirdo. Being a lonely weirdo is just… so weird.
9. I don't know what's tighter, our jeans or our friendship. You're weird, I like you.
10. Though you couldn't fix all my problems, I got you always beside me to face them together. Thanks for being such comfortable support to me.
Thank You Message For Best Friend
11. You are my unique friend, you know. No one else is able to keep up with my nonsensical attitude. Don't be so unique, you are spoiling me. Just pulling your leg, sorry for being such a jerk sometimes. And thanks for your generous forgiveness.
12. I think we'll be friends forever because we're too lazy to find new friends. Let's be weirdos together.
13. Who needs to go to a psychiatrist to share your mental problems when there's a psycho friend like you! Thanks for being a crazy, stupid, and weird friend.
14. Having a conversation with you is so comfortable. After all, not much input is required by me. LoL. I love your verbosity buddy, you make the whole atmosphere bright. Be as talkative as you are. Er… not any more than you already are I mean. Leg pulling again. Thank you for being you.
15. My bestie is better than the resties. We are best friends. Always remember, that if you fall I will be there to pick you up (after I finished laughing)
16. Being friends with you makes me want to celebrate every day as Friendship Day. Thanks for adding truckloads of joy and happiness to my life, every day.
17. We're celebrating this weekend. Join us. Achievement is an old one. Getting you as one of my wingmen. I'm just teasing you. We'll be celebrating our friendship. Wanna say thanks to you, for being a sporty friend.
18. You are the peanut butter to my jelly. I can't go a day without coffee, Instagram, or my best friend!
19. Best friends are like families, Because they are precious and rare, and you my dear are the most sparkling gem of them all. Thank you for your friendship.
20. Y'all inspire me so much. Everything you do is filled with incredible passion and perfection, and I admire that in every possible way. I'm so lucky to witness your growth and blossoming, bud. May it be like this forever.
Thank You Message For Family And Friends On My Graduation
21. Thank you, for being a great doctor! Thank you for healing half of my sickness with your patience and tolerance! May God bless you, doctor.
22. Good friends and families are a blessing. You're the greatest blessing of them all. Thank you for being my biggest fan.
23. When I had no belief in myself, y'all said I could do it! Your friendship and belief in me convinced me that you are right. Thank you!
24. I acknowledge and appreciate the special bond we share as friends. Ever since we started off our friendship, my life hasn't been the same; I have become better and stronger than before.
25. Thank you for being there for me when I call you and need someone to just listen. It doesn't matter where we are in this world or in our lives, I know you will always pick up.
26. I never imagined that on a day like this, I will be making mention of a true friend in my life. Today, I am proud to say that I have got a rare gem in you. Thanks for everything you've been to me.
27. You always know how to make me laugh. Thank you for being my friend. Your friendship means the world to me. Just wanted to let you know.
28. You showed me what true friendship looks like. I have never thought that I will ever be able to find a friend in my adult life. But you truly saved me. I cannot thank you enough for everything you do for me, mate.
29. Thank you won't be enough for what you've done for me. But, let me try a little. Thanks a lot for your support! Thanks for being the shoulder I can always depend on.
30. Gratitude is an emotion that often feels like your heart is about to burst with feelings of thanks when you look back on all the things a friend has done for you. This message is for that friend and that friend is you.
Appreciation Thank You Friend Quotes
31. Every time we are together I find myself feeling especially appreciative for the memories we have and thankful for the wonderful ones we continue to make.
32. Someone as strong and kind as you are is hard to find. I believe in you, my friend. Thank you for everything you do for our friendship.
33. You are the best. So glad we're friends. No one else gets me quite like you do. You're awesome. I consider myself as the luckiest person in the world to have you as a friend.
34. Your friendship means the world to me. I know that we're different, and we don't agree with each other most of the time, but I wouldn't be happy without you. Thank you, pal.
35. You have been extremely supportive through this difficult time. You may not realize what a blessing you have been. Thanks for your help.
36. I couldn't have achieved this without your support. Thank you for everything you have done and know that you are loved by all of us.
37. I am so happy that you were able to share my graduating day with me. Either by being there or remembering with your generosity. Thank you so much for being part of my graduation celebration.
38. Dear Friend, it was an amazing day and I was very thrilled about it. I have been successful in graduating. It has been possible due to your support and encouragement. I enjoyed the entire day and I think it was the best day of my life.
39. I would like to thank you, my family and friends, for treasured memories and loving support throughout my education and graduation.
40. It could not be possible without the support of you and my amazing family. You guys were always with me when I needed you. Now I have graduated and that's a huge success for me and for you as well.
Birthday Appreciation Message To Friends
41. It was wonderful of you to share my graduation celebration with me. Thank you for your good thoughts, your generous gift, and for being there. It means the world to me that you care.
42. Thank you so much to my gorgeous friend who has supported and cared about me always. The gifts that you guys sent at my graduation are amazing and I am very happy about them. I am so lucky to have such family members.
43. One bit thank you for the graduating gift, and another for the thought. A dozen thank yous couldn't tell you all the happiness they brought.
44. Every second spent with you is a second full of happiness and laughter. You are such a huge part of my life and the main reason for my stable mental health. I'm so lucky to have you. I feel really blessed.
45. Some people deserve more than just a thank you. Just like you! Thanks for everything. Thanking you from the core of my heart. I truly appreciate you.
46. This message is simple and elegant at the same time. Friends are sometimes there when no one else is. This message is perfect if your friends have been the people you can always rely on.
47. How lucky I feel that somewhere along the way, I became your friend and you mine. I feel as though I have known you forever and am so fortunate to be blessed with someone so caring and compassionate in my life.
48. Even though we don't always see face to face yet, our hearts beat in synchrony with each other. I am grateful for your friendship with me.
49. You're my best friend and don't you forget! Through thick and thin, you've always been there for me and I can't thank you enough.
50. I know that you don't really need to hear this, but I'll say it anyway. You are the best thing that has ever happened to me. Friends like you are hard to find, and I'm really honored that you picked me.
Thank You Messages For Friends And Family
51. I appreciate everything you do for me with so much care. Your thoughtfulness always touches my heart. Thanks a ton for everything!
52. Gratitude is something that cannot easily be expressed with words. However, this message comes close to portraying the true feeling of gratitude.
53. I knew when we first met that we were destined to become lifelong soulmates, and I remain eternally grateful to call you my friend.
54. You are one of the few people in my life who have helped make me into what I am today. Thank you for that.
55. Knowing that you care about me has given me extra confidence in everything I do. You probably didn't realize you had such powers, but please know that you truly make a difference in my life.
56. Friendship is such a special thing and I'm so glad I get to share it with you. Your friendship means the world to me. Just wanted to let you know.
57. Thanks for walking with me when I needed support, thanks for walking ahead of me when I needed guidance, and thanks for walking behind me when I needed someone to watch my back. Thank you, my dear friend.
58. It was always hard for me to meet new people. That's why I appreciate you so much. Somehow you stay with me no matter what, and that makes me so happy, mate. Thank you for being the best friend in the world.
59. For the first time in life, it felt like I should do something to stop the flow of time. It's just a wonderful experience. Thanks for your time!
60. With a friend like you by my side, there is truly nothing that we can't accomplish. Thank you for making me feel that way.
Funny Thank You Messages For Friends
61. Let it not come off as odd to you, if I tell you that I celebrate our friendship as though it is an honorable event in my life. Our friendship is not just honorable; it is an honor itself.
62. Countless times, you have proved that friendship goes beyond words and encompasses actions. As a friend, you have never been lacking in words of comfort or in deeds. I'm thankful for your friendship. Thank you for always being there for me.
63. Are you ready to hear something crazy? I love you, pal. I know, I cannot believe that too. But you make this world a better place, and I appreciate it very much. I want you to know that I'm really grateful.
64. Your warm hospitality touches me. Thanks for being so kind to me. I will forever remember this amazing hospitality. Thank you for everything.
65. I don't know where I would be today if it weren't for you. Thank you for staying by my side. You have done so much for me. Thank you!
66. Sometimes life poses difficult challenges, and with a friend like you in my life, I feel secure in knowing that I have a loving place to turn when I need it. Thank you for being that friend.
67. I can't thank God enough for allowing me to meet you. At first, we weren't close enough to be called friends. But time unraveled the blessing of our friendship to us. Thanks for being an instrument of God's help to me.
68. Sometimes I just wonder what I would have done without you. You have been the pillar I've been leaning on all these years. Thanks for being the support system of my life.
69. You are the kind of friend who makes the good times even better and the hard times a whole lot easier. Thank you for staying by my side when I was figuring out what to do with my life. I don't know what I would've done without you.
70. Sometimes life hits hard. It's hard to cope with everything by myself, so having a friend like you is the greatest blessing I have ever received. I'm beyond thankful for your support and understanding, buddy. You are the best.
Appreciation Message To Friends
71. Words are not enough to express my gratitude for your kindness to our family. Thank you very much for all that you have done.
72. You have made my life so much better because of your friendship. Thank you for being my best friend.
73. I promise I will always be here for you; I hope you know how dear to my heart you will always be. Thank you for teaching me the true meaning of Friend,
74. I have deep respect for your personality. No matter how much time passes between us, my unalloyed regard for you remains intact. Thanks for being my friend.
75. We've known each other since we were teeny-tiny babies. I can't imagine my life without you in it. You make every day so special just by being a part of my everyday routines. Thank you for being my friend through all this time. I really appreciate it.
76. Thank you so much for letting me be a part of your party. The food was delicious, and everything was so perfect. Thank you for inviting me.
77. It's hard saying thanks to a person who deserves so much more than mere words. I hope I can repay even a part of the friendship you have given me.
78. Thank you so much for accepting my invitation and coming to my birthday party. Your presence made my birthday more special.
79. My eyes are watery from the joy you brought on my birthday. Thank you, and God bless.
80. Thank you so much for the birthday wishes. Hearing from so many family members and friends makes me feel grateful for all the wonderful people in my life.
Thanks Message For Friends
81. I want to thank you for your love and prayers; it all means so much to me. Thank you for your birthday wishes.
82. Thank you for giving me your precious time and coming to my birthday party. It was a pleasant experience with you. I'm touched by your love.
83. My birthday was awesome, and that's thanks to all the awesome people who took the time to send me birthday wishes. Thank you!
84. God is amazing and gracious for giving me a friend like you in my life. Thank you for the birthday wishes.
85. Thank you for being my friend, you have filled my life with pleasure and amusement and have spread so many colors around it. I wish to walk along with you till the last moment of my life.
86. It is so hard for me to put my thoughts about you into words. I can only say that I am so thankful to you for blessing me with your presence on my birthday!
87. The most invaluable asset I have is the gift of your friendship. Your friendship has rewarded me with love, understanding and support; thank you.
88. You can put a smile on my face even when I don't feel like smiling at all. I think it's the most amazing thing about our friendship. We make each other laugh all the time. And it helps a lot to live a life full of complicated stuff. Love you, buddy.
89. We want to express our earnest gratitude to you for attending our wedding and showering us with lovely blessings! Thank you for being a part of our happiness!
90. I can't believe I found someone as kind and generous as you. Thank you for being my friend.
Appreciation Message To Friends And Family
91. When I saw you at the restaurant the other day, it struck me that you are one of those people in my life whom I consider special for many reasons. You have a dramatic impact on my life; I am forever changed for the better for knowing you.
92. People pray to have just a bit of the quality of our friendship. It is too valuable to go unnoticed, and I have you to thank.
93. I just wanted to write to let you know how much I appreciate the positive influence you've had on my life. Thank you for your concern and useful advice! I'll be forever grateful.
94. My most miserable moments are not completely devastating just because I have a friend like you who supports me and listens to me even when I don't act like myself. I can't express how thankful I am for having you in my life. I'm the luckiest human being on this planet.
95. I can never thank you enough for the things that you do for me. Your constant effort to make me happy is highly appreciated. Thank you!