A sister is one of the most precious gifts from God and the fact that you're here today, searching for prayers for healing and strength for your sister shows that you love and care deeply for yours and I commend you greatly for that.Well, the bond, love, and relationship we share with our sisters can make us want to do anything for them, yes I know, cause I have amazing ones too and trust me I'll be here too, praying to God to strengthen them in times they need it. It's what any loving individual like yourself will do.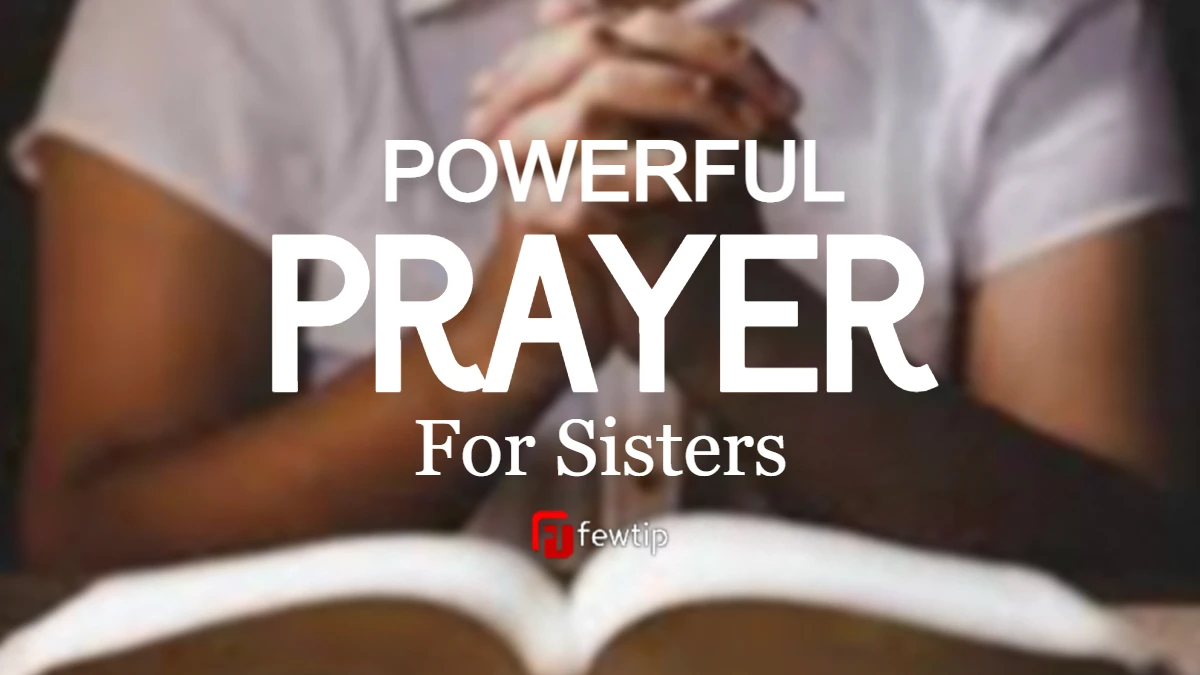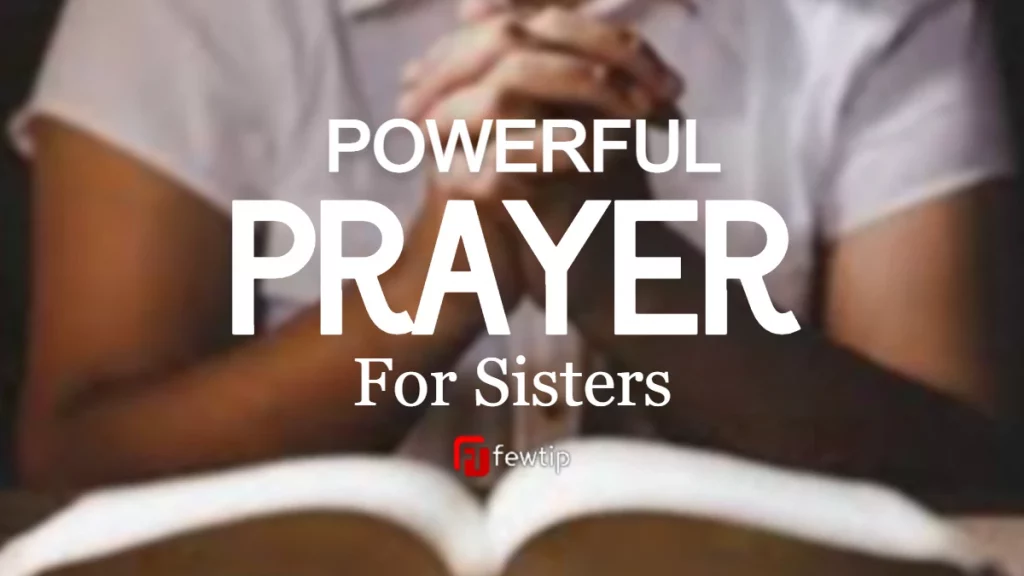 I can assure you, you can never go wrong praying and encouraging your sister in the Lord with these powerful prayers written specially for your sister. Enjoy.
Prayer For Sister
1. Dear sister, I pray that the wealth, goodness, and mercy of God will be with you all the days of your life. Today isn't special to you alone, it means a great deal to all of us.
2. Dear God I ask that you give my sister the strength to stand against those that would try to hurt her by leading her down darker paths. Lord, I ask that you give her a bigger heart for you, making her more sensitive to your voice and discerning in her decisions.
3. Father God, I take a moment to pray for my sister. I pray You will minister to her mind and heart. Remind her that You are in control and everything is going to be alright
4. Giver of life, Please help my sister to get through her season of struggle and despair. Take the burden from her, Lord, and yoke herself unto her, that she might finish the race in faith and win her crown of life. Amen.
5. Father God, my sister needs to gather her strength for the battle she's facing. She will not back down from the fight because she is Your warrior. Father, I lift up her spirit to You because she is clothed in Your strength, dignity, and she laughs at the days to come because she will conquer time after time because she has Your army rallying behind her.
6. Heavenly Father, Thank You for my family. Thank You for my sister. I am comforted to know I can contact her at any moment, and she will be ready to listen and comfort me. Thank you, dear Lord, for your protection over her.
7. Sweetie, the Lord will surely be your strength and stronghold in this trying season. I pray that the Lord will be your defense against any battle fighting against you in Jesus name, amen.
8. I pray for provision for my sister, Lord. Please provide for her needs according to Your riches in glory through Christ Jesus. Give her all that she will need to prosper.
9. Father God, all good things flow through You. All good gifts come from You—including my beautiful sister. She is my friend, my companion, and the person I can do life with. I lift her up today and ask for You to bless the work of her hands. Multiply it 100 times over until her cup is overflowing.
10. Lord, I pray that You would help us to become closer. Open our hearts that we might receive one another as You intend. Help us to honor one another as You have commanded us in Your word, that together we might be a shining light to others and an example of Your reconciliatory grace. Amen.
Prayer For My Sister
11. Lord, I love my sister, and I thank You for the gift of our relationship. I lift her to you because she is in need of You. May You give her the endurance and encouragement she needs to face today with the same attitude of mind that she can do all things through Christ who gives her strength.
12. Father, I lift up my "sister in Christ." She is always helping others with her kindness and compassion. Please give her strength and stamina as her days are filled with activities and a long to-do list. Protect her, guide her, and remind her of Your love and glory. Thank You for this precious sister. Amen.
13. My loving sister, though we are close and I love you only God can understand fully what you're going through this time and he will not leave you on your own for he will strengthen you and you will testify of his goodness in Jesus name.
14. I pray that my sister will be seen and known as the lady greatly helped by God in Jesus name. People will see and know that the hand of the Lord has done this in my sister's life.
15. Cutest sis, All I pray to Lord Jesus is that he gives you strength and patience to overcome this tough time. May you get back to a healthy life very soon! I wish something magical happens and all your sickness just vanishes.
16. You shall be praised for all your efforts and be commended for your bravery, May you never lack any good thing. Your happiness shall come first to God; May your life's journey be full of grace and showers of love. You shall cry a river of joy. I love you, sis.
17. Lord, I pray that You continue to train Your grace down upon my sister. Help her to continue to flourish in this life, that she might shine like a torch in the dark and bring others unto Your Son. Amen.
18. The Lord said in his word he is our strength and defense, he is our salvation, I am praying for you today my sister, that the Lord God will be all those things to you in Jesus name, amen.
19. I bless this morning and I pray that this day will bring testimonies back and forth for my sister in Jesus name. She will not be weary, nor will she be disappointed in Jesus' name.
20. Dear sister, I pray that the Lord will increase your faith and make you strong to be able to withstand everything that the devil may be throwing at you this season and that at the end, your mouth will be full with testimonies, amen.
Healing Prayer For My Sister For Strength
21. Your heart is as pure as a diamond. I pray you never lose your virtues, cause they stand out like a rainbow smoothly arched in the sky. When I look at you, I'm inspired. May you continue to be my muse. You shall never be pathetic.
22. Father, You have done so much for my family. I bless You Lord and I give You praise for what You are set to do today in our lives including my sister's life. Thank You for making our lives beautiful.
23. My God I bring my wonderful sister to you, I ask that you grow her into a woman of God. I ask that you guide her footsteps toward a bright future full of love and hope. I ask that you give her friends that support her and protect her.
24. Heavenly Father, what a joy to know that my lovely sister is to be married to the wonderful man that You have in Your grace brought into her life. Lord as she is getting married I ask that you give her a career and a family that will be as satisfying to her as it is to you.
25. Dear heavenly Father, I come to you today completely trusting in your goodness and mercy. I appeal to your loving Spirit to watch over my sister. I praise you for her life and her soul. Thank you for her presence in my life.
26. Today is the remembrance of your birth. Your birth has been a blessing to the family and God will fill your world with delightful memories, wonderful accomplishments, and endless opportunities. As long as you live, we will continue to celebrate your birthday. Happy birthday, sister.
27. No matter your history, your present and future shall supersede it. I love to take a look at you, cause your eyes to tell a wonderful story of love. You're blessed, my sister.
28. As you journey into another exciting year, it is my heartfelt prayer that the divine understanding and wisdom of Jehovah Almighty will never depart from your world. Enjoy this blissful anniversary, sister!
29. I feel wishes get granted mostly on birthdays, so I ask that God protects you for us. Be happy, sister, because that's the easiest way to live. You're precious in every aspect and God will look into your heart and grant your heart desires. Have a happy birthday.
30. Today, I pray that God Almighty will uplift you in whatever you do and put immense gladness in your heart on this special occasion and throughout your days on earth.
A Prayer For My Sister
31. You teach me, you inspire me, and you enlighten me on things I don't understand. You've been a mentor to me, and God's divine understanding will never depart from your life. Enjoy your day, sister. Happy birthday. I love you.
32. Sis, on your big day, may God bless you with a life filled with good health, dreams come true, and happiness. You truly deserve these precious gifts and many more from the Lord.
33. My darling sister, I wish you an exciting birthday and a day that overflows with laughter, joy, and happiness. These blessings will accompany you everywhere you go because you're a star. Happy birthday to you. Keep shining.
34. Sweet Sister, God will meet each of your needs and shower his blessings on you and you shall excel in all your endeavors. Happy Birthday.
35. Sweet sister, I wish you a happy birthday, today. You will go from strength to strength. And I pray you live the rest of your life in good health.
36. Heavenly Father, siblings are to us as wonderful gifts. For who is a greater friend than a Sister? Through her, You teach me so much about Your love for us. Continue to bless and uphold her. Let her find favor in Your eyes and give her many years here with us. Through Your Son Jesus.
37. I thank You that when I need my sister, she is ready to listen and comfort me. I pray I am always available when she needs me. Please bless my sister and remind her of the love You have for her. In the name of Jesus, Amen.
38. Sweetheart, you're my best friend and sister, and I want the best for you. That is why I am praying to God to strengthen you spiritually, physically, and mentally in this trying season in Jesus name, amen.
39. Oh Lord, I ask that You will make my sister stand out from the usual and give her the grace to be excellent and triumphant today in Jesus name.
40. Lord, you have given me a sister who is my biggest support. I ask, Lord, that you protect her heart from those who would come against her. I ask that you bless her to be kind and intelligent.
Birthday Prayer For Sister
41. Thank You, Lord, for my sister and for the wonderful times that we have shared together. Thank You that You placed us in families and for the privilege of having a sister like mine.
42. Dear sister, I pray that happiness, grace, and peace will forever be your portion. May whatever you lay your hands upon, you shall excel and bring you immeasurable happiness. I sincerely love you, my sweet sister.
43. You're the epitome of kindness. Out of your benevolence, you make my world better than most. May this new day bring you a package full of beautiful memories.
44. Father, You are the provider of every good thing. Among Your gifts is my dear Sister, whom You have given me out of Your abundant grace. Lord, send the protection of Your mighty angels to watch over her. Keep her safe in the love of Your Son, Jesus. Amen.
45. Heavenly Father, thank You for my sister. I am thankful for the bond we have and the ways we share our joys and concerns with each other.
46. My lovely sister, the Lord says that when we pass through the storm he will be with us, and through the fire and waters of this life, I decree over your life that it will be so for you too in Jesus name, amen.
47. I lift up my sister to You and ask You to protect her physical, mental, and spiritual health. I pray she will know how her words and actions have allowed me to find a closer relationship with You. Help my sister to know she is loved and cherished. Amen.
48. I don't mind giving you my world. You deserve that and more. May your midnight prayers come to life like a new day. May the darkness that surrounds you be suddenly turned into the light on this very day of your life.
49. Oh lord, I present my sister unto you, I pray that you place a hedge of protection around her and cover her with feathers of your mighty wings. Amen.
50. Dear sister, I love you so much but I want you to know that the Lord loves you more and he will make all things work in your favor. I pray that the Lord will indeed give you all the strength you need in Jesus name.
Healing Prayer For My Sister
51. I ask that as we go out this morning, it will be a beautiful outing, and Lord, let Your banner over every one of us be love. Keep my sister especially and help her in Jesus name.
52. Lord, I am not coming to you for myself. Today I come to you for my sister. She is one of the most important people you've placed in my life, and today I lift her up to you for blessings.
53. Thank You, Lord, for the many wonderful sisters that You have graciously placed in my life and I pray that You would give me the opportunity to similarly play the part of a 'sister/brother' to others that You see fit to bring into my life. In Jesus' name, I pray, Amen.
54. The comforter Establish Your Kingdom in the life of my sister and bring divine order where there's been confusion and chaos. As she humbles herself before You and submits to Your will, Amen.
55. My most precious sister As the sun rises on your birthday, I pray that your faith and hope in God will also rise and bring forth prosperity, peace, happiness, good health, and joy into your world. I love you, amazing sister.
56. May this journey you just embarked on lead you to a place of love and abundance. Your life shall be an expression of God's grace. You'll live life peacefully and victoriously. I love you, sis.
57. Help us, Lord, to always rejoice at the wonder You have made in the life of my sister. Grant her the grace to do more, achieve more, and grow more in You in Jesus name.
58. Lord, there are few people in my life as precious to me as my sister, and I want all the best for her. I offer her up to you for your blessings. I offer her up to you so that you place your hand on her life. I just ask for blessings for her.
59. Lord, I pray that day by day she would draw closer to You and surrender herself to the leading of Your Spirit. May she grow in grace and in a knowledge of Jesus until we all come to spiritual maturity. Amen.
60. Look upon my sister with your tenderness and grace. If she hurts – brings her healing. If she's afraid – give her courage. If she has fallen – lift her up in forgiveness. And most of all dear Lord, let her know she is loved.
Strength Prayer For A Sister
61. My beloved sister, I pray that God blesses you in every aspect. May you find the wisdom, strength, and courage to overcome all the obstacles that come your way. Experience the joy that comes with every passing day and remember, I love you.
62. Lord, my dear Sister is struggling to believe. She is in danger of falling from Your watch. Good Shepherd, bring this wandering lamb back into Your fold. Protect her in her vulnerability. Amen.
63. Heavenly Lord, I lift up this precious sister. Please cover her with Your hedge of protection. Please fill her with the peace and comfort only You can provide. Thank You, Father, Amen.
64. Wonderworking God, I pray that you give my sister confidence knowing she is your child. Oh heavenly Father, embrace my sister's heart. Bless her my Lord. Let her be healthy, free, and protected in the strength of your loving arms. In Jesus name, Amen.
65. Father, I pray that You will see fit to heal my sister and to raise her to full health and strength, but may Your perfect be done in her life and we will give you all the praise and all the glory, for You alone are worthy to receive our worship and praise. In Jesus' name, I pray, Amen.
66. I pray that you find purpose and happiness today. May the emptiness you feel inside be filled up with God's love. May your body never grow weak, but stronger each passing day. Have a great day, sister.
67. Lord God, through Your mighty power You can discern the thoughts and conditions of every heart. Even though I am close to my Sister, You know the battles she is waging within her heart and soul. Father, heal Your daughter, my sister, in her time of strife.
68. Heavenly Lord, I come to You today to lift up my dear sister, whose health is failing badly and who needs Your touch of healing in her life. Lord, I know that You are the Giver of life You know exactly what is the problem from which my sister is suffering, and I pray that in a wonderful way You would touch her and heal her as only You can.
69. Lord, I pray that You pour out your presence on my sister today. Please direct, guide, and protect her in all that she does. Lead her and guide her in all her decisions. Let Your truths and promises draw her close to You. Amen.
70. Dear God, Thank You for my sister. I pray that she is healthy and happy. Please show her how much she is loved by You. Allow her days to be filled with peace and joy.