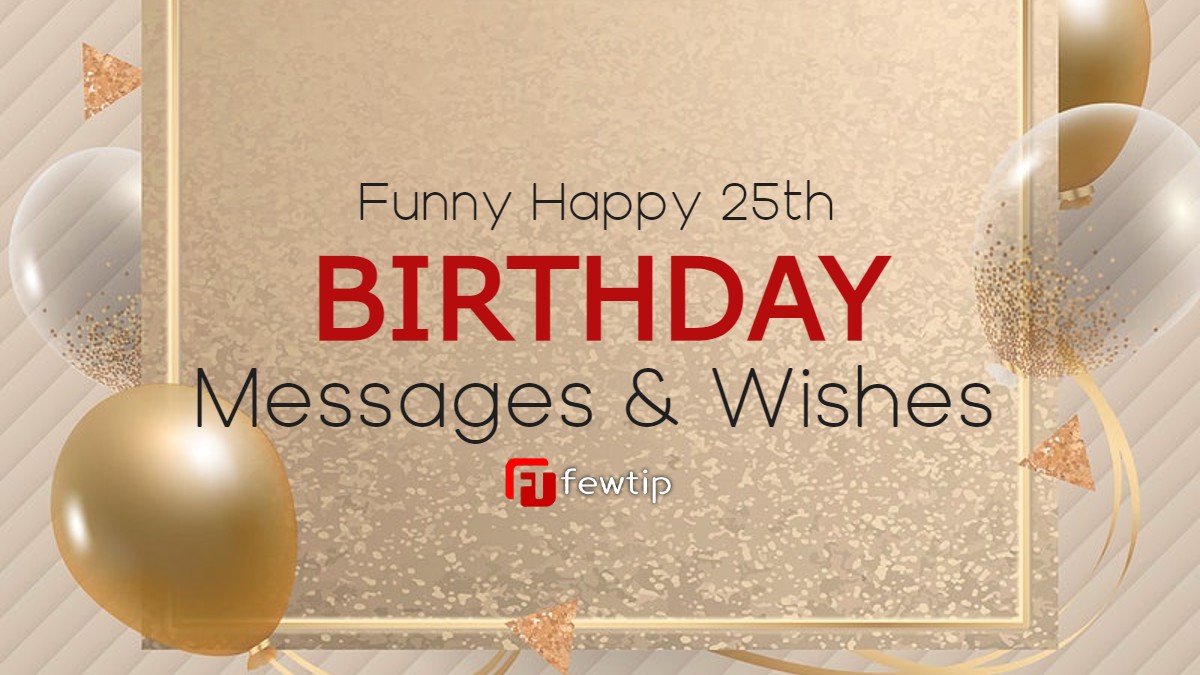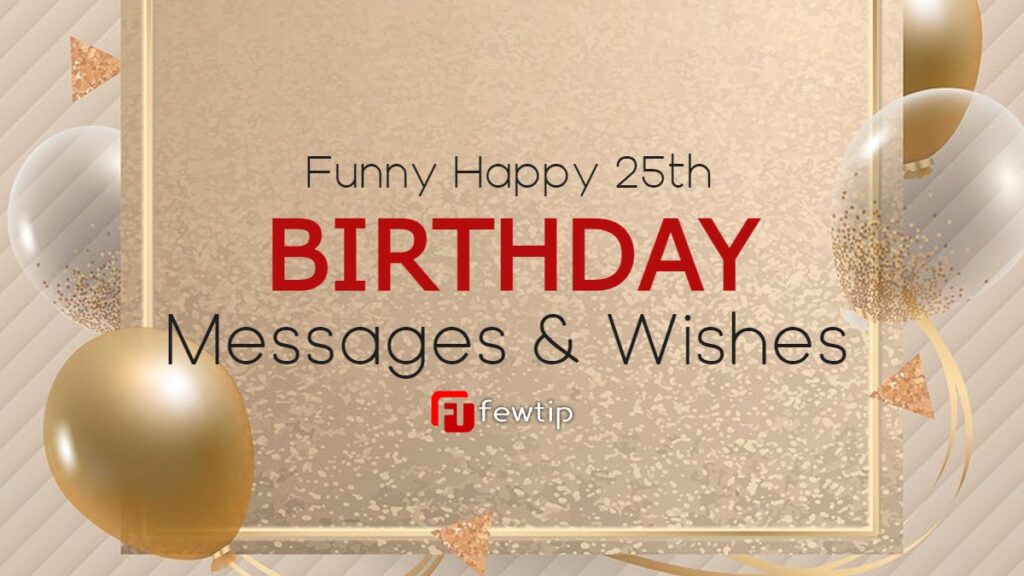 If you have a friend who is about to turn 25 years old, it will be a good idea to send him or her a funny happy birthday message. There is an optimistic feeling attached to turning 25 years old. For some, it is a feeling of being old while for others it is a still young feeling. 
Whichever way it is, try to send Funny Happy 25th Birthday Messages to the celebrant on their day so they can laugh and forget their worries. Below is our collection of our funny happy 25th birthday messages and wishes that you can select from and send to your friend.
Funny Happy 25th Birthday Messages
1. 25 years without gray hair! How lucky you're.
2. Congratulations! You're 25 years old, a major milestone that means you're finally old enough to rent a car. Don't go crazy with all your newfound power, and have a happy birthday!
3. Condolences on being single for 25 years. Enjoy your life for 5 years m ore, and you won't be able to walk.
4. Heartiest congratulations my dear for stepping on to the beautiful age of 25. Now, you are too old to party with teenagers but too young for the late twenties parties. Happy 25th birthday!
5. Your grey hairs are few. Your wrinkles are, too. You stay awake until ten without giving in. Now you can jog a few laps before you collapse. You would be alright, except you're only 25. Happy 25th birthday.
6. So, you have successfully passed the quarter of a century. Does it feel like an achievement or a burden? Anyways, I wholeheartedly wish you a joyous 25th birthday.
7. By the age of 25, Charlie Chaplin had acted in 35 movies, Charles Lindbergh made the first solo flight across the Atlantic, and Orson Welles produced and starred in "Citizen Kane." What have you done with your life so far? Happy birthday! Hope you accomplish something soon!
8. This card is not for you; it's for your kindness and greatness with your friends and family. Happy Birthday, Dear Friend.
9. Hey buddy, you have officially entered into an age where everyone will start asking about "when you are getting married?" Prepare yourself for the terrible questions. Before that, happy 25th birthday to you!
10. It's your 25th birthday, so perk up because in a few more years everything else will start to sag.
Funny Happy 25th Birthday Quotes
11. As much as you are old enough to own a family, you are also old enough to be the next world's youngest billionaire, I know which one you'll choose. Happy 25th Birthday, my best friend.
12. Trust me or not, turning 25 is one of the most amazing feelings in the world and you will have it sooner or later. Happy 25th birthday my dear friend.
13. At 16, you could finally drive all your friends around town. At 18, society started treating you like a real adult. Then at 25, you drank as much as you wanted, and no one could tell you otherwise. Sometimes, growing up is awesome.
14. It's a promise more than a wish, we will storm your party.
15. Hey dude, congratulations on completing the first quarter of your life successfully and welcome to the second quarter. Let's celebrate your happy 25th birthday by popping some champagne.
16. Now, at 25, you just wish you could take a nap in the middle of the day without getting fired. Other times, growing up sucks. Happy birthday, anyway!
17. Let's call the moon to come to the earth, as it's the birthday party of my handsome guy. Happy 25th Birthday, Honey!
18. Turning 25 simply means a lot of big changes are waiting for you in life like marriage, career, and personal goals. I know you will be successful in all. Sending mirthful birthday wishes to the most intelligent 25-year-old.
19. You're 25 years old, too old to be hanging out with the college kids and too young to be thinking about pension plans. Have an awesome, awkward birthday.
20. Aging is never a concern as long as you have good hobbies and good friends to pass the time. I wish you an utterly joyous and unforgettable 25th birthday!
25th Birthday Wishes Funny
21. I hate to be the bearer of bad news, but if we round to the nearest ten, you're closer to 30 than 20. Happy 30th (approx.) birthday!
22. Happy 25th birthday to one of the most amazing and stunning sisters in the world. You have achieved massive success at such a tender age and we all are proud of you for that!
23. It's your birthday, so party like you've lived a quarter of a century!
24. On this day, you have entered an age that is coveted by all but handles well only a few. May you make the best out of your time and energy. Have an astounding happy 25th birthday celebration.
25. Remember how you used to feel insulted when people thought you looked younger than you actually were? Do you remember how every single one of those people told you, "You'll love it when you're older"? Well, you're "older" now. Happy 25th birthday! You don't look a day over 21.
26. The first quarter of your life was one heck of a roller coaster ride. I hope the remaining quarters turn out to be as awesome as the first one. Happy 25th birthday friend!
27. Kids and teenage girls always want to look older than they are, and middle-aged women always want to look younger. There must be a perfect age that everyone aspires to. Congratulations! You have reached that age. Enjoy your mid-twenties while they last!
28. Hey man, you turn 25 and it's time to party like an animal. Wishing my craziest friend a happy 25th birthday!
29. Roses are red. Violets are blue. It's your third anniversary of being 22. Happy birthday!
30. Congratulations, you are only halfway to the coveted age of 50. May you attain unmatched wisdom and immense peace in life. Happy 25th birthday my lovely friend!
Happy 25th Birthday Funny
31. College is over your single life past. You may not have freedom, but at least you have cash. Happy 25th birthday!
32. I hate to break it to you but you have moved one step closer to be called an uncle by teenagers. May you have an awesome happy 25th birthday celebration!
33. I hope you don't go overboard in celebrating your 25th birthday as you did in your 18th one. Let's have a soothing and enjoyable happy 25th birthday celebration of yours.
34. In your 25 years of life, we have been friends for almost 20 years. I have seen all your faces and I am an integral part of your life. Happy 25th birthday to my lovely friend.
35. A pessimist would say that your 20s are half-over. An optimist would say that you still have half of your 20s left. I hope you're surrounded by optimists today. Happy birthday!
36. May success kiss your feet, fortune keeps piling on, good health never leaves you. Happy special 25th birthday!
37. When we were little girls, we always dreamed of what we would accomplish as grown-ups. We thought we might be teachers or doctors or astronauts or zookeepers. We would each marry our Prince Charming, have lots of kids, win the Nobel Peace Prize, travel the world, write a book, and invent something amazing.
38. Now that we're in our mid-20s, we feel accomplished when we eat a dinner that wasn't microwaved. Sometimes, you just need to dream a little smaller. Happy birthday!
39. There is nothing better than toasting damn fine beers on the 25th birthday of your best friend. Cheers buddy for turning 25. Happy birthday!
40. Halfway between the twenties and the thirties: this is where life begins and becomes more adventurous. But remember, dreams are desires, and the persistence with which you have come this far will help you get what you want. Best wishes.