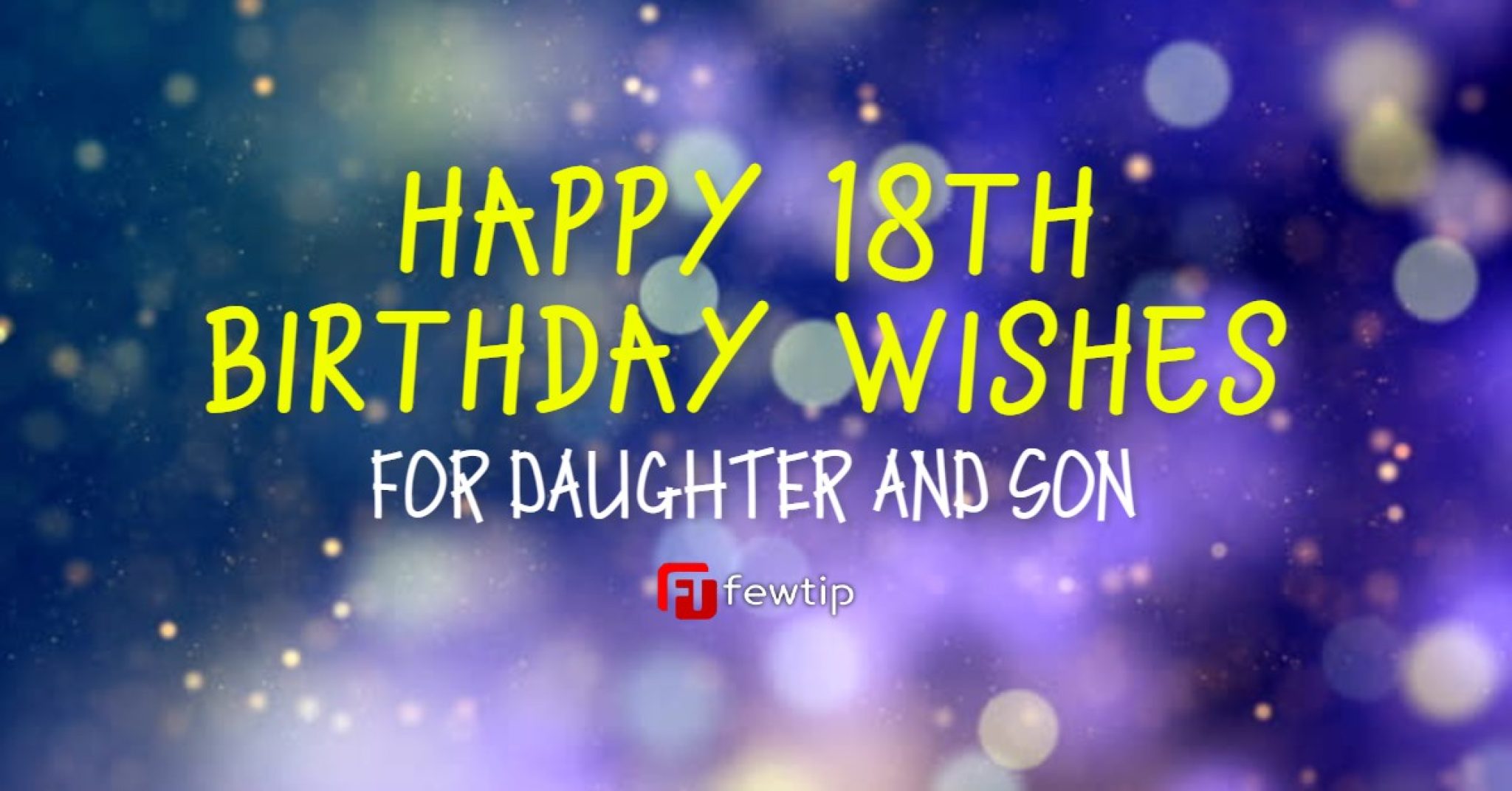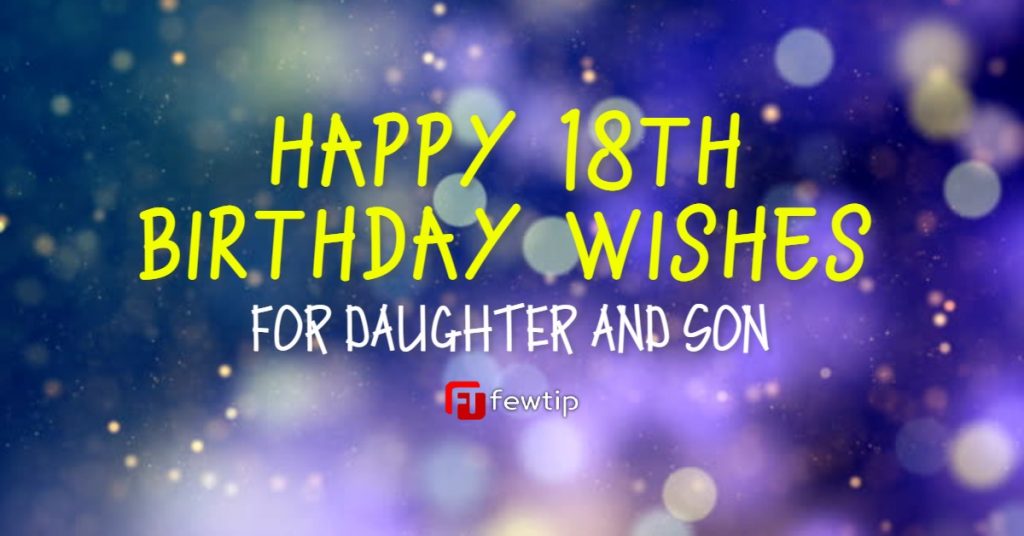 One of the most celebrated birthdays on earth is the 18th birthday. To be honest it is the birthday that every teenager will love to celebrate and the memories don't just go away after celebrating it. It marks the beginning of an adult.
If you are a mother or father to a teenage daughter or son who is yet to turn 18 years old. Don't fail to wish him or her well on that 18th birthday. In order to help you, we have written some Happy 18th birthday wishes that you can send to your daughter, son, brother or sister on that special day.
18th Birthday Wishes
Congratulations for turning 18! May your future be as bright as your smiles today. Happy 18th birthday to the sweetest brother ever!
Now that you're 18, it's a good time to start looking toward your future. From my vantage point, I see nothing but great things.
I can't be happier seeing you turn 18, you were just like the other day. Although this day makes me feel old, I wish nothing but the best for you. I love you sweetheart. Have a great day.
My princess, your 18th birthday has arrived! I'm so happy for you dear. This is a new phase of your life. Dream more to get more. Have a wonderful journey of life. Happy birthday!
At 18, when it's okay to think more about yourself, you think only of others. You are already an old soul. You're definitely ready to be an adult. Happy birthday!
I couldn't imagine growing up with a better person; you know just what to say to bring my spirits up. Good times or bad, you're always there. Wishing you a beautiful day and happy eighteenth!
To our beautiful bouncing baby boy on his 18th birthday! Well, that'll always be what you are to us, 18 or not – deal with it. Happy Birthday!
This remarkable day in your life requires remarkable things, which is why I'm sending you the best birthday wishes from the depth of my heart and with much love.
If I can give you one constant gift in your life it will be to always help you know just how special you are and how very much you are loved by me. Have a Happy 18th Birthday!
I can never imagine growing up with a better friend. You are one of the few people who know just what to say to bring my spirits up. So here's wishing you a beautiful eighteenth birthday!
Happy 18th Birthday Wishes
Happy 18th Birthday! You just went from being one of my favorite kids, to being one of my favorite adults! Being an adult suits you. You always were wise beyond your years.
Happy 18th birthday! You're an adult now. Now you can do everything legally you've been illegally doing since you were a kid.
Try to live simply, make your ideas creative, always be grateful and give respect to gain respect. I wish you all the best for your future.
Congratulations for becoming an adult. It's time to take up some responsibilities on your shoulder to prove us all that you're the man. Happy 18th birthday!
My beloved daughter, today you've turned 18. Congratulations Princess! May God always keep you safe from all the evil and make you realize the difference between right and wrong! Love you.
Best friends since birth. We shared a crib, sandbox, crayons, and everything else. Eighteen years together and I hope for at least another eighteen more.
Since a month ago, I've marked this special day in my diary, because I want to be the first person to say happy 18th birthday to my one and only beautiful girl!
The beginning of adulthood starts today. May it be the perfect beginning of a lifelong journey of accomplishments. Happy Birthday!
Happy eighteenth birthday to a wonderful, beautiful and smart friend. You will surely do great in this crazy world of adults!
To our beautiful gentle baby girl on her 18th birthday! Well, that'll always be what you are to us, 18 or not- deal with it. Happy Birthday!
18th Birthday Wishes For Son
We're happy to have seen the day that our Grandson reached his 18th Birthday! Be wise, be smart, and find a way to enjoy yourself while doing so. Happy Birthday!
So you're 18 years old now huh? Rumor has it that all your friends get to give you 18 birthday smacks each. The memo has gone out, and you should be receiving a lot of company soon. You're welcome and Happy Birthday!
Congratulations! You've officially made it to 18 years old! I never thought this day would come! Happy Birthday, Sister! You did it!
The years have flown since you were born. I gave you birth, now I give you wisdom for the future: Think before you act! Act with caution, and fly with your dreams. Happy birthday!
Don't let your expectations and goals be taken as granted; try to achieve them at any worth. Have a stunning day my brother.
Your birthday is always a special day for me because on this day 18 years ago, God has gifted me with the most precious gift of my life. You've enlightened our lives. I wish you all the happiness and love of this world.
You've reached an important milestone in your life. It's still a long way to go towards your destination. But keep your head up and smile. Have a great birthday!
Take it from me: Just because you're technically an adult doesn't mean you have to grow up. Kid, teenager, adult – you're the same awesome person to me.
18th Birthday Wishes For Daughter
Life is like a journey by boat and from today, you're ready to take charge of your own boat. I wish all the very best for the future. Happy birthday!
Now that you're 18, I hope you don't start worrying about acting like a grownup. You're amazing just the way you are. Time to transition from being an awesome kid to being an awesome adult.
Some will say it is too early, but I will say that you must start planning your life right from now, be ready to embrace every good thing that comes your way. Happy 18th Birthday son.
Dear daughter, happy birthday! You've now become an adult and today I pray to God that he gives you much maturity that you don't mess up with your innocent little sister anymore.
Happy 18th birthday. Today, you've become a full-fledged adult, but don't let this fact go to your head. Your parents still make your bed!
Happy Birthday to my baby daughter! You don't automatically become a cool adult like me now that you're 18. It's something you still have to work very, very hard for. It's not easy being this awesome!
Good friends are hard to come by, lifelong friends are even harder. This friendship is forever whether it's your 18th birthday or 100th, we'll always be together.
Great news! You're officially an adult, haven't lived even half your life yet and still young enough to not have heavy taxes to pay! Live it up!
Happy 18th birthday to a wonderful friend I know. Thanks for being my best friend. You truly are a God's gift to me.
To our daughter on her 18th birthday…It's a big day for you as well as for us. Go and create some wonderful memories to cherish this day for the rest of your life!
Funny 18th Birthday Wishes
Welcome to a free world where there are no rules on how late can you return from a party and no laws of being grounded. Happy 18th birthday.
Happy Birthday! Today is your first day of adulthood! Get out there and live it up! So many fun things to do now! Nah, not really. You get to pay your own bills and that's about it.
It's your birthday, 18 the magic number. Free to move out, vote, and join the armed forces, oh yeah and get a job!
The first day of the rest of your life has just begun! You better hang on because it's going to be one heck of a bumpy ride and it's not a ride you can just jump off.
You're going to fit right in with this crazy world of adults. Welcome and enjoy yourself…but not too much.
From one adult to another: Hahahahahaha! It's all been a farce. Being an adult is not all late nights and no curfews. However, don't worry, happy Birthday and best of luck to you!
18th Birthday Wishes For Daughter From Mom
It's your birthday and you get to turn 18, you get to see how the other side lives and to enjoy all the pleasures of the world. Just be careful in all you do.
Happy 18th birthday! I'm so happy for your entrance into the new stage of life. You know how much I love and admire you. Keep smiling sis and have a wonderful and adventurous life.
On your special day, only think of the reasons that make you smile. This is your day, the most wonderful day in your life. Don't ruin it with a frown. Happy 18th Birthday!
Even though you're officially a grownup, I hope you never lose that childlike sense of wonder, joy, and mischief. Now that you're an adult, don't be surprised if I start coming to you for advice!
Now that you're 18 years old, you're both a teenager and an adult — old enough to move out on your own, yet still young enough to get your parents to do your laundry. Happy birthday!
To our little girl on her big day. You're about to embark on a new journey as an adult. We are proud of the woman you've become, may your day be as unique as you.
Happy eighteenth birthday! For being a great daughter. This friendship is truly forever. Whether it is your 18th or 100th birthday, we will always stay together. That, I promise!
18th Birthday Wishes To Daughter
Today, you turned 18 and turned into an adult. Your future looks so bright. You must be because you're a source of light wherever you go. Happy birthday!
You are entering a special time in your life when you are balancing right on the edge of adulthood. Enjoy your special 18th birthday and welcome to our world.
My dear daughter, you are officially an adult now. But remember that you will always be our little girl, no matter what.
To My Daughter: You are beautiful, talented, and so funny. I'm so proud of the young woman you have become. I look forward to many more years of fun, late night chats and movie nights with you!
At 16 you thought you knew everything at 18 you are sure you know everything! The good news is you have the rest of your adult life to learn about everything you want to learn!
Happy 18th birthday my sweet brother, new hopes, new desires, new expectations and new beginnings of life are on the way.
My beloved niece, my friend, happy 18th birthday! Dear, today I want to tell you that, no matter how old you become, always keep alive your inner child in your heart. Celebrate your day in a grand way and enjoy.
Yay! No more a kid but still a teen, So many things still to be weaned; But we are just by your side to guide your steps, In tasting life's width, height and depth. So ride on! Give it a blast! You're 18 at last!
It's impossible to calculate how much joy you've brought us over the past 18 years. We couldn't be prouder of the woman you've become.
18th Birthday Wishes For Niece
My dearest niece, on your 18th birthday, I just want you to know that I'm so proud to call myself your uncle/aunt. May your 18th year of existence on earth be filled with immense happiness and good fortune.
Sweet niece, you are the reason why the words "fabulous" and "phenomenal" exist in the dictionary. On your 18th birthday, I wish you nothing but a wonderful and a blessed life.
I'm so happy today because I get to celebrate the amazing life of my beautiful niece, whom I love endlessly. You are truly a blessing to me and every member of this family. Happy 18th birthday.