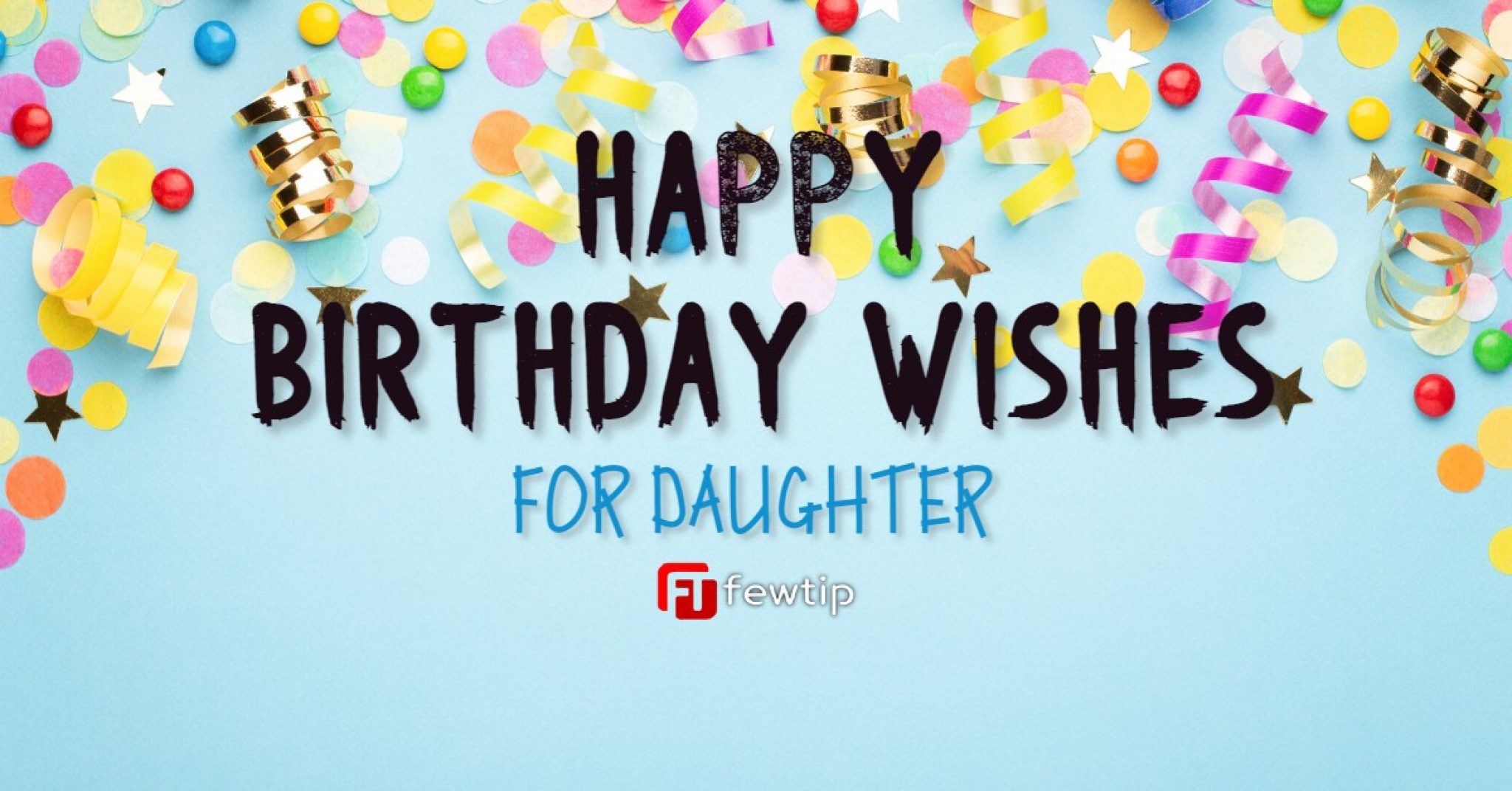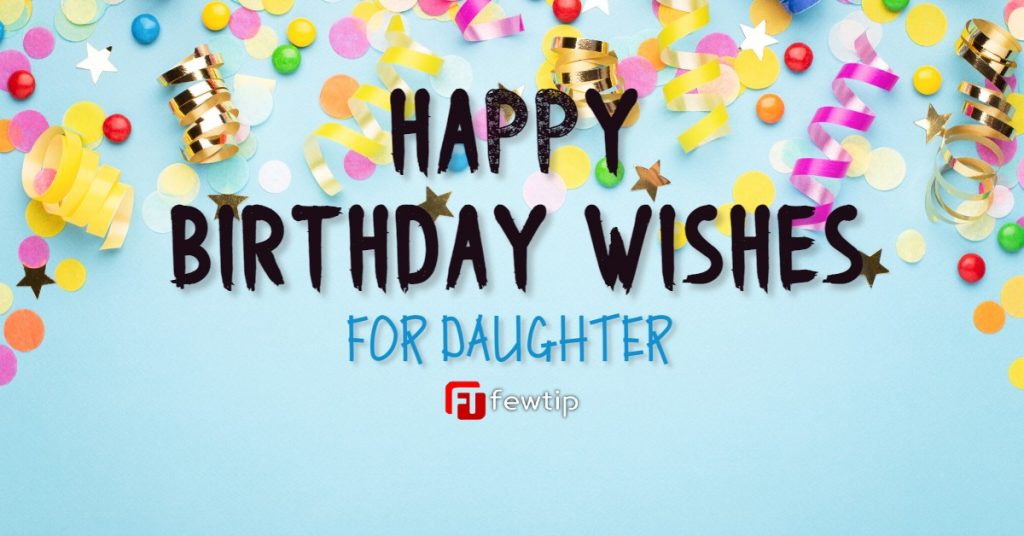 Having a daughter is a great thing. Daughters are always caring to their parents, but not every parent is opportuned to have a daughter. So if you are a parent that has a lovely daughter, wishing her well on her special day which is her birthday is a wonderful idea.
You can let her know that she means a lot to you by sending her some birthday wishes and prayers on her birthday. This will make her understand that you really love and care for her.
If you are sending her some birthday gifts, you can write some happy birthday wishes on a paper and attach it to the gift. She will be so happy to receive the gifts. That is why we have written below some birthday wishes that you can send to you cute daughter. Kindly scroll down and choose.
Happy birthday to my darling little doll. Thanks for giving us a wonderful parenting experience.
Happy birthday, lovely daughter! May your big day be as wonderful and adorable as you are!
Happy Birthday our sweetie! May this day bring you nothing but joy and the most wonderful memories!
We are proud that we got a charming princess as our daughter. Happy birthday to our beautiful angel.
We always wanted you to stay just like the little doll you were. But time sure does fly very fast. Happy birthday my daughter.
Can't stop loving you. You are such a cute thing! Happy birthday, doll.
You are the most wonderful and precious gift of our lifetime and we will be always grateful for that. Have a brilliant birthday, dear!
Expressing our feelings for you is not easy. Words are not enough to express our love for you. Wishing you a very happy birthday my cutie pie.
Every birthday of yours gives me just as much joy as it gave me when I first heard the news that I was going to be a mom. Happy birthday my love!
You are certainly the most beautiful gift that we have received in our lifetime. Happy Birthday to the most wonderful daughter in the whole world!
It was great watching you grow up to be a fine young lady. Thanks for making us proud every day. Wishing you a very joyous and happy birthday.
You are just like this birthday cake, sweet and soft. Right from the day you were born, you kept sprinkling joy on our lives. Happy birthday.
Beloved daughter, I wish you a long and happy life. May you always follow all that is good and right, and may all your dreams come true. Happy birthday!
We always pray for you that you get everything in your life. You just cannot imagine how much happy we are to have you in our life. Happy birthday my dear daughter.
You are the most precious gift we have ever got in our life. Today one more has ticked around and we are celebrating your birthday once again. Happy birthday, daughter.
Happy Birthday Wishes for My Daughters
Of all the presents I have ever been given in my lifetime you were the most beautiful gift I have ever received. Your presence in my life has added nothing but value and joy to it.
Happy birthday to my darling daughter! You are unbelievably precious to me, and I hope you realize that you are my everything. May your birthday be filled with splendor and love.
You are such a positive, charming, and absolutely adorable daughter. I am so proud that I get to call you my daughter because no other person could ever hope to compare to you. Happy birthday to my perfect little girl!
A daughter as sweet and loving as you is hard to come by, and I am so fortunate that I was blessed with a wonderful daughter like you. May your birthday be filled with lots of presents and cake.
Happy birthday to you, our little angel! Our wish is for you to love life and to never cease dreaming. May you always be surrounded by beauty and happiness!
We are fortunate to have you as our daughter. You have brought every joy in our lives that we ever dreamed of. Watching you grow up to be a wonderful lady is our great pleasure. Happy birthday!
The day you were born was the greatest moment of my life. I am so grateful that I have a daughter as honest, beautiful, and intelligent as you. Happy birthday to my baby girl!
There are many things I wish for you in life: success, good health, and fortune are just a few. But there is one thing I wish for you above all others, to know the joy of having a daughter to smoother in love.
Daughter, you have grown into such an amazing woman. You must have gotten that from me! Thank you for making it so easy to be proud of you. Happy birthday, my angel!
You renew my faith in the world because any world that has as incredible a person as you in it is one that can only be good. You are such an inspiration to me, and I hope you feel surrounded by love and warmth on your birthday.
I never knew I could love something so tiny so much, but the day you came into my life I was overwhelmed by all the love I had for you. Thank you for showing me how wonderful being a parent is. Happy birthday to my darling daughter!
Daughter, time seems to have flown by. Just the other day you could barely stand, and now I get to watch you run the world! Watching you grow up has been such a joy, and I know that only greatness lies ahead for you. May your birthday be just as spectacular as you are.
Birthday Wishes for Daughter From Mom
It's hard to imagine that my little girl is growing up so fast. It feels as if it was yesterday that she was this little girl. Happy birthday.
Dearest daughter, I wish for you to have a life of positivity and satisfaction. Live authentically and with purpose. Happy birthday; Mum loves you!
Happy birthday, dearest daughter of mine. I am proud of the strong, independent woman you're becoming.
A loving and caring daughter like you makes life worthwhile. You do so much for me. Happy birthday my sweet little daughter.
Today I am going to bake the best birthday cake of your life. Tell me, what else do you want because today you're going to get it all! Happy birthday!
Thank you, darling, for ushering an era of happiness into my life like no other. I love you immensely. Happy birthday!
I carried you inside my womb for nine month and now I am watching you grow up before my eyes. The joy of parenthood is unmatched by any other feeling in the world. Happy birthday!
I would like to wish the most amazing girl a Happy Birthday. You are my best friend and I can't imagine my life without you. You are a kind, sweet, and just an overall great daughter.
People say that you and I look almost the same. But I think you are much more gorgeous and way too charming than me. Happy birthday, my beautiful daughter!
Yes, as a mother, I have to act very strict sometimes. I worry for you too much because you are my only adorable princess. Happy birthday my angel, enjoy the day.
Birthday Wishes for Daughter From Dad
Your mom says that I have spoiled you rotten. But I know my daughter; she will never let me down. Happy birthday my love!
As a father, I cannot imagine my life without a daughter like you. Thanks for making life so bright. Happy birthday my sweet angel.
This day is truly a special day for me. Have a lovely birthday my dear daughter!
Daddy's little girl is growing up so fast. Congrats, my love on turning [put year]. I hope all your dreams come true.
My daughter is a lioness. Fierce and loyal to her family, she is everything I had ever imagined her to be. Happy birthday, sweetheart!
I would like to convey heartfelt birthday wishes to my daughter. You're a great source of inspiration for all the siblings. We're proud of you.
I thank God every single day for the gift of family. You, my daughter, are a gem of a person. Happy birthday! Dad loves you!
Back when you were little, I was your superman. I really hope you haven't replaced me with any of those young brats lately. Happy birthday my gem.
You and I have a lot to do today. We will make all the fun but first, let me express how blessed I feel for having you as my daughter. Happy birthday dear!
You grew up so fast that it felt like almost a blink of an eye. But nothing gives me more pleasure than watching you grow up to be a princess. Happy birthday my sweetheart.
I love the twinkle in my daughter's eyes. Being the father of such an amazing daughter has been a phenomenal experience. Happy birthday!
Congratulations and best wishes to my beautiful youngest daughter whose birthday is today. May you always be as happy as you are right now!
Happy Birthday To My Daughter In Law
I still remember all the nights we spent just staying up talking and eating ice cream. If you ever need an ear to listen just turn to me, because you will never be too old for girl's night with your mom.
Daughter, you remind me of your birthday cake; you are full of sweetness and sprinkle my life with love. I hope your special day is just as sweet as you are. Happy birthday!
From the day you first came home from the hospital, you ruled our house like a tiny little tyrant. Now, on your birthday, we get to treat you like the queen you are. Happy birthday from your loyal subjects a.k.a. your parents!
When you were little, you were never afraid to give me tons of kisses, but now you seem so embarrassed! As a parent, it is my duty to embarrass you as much as possible, so this year I plan to smother you with hugs and kisses in front of all your friends. You are so welcome.
There were times when I thought I would never get over the struggle of raising a teenage daughter, but luckily we both survived! The moments of angst were worth it though, because you are the best thing that has ever happened to me.
Happy birthday to my beloved daughter who deserves only the very best on her special day. I promise you that I will devote the rest of my life to providing you with unlimited love and affection.
Daughter, if you are lost in life just take a step back and remember your teenage years. Think back to 98 Degrees and just "Be True To Your Heart." Yes, that was a cheesy 90's reference, but don't pretend like you didn't love them! (I remember that poster.)
Funny Birthday Messages for Daughter
You know darling, you're special. You're the kind of daughter who makes me feel like I have the sun. You light up my world like nobody else.
I recently started taking boxing lessons. It's because I'm going to punch that guy who makes my little girl cry. My princess deserves to be happy. Happy birthday!
No matter how hard you try, you can't catch up to my age. And besides, you'll always be my little darling.
Every time it's your birthday, I feel like a Justin Bieber fan because you're my "Baby." Happy birthday, baby!
The best thing about a kid growing up is that the parents don't have to pamper him anymore for no reason at all. Happy birthday!
When you were a little baby, I used to be a horse for you. You'd sit on my back and ride like a jockey. Do you want the same on this birthday? Though at this age, I'd prefer to be a camel than a horse!
I was thinking of buying you a gift but then I thought the best gift for you would be to watch all of your favorite movies with you and not make any funny remarks on your favorite characters. Happy birthday!
I know the guy is handsome and young but does he love you like your old man does? I bet no! Happy birthday my angel. Don't worry! I'm not going to tell your mom!
There is no way I am going to accept that you are all grown up until or unless you admit that soccer is more enjoyable than those clueless tv shows you watch. Happy birthday!
Heartfelt Birthday Wishes for My Daughter
The depth of your kindness and love influences, not only my life but the lives of everyone you meet. You are such a compassionate and caring person, and I am so grateful I have such a splendid daughter.
Daughter, always remember to just be yourself, because there is no one more awesome than you! Thank you for filling my life with love, laughter, and countless adorable moments.
Whenever I am feeling down in life, I just think of you, because your smile lights up my life. Happy birthday to my vivacious daughter!
I am so proud that I have the privilege of calling myself your parent. You are truly a delight as a daughter. Happy birthday to my perfect angel!
Daughter, you've achieved so much in life, and I'm nothing but proud of the woman you've become. May your year be filled with continued success and never-ending love. I've got that love part covered!
I don't know how such a small little girl can generate so much energy, but I do know how she creates so much happiness in my life, by being the most adorable, lovely, and amazing daughter ever!
When I first held you in my arms, I knew in that moment that I would love you forever. You are such a beloved part of our family, and I hope your birthday is filled with happiness and love.
I hope you know that it doesn't matter how old you get; you will always be daddy's little girl. You can still come to me, and I will love and support you no matter what. Happy birthday, sweetie!
Daughter, there is no obstacle you cannot overcome in life. You are driven and determined, and there is absolutely nothing you cannot do once you set your mind to it. Words cannot express how unbelievably proud I am you.
I hope that one day you are blessed with a daughter of your own because nothing can compare to the love a daughter brings into your life. I also hope she brings angst so that you can feel grateful I managed not to kill you in your teenage years! Just kidding, but maybe not.
I am nothing short of delighted to have such a funny, sweet, and caring daughter. You enrich my life in too many ways to count, and I hope your birthday is just as special as you are.
You are a lot like a diamond: brilliant, amazing, flawless and you differ in that you are worth far more than any stone. My angel, you are such a treasure, not only to me but to our whole family. Happy birthday to our precious gem of a daughter!