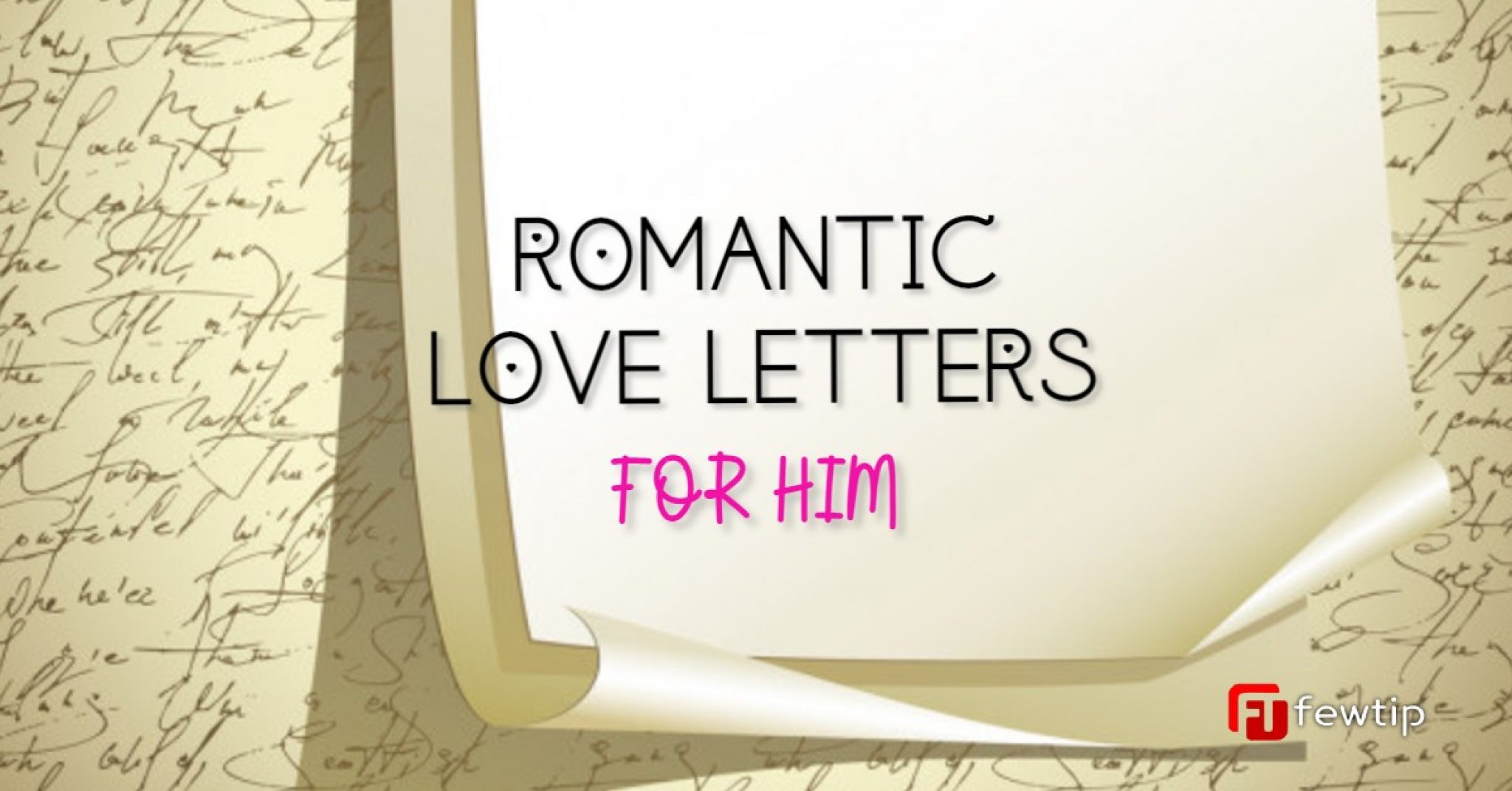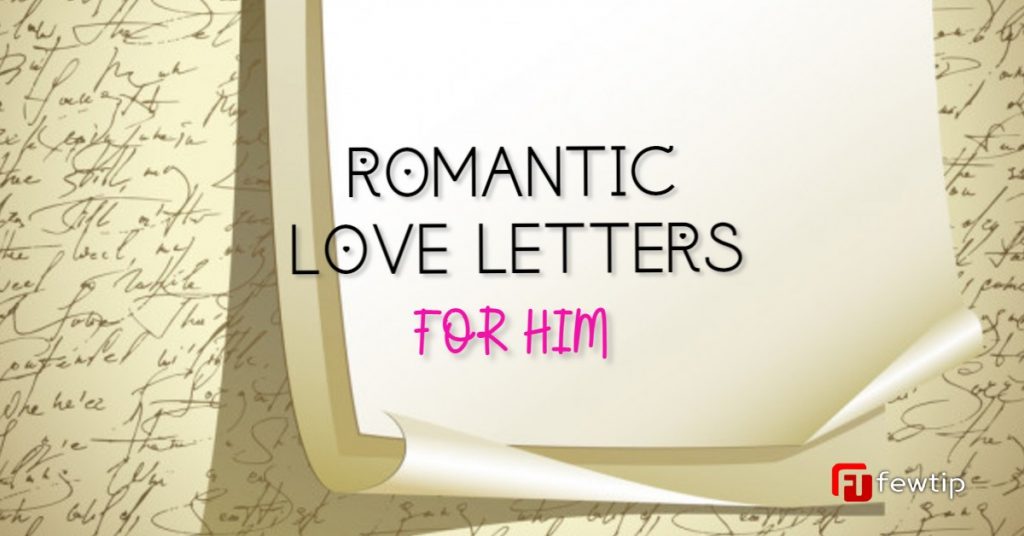 Planning to send a love letter for him? Many people underestimate the power of love letters. It is one of the best ways to express your feelings to your loved ones. If you happen to be someone who is very shy when it comes to expressing your feelings for someone you love.
We are suggesting you do that through a letter. This is why we have written some cute collections of love letters for your boyfriend to make him smile. All you have to do is to scroll down and choose any of the letters you like, modify it and send to him.
Love Letters For Him
My love,
I'm not the perfect woman, I have my temper and my flaws which can sometimes get the better of me. I have some emotional baggage I can't help but drag around. My heart is slightly broken, some even say unhinged and that can affect my reactions. However, my Love, one thing is for sure : never could a woman love as much as I love you, to the point of finding the word insipid when compared to the real feelings love actually provokes.
The most awesome memories that can't leave my mind are those little ones you never took notice of; they are the ones I cherish with everything in me. With you, I am complete.
Cutie pie,
Loving you has opened me to a lot of things I wouldn't have known. A day makes no sense if I don't get to spend a few minutes of it with you.
You are my daily devotion, but I have included you in my daily activities. Without you, I'll lose this happiness I feel inside of me. I'll feel incomplete. I am nothing without you, My Love.
You're my everything and my Mr perfect. I can't stop imagining a future with you. In a beautiful house with flowers and our kids playing all around the house. Let's forget our flaws and focus on our perfections. You are the best for me, baby.
Hey Sweetheart,
I realize that I overreacted last night, and I just wanted to tell you how sorry I am. The truth is, I can't picture my life without you. When you walk into the room, my heart beats a little faster. When I hear your voice, I melt a little inside. And when I see your sweet face, I know that you are my one true love. When you take me in your arms, it feels like coming home to the only place I belong. Please forgive me and let me make it up to you tonight.
My Beloved,
I simply wouldn't be the woman I am today without you. You inspire me everyday to be patient, kind, and loving because you are so patient, kind, and loving. You always focus on what really matters for us. You work so hard everyday to provide for us yet you still take time out of your day to get on the floor and play with legos or run outside with a bat and ball.
I love watching you play with our children. Seeing you light up when you see our sweet little ones reminds me of exactly why I fell in love with you, and it's why I stay so much in love with you. Both I and our children are so lucky to have you. Thank you for loving us!
Cute Love Letters For Him
My Prince,
Have I ever told you how special you are to me? You are the most special person in my life, in fact, you are my life. I want to promise to you that I will always love you, that I will bring you the sunshine and paint a smile on your face.
I promise that I will comfort your tears and gather up rainbows to chase away all your sadness. I promise to take care of you, to help you in any way I can, from a simple smile of encouragement, to shouldering your problems. I solemnly promise to you that, as long as forever, my love will stay true.
Honey,
You always ask me why I love you, so I decided to write it all down so you can keep it and read it whenever you feel the need. I love your sense of humor. It's one of the first things I noticed about you. You have a way of putting people at ease with a simple joke, and you always include everyone in the fun instead of using your humor to put someone down.
I love your optimistic nature. You always try to see the good in every person and situation, even when I can't see it myself. When I look at the world through your eyes, it's a better place.
Darling,
We may not be together every day, but my love for you is from the heart and I long to be with you every second of my life. This distance has made me fonder of you. I find to love you more when we are far apart. Truly this is from the bottom of my heart. Your absence right now makes me treasure you more; this is because every moment I am with you it's very precious to me. I always long to hear from you, just to hear your voice or see your face makes my day complete.
I Love You Letters For Him
My sweetest boy,
I wanted to write you a love letter. I know it's a little silly but I thought I'd try anyway. It's just that I feel so much when I'm with you that I try to put it in words, so that you know how I feel about you. You are such a gift to me. Having you in my life is such a blessing.
Though, I can't see you right now, I can picture how you are. I see your eyes and how they shine, I see the way you smile and how you look right before you laugh. I want to be next to you right now. I don't want you to hold anything back. I hope that you know that I will always be there for you. I can feel you close to me even though you're far away. Please believe me when I say I love you.
My Sweetheart,
I want to confess something special to you through this letter. When I look at you, my heart beats faster and I cannot describe the happiness that invades me. When I feel your gaze upon my eyes and your hand holding mine, a wonderful feeling wraps around me.
You have given a beautiful reason to my life. My life revolves around you and I cannot think living without you. When I say you are my ideal mate, I say it from the heart.. trust me. All my love for you, my soul!
Hi Love,
I still remember that moment, when I first saw you. That instance and moment, I knew that you are the one for me. The passion in your eyes, the radiance on my face, your look made me blush. Time has surely passed, but you are still the same for me. With time I love you more like I always did.
I am thankful to you; you made my life such a wonderful place. I love myself, because I am in your space. Darling, I want you to know that you are my life's most beautiful feeling. And, I would like to make you remember something, that I am yours. I love you and will always do.
Boyfriend Love Letters For Him
Hi Love,
Knowing you are with me makes my life a dream come true. Remembering our first kiss is remembering since when my heart beats for you. When we first hold hands, our souls become one. Seeing you is feeling everything is fine. My love, I share all my feelings with you. I know there are better girls than me, but I am sure you are the best boyfriend of all. I love you.
Hey Honey,
You were already on my mind when I woke up this morning. I just can't stop thinking about you. You are the most important person in my life. So, I just wanted to say I love you, and I can't wait to see you again.
Just being with you has made all my dreams come true, and I want to do everything I can to make you feel that way too. You deserve to be treasured for being the sweetest, kindest, most thoughtful boyfriend any girl could ask for, and believe me, I do treasure you.
My Prince Charming,
If you are wondering how much I love you, wonder no more. You are the sun in my sky, the river that runs through my soul, and the very air I breathe. Before I met you, I didn't believe it was possible to love someone so deeply and completely, but you have given me faith that true love really does exist because I share it with you.
Romantic Love Letters For Him
My Life,
I want to express to you, in this letter, everything I feel for you; The problem is that words are not enough. We took the road together and, without realizing it, we have found meaning in life without letting ourselves be overshadowed by difficulties. You are not just my boyfriend and the man of my life, you are my partner, my faithful friend, my love!
In each kiss, in each hug, I feel that my heart leaves me, joins with yours and, suddenly, I don't want anything else, the outside world evaporates and only you and I remain.
Baby BOO,
Because it's your entirety that makes you so beautiful and touching, that makes me love you so much. My life transformed the day our paths crossed. My nature is to be worried and self-conscious, but your love made me feel strong and invincible. You gave me back my confidence, and I now feel like a real woman, beautiful and interesting.
It's crazy how the mirror of your eyes has made me feel so good. But it's far from having been the only thing. I love all the moments we spend together, I love feeling like you and I are one, I love when our burning bodies answer each other's, when you lay eyes on me in the morning when I wake up, when I watch you laugh at stupid shows on TV.
My King,
I've learned that true love doesn't lie, doesn't shut up, doesn't disrespect, doesn't set conditions, doesn't force. True love listens, understands, helps you face your fears, is aware of you, shares your happiness, with a kiss it takes you to heaven and with two words it makes you smile.
Thank you for transforming my world and being part of it. For loving me so much, I will always love you.
Deep Love Letters For Him
Cutie,
My dreams came true when I met and fell in love with you. What is even more amazing is that we are now building dreams together. I cannot thank you enough for coming into my life and making it what it is today. We are perfectly imperfect.
I love how we are able to work on things and that we continue to help each other be stronger and better, both as individuals and as a couple. I learn everyday from you. You're so ambitious and genuine and forthright. I admire and love so much about you, and I can't wait to spend the rest of my life with you.
The apple of my eyes,
We may have been through a lot. My love for you is unquestionable. There may have been some misunderstandings, but they are there to make us understand ourselves even better. We are better together than apart, my love. I can beat my chest and say that our love is stronger than anything in the world.
You have always treated me with respect in all our relations, that's one great thing about you, and that's why we will stick together forever.
My love for you knows no boundary. I feel valued at your side. I feel happy about being yours. No matter how long we stay together, it's certain that my feelings for you won't change. Everything about you is just too perfect, that's why I want to spend the rest of my life with you.
My Love,
I love the way you look. You're so handsome, but you don't seem to realize how good looking you are. I see the way other people look at you, and I know they envy me for being with you. I'd love you even if you weren't so darn handsome, but I'm glad you are.
I love your gentle hands. You're such a strong man, but you have such a soft touch. When you take my hand in yours, I feel safe and cared for. I can't tell you how wonderful that is.
I love your generous soul. Whenever someone's in need, you're the first person to lend a hand. Some people might think you're a little too generous and easily taken advantage of, but I know better. You just can't resist helping because you understand how easily you could find yourself in the same situation.
You may also like:
Sweet Love Letters For Him
Darling,
Ever since I met you I don't really notice anyone around me, as if it is only you that matters. And, of course, you are the most important person in my life. There is nobody else I would rather be with. I would choose you again, and again and yet again. If there is life after this, I would choose you there too.
You are the best thing that has ever happened to me and I could not not imagine living without you. I don't need anyone else but you. You and only you can make me happy. I love you from the bottom of my heart and this is the pure truth. You are so kind, smart, funny, confident, and handsome and I want you to know that my heart will always be tied to yours.
My Heart,
They say that long distance does not work; my love for you is proof that they are actually wrong. You are always in my thoughts; I can't stop thinking about you. I wonder how it would be if you were right here with me. Everything I do, I do it for you. I know one day we'll be together for life. That's why a day cannot end without me saying how much I miss and love you.
Hey Sweetie,
I always dreamed of having a boyfriend, and I used to ponder what he'd be like. I imagined he'd be handsome and funny, and he'd be a great person too. Now you're here, and all my dreams have become a reality. It's so wonderful to have someone special to share everything with. You laugh at my dorky jokes, and we love listening to the same music.
I feel like I can tell you anything, and you understand exactly where I'm coming from. I've never been so happy, and it's all because of you. I hope you feel the same, and I promise I'll try to be the best girlfriend you'll ever have.
Best Love Letters For Him
Hi Cutie,
Words could not be enough to describe all my love for you. Just thinking of you makes me write this. I know I will never love anyone like I love you. I would do anything for you and I want to spend time only with you. You are my reason for living and my great love.
My most wonderful moment is when you kiss and hold me tight. It gives a feeling of being loved and taken care of. Expressing our love with sweet words will make it grow even more.
You have my word that I have never felt anything like this for anybody before, and I am very happy that you are my boyfriend. I hope this letter makes you understand how much I love you and think of you.
My Sweetheart,
My endless love for you makes me yearn more. All the desires, all the needs and the wishes borne, baby I love you like no one else will do. Our love story was unusual, but it is so true. I still remember that moment when I first met you.
I never thought that I would love someone so special in my life. You are now a part of me, that without you I won't survive. Why I love you so much, I also have no clue. But, I just wanna tell you that it's true. I just wanna tell you. That baby I love you and will always do.
Honey,
You are the one who has given meaning to my life and I am very glad that our relationship has gone through a paradise visit from when it started. The stars are waiting to come out at night to remind us about the sparkling moments of our life. May our love be a remarkable one which reaches the moon and stars and bring a new meaning to life.
Deep Emotional Love Letters For Him
Honey,
There is nothing that I wouldn't do for you. You mean everything to me and I want you to know how lucky I am to have met you. Indeed, you are my twin soul and I think we were destined to be together. I just want you to be happy, with me, to see a smile on your face every morning and every night, and your gleaming eyes with desire for me, open your heart to feel me there…
I will always be there for you. With my heart in one hand and a bunch of red roses in the other, I give you this letter, my beloved one.
Hello Love,
I write to you in this letter what I want to tell you for a long time. I want to tell you in the eyes but I can't do it face to face, because I get entangled in your eyes, I get distracted with your lips and I wrap myself in your smile.
However, you must know !; You should know that I am so happy with you because you make me laugh, because you make me tremble, because you make me dream. I am happy with you because every day I feel your respect, your acceptance of my hobbies and my passions and because you do not try to change my essence.
My once love crush,
It's just crazy that things have got to be this way. It isn't near the perfect end I wanted for us. I keep daydreaming of an ideal future with you. Everything you do makes me happy, but all those accumulated happiness flew away when you told me to stay away from you. It won't be easy, that I know for sure.
But it is never impossible. I know you had a guy, but that never affected my dreams of us being together. Every day, you make me strive to be better than I was the previous day. I feel cold when I re-read the text you sent me. That has been the saddest moment of my life. I've never had such a shock because I wasn't expecting this. Not even from you.
Love Letters For Him That Make Him Cry
Hello Cutie,
The smallest nothing at your side brightens up my entire day, when not so long ago, all seemed mundane and flavorless. So thank you for what you bring me everyday. I want to give you as much, to cherish you as much, to make you as happy with every passing day. I want to make your life gentler, colorful and delicious. I promise you I will be worthy of your love.
Darling,
Where should I start from my boy? You brought so much joy in my life with your wonderful love. Since the time I met you, there is nothing else I can see. All the lovely moments that I spend with you gives me so much happiness, there is a glint in my eyes. There is some kind of allure in you because I do not want to leave you. My only wish is to stay in your arms forever and think about the wonderful lovely life ahead. Baby I want to confess it to you that I simply love you. I love you so much my baby, I mean it!
Dear Sweetie,
When I first saw you, I longed for your love. Since then I can't stop thinking about you. I don't know what I will do without you. You are the dearest person in my life. I love you so much.
You being in my life, has made me accomplish great things in life. All my dreams have come true. I can't believe you are all mine. I will do anything for you. Just say it my love.
Dearest,
'I love you' are the three simple words my love. But, the meaning is too deep. Love is a feeling which is felt from the heart. There is no logic or weep. When I say I love you, I mean it from the heart. It is not now, it is not today, was right from the start. You are the one I want to spend my whole life with.
You are in my every thought. Baby when I say I love you, I really mean a lot. I can't think of a day without you. When you are not around, I feel gloomy. I just wanna be with you all the time, by the day. Love you and miss you honey!
I Love You Letters For Him From The Heart
My heartbeat,
Only you can turn me on baby, and I will give anything, not to leave your sight. My world is dark right now because you are yet to step in.
In case you don't know, you are the light that is perfect for my life. You are all I need to live for in life. Your love is all I need to hope for in life. I'm sure of touching the skies when you are mine.
I won't gamble your love for anything because it will be the most precious thing I'll be protecting. I feel high because holding your hands, kissing your lips, feeling your skin and looking into your eyes all makes me feel like the luckiest person to be in love.
Sweetie,
I am aware that I may have been hard on you at the beginning. You were fresh out of a long relationship and I had the feeling I somehow didn't count for you. It was selfish of me. I know how much a breakup can be difficult and that it takes time for the wounds to heal. Getting involved in a new relationship too quickly will only burst the stitches, and that's never a good thing.
Every moment, I keep imagining what it will be like to have you, permanently in my life. You are everything I need.
My World,
You are the first thing I think about when I wake up every morning, and the last thing I think about before I go to bed. You're the first person I want to say good morning to, and the last person I want to say good night to. You're the person I love the most, but also my very best friend. I'm so grateful that I get to spend this life with you.
I love both getting to watch crappy reality TV shows with you and take trips with you. Everyday feels like a dream with you. I'm amazed that, even after all of this time together, I still find out more and more things about you that make me fall more and more in love with you. You are my world!
Long Love Letters For Him Copy and Paste
Dearest,
I love the way you kiss me. Your lips perfectly fit with mine. I love those quick kisses you shower me with throughout the day, and I love your deep, lingering kisses even more. They make my toes curl, and I shiver with delight.
Most importantly, I love the way you complete me. You are my soul mate I thought I'd never find. You cheer me up when I'm down and help me find balance when my world is out of control. You make me want to do the same for you.
My Everyday Crush,
I'll always remember the first time we met. You were so handsome, and your smile took my breath away. I didn't know if I'd ever be able to be brave enough to talk to you, but you made it so easy! And now, here we are, years later, and we're still talking and now loving each other. You always lift my spirit and assure me that everything is going to be okay because we're in this together, and you're oh so right.
Everything is better because I get to experience it with you. You're my teammate, my best friend, my lover, and my soulmate. Everyday I get to spend with you is a gift.
My Beloved,
Being away from you is a lot worse than I could have ever imagined. I truly realize now how much you mean to me. I have a hard time falling asleep at night as I keep thinking about you, about our times together. Then during the day, it is the same… I miss you all the time and I can hardly concentrate on the things I am doing.
No distraction seems strong enough to divert my attention. Your image just keeps reappearing in my mind. I love you, my dear, and this separation is just so tough on me. I placed a calendar on my bedroom wall and I keep counting the hours and days until I see you again. I miss you more than you know and I hope that you miss me too. I am sending you a kiss, a hug, my heart and my love, always.