Christmas is one of the most joyous festivals of the year, awaited by everyone, including children and grown-ups. The glittery decoration, gifts, cakes, delicious meals, Christmas carols, everything about the festival is just splendid. But above all it's about the love, laughter and the precious time spent with the family and the loved ones.
Is the perfect time of year to celebrate family, joy, and coming together. It's a time to be merry and indulge in plenty of food and drink to keep warm during the cold winter.
Here are some lovely Christmas wishes, messages and quotes which will make your loved one's festival bright and prosperous.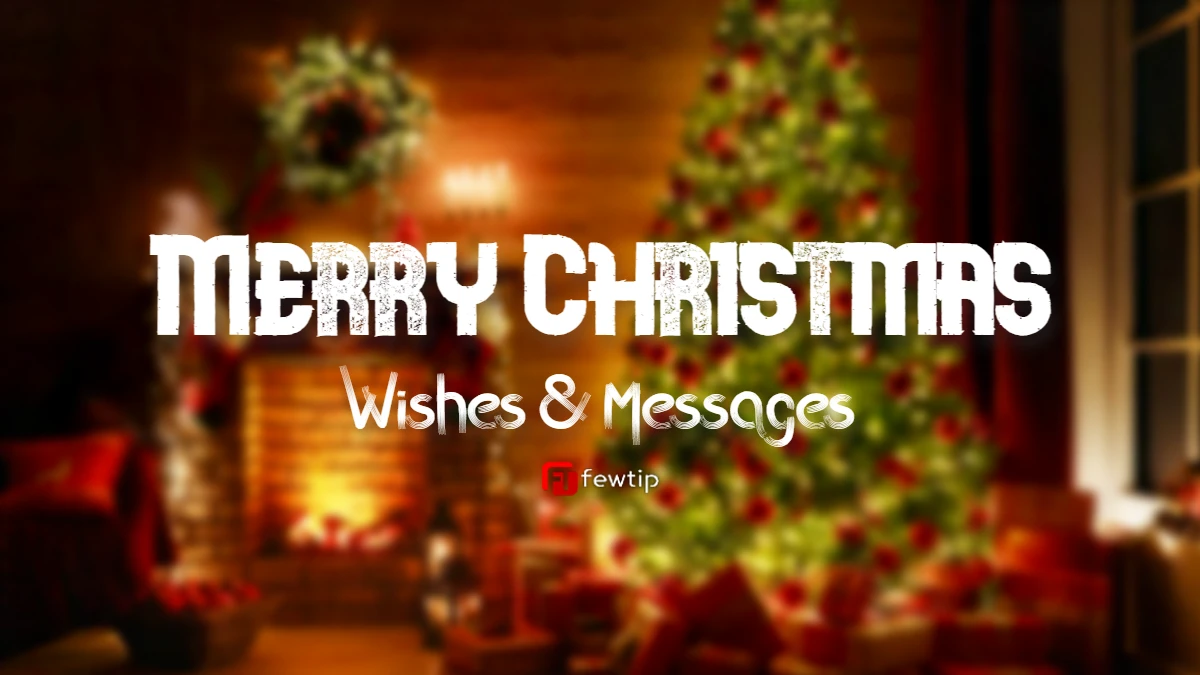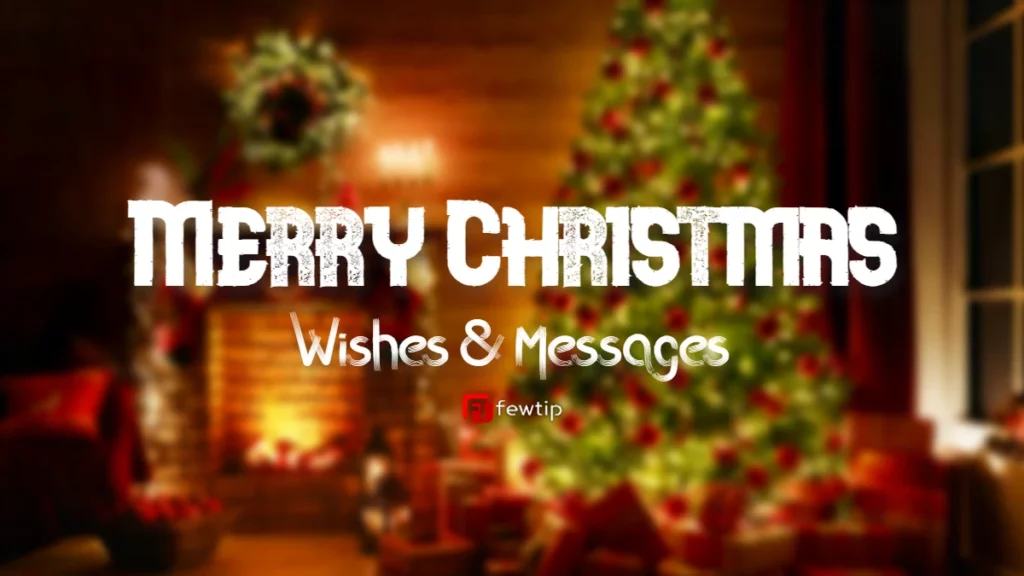 Merry Christmas Wishes
1. Enjoy your well deserved rest and time with family. Merry Christmas and a happy and healthy New Year!
2. May this holiday season be full of surprises and cheers, simply because you deserve the best.
3. God loves you and has the most beautiful plan wrapped up for you this Christmas. May you receive it joyfully with open arms.
4. May the spirit of the season bring you closer to those whom you cherish so much. May this be a year of celebrations for everyone, Merry Christmas to all.
5. From one girlfriend to another: Santa Claus should be a chick. Doing all the festivities and gifts and shopping? We deserve those cookies a lot more than he does!
6. May you feel all the love and joy throughout the day and all year round. Sending you warmest greetings of this festive season and best wishes for happiness in this New Year.
7. Warmest thoughts and best wishes for a wonderful Christmas and a Happy New Year. May peace, love, and prosperity follow you always.
8. Christmas is a season of great joy: a time for remembering the past and hoping for the future. May the glorious message of peace and love fill you with joy during this wonderful season.
9. May this festive season sparkle and shine, may all of your wishes and dreams come true, and may you feel this happiness all year round. Merry Christmas!
10. There is no better time for friends and family to come together such as Christmas. May the true meaning of this season fill our hearts, and that is, to appreciate the love given to us by not taking it for granted.
Merry Christmas Message
11. I wish this holiday season you would receive Love, peace and joy for the whole year, Merry Christmas!
12. May our friendship burn bright at Christmas and carry us into a new year of hope and a chance for a brighter future.
13. On this most blessed day, I wish you love for all your kindness, and I hope the new year will bring you many days of happiness.
14. Wonderful memories to be had, many reasons to be glad. Loving wishes all for you. Countless dreams you have made true. Merry Christmas!
15. I wish happiness surrounds you all around on this happy occasion. Feel the joy of it. I hope you'll have a great time with your friends and family!
16. May the Christmas Season bring only happiness and joy to you and your adorable family. We miss you and hope to see you in 2021.
17. Amidst the Christmas carols, eggnog, cookies, and mounds of presents, may your heart be filled with contentment and the unique feeling of joy that the season brings.
18. May the closeness of friends, the comfort of home, and the unity of our nation, renew your spirits this festive season. Merry Christmas to your family.
19. I have a message from all the snowmen, all the reindeer and little candy canes too: They are wishing a wonderful season from all of them to you! Merry Christmas!
20. The time for celebration and gathering is about to begin. Prepare yourself to embrace the best of this year. Wish you a merry Christmas!
Merry Christmas Wishes Text Message
21. They say the best of all gifts around any Christmas tree is the presence of a happy family all wrapped up in each other. Wishing you a very Merry Christmas surrounded by your precious family, and many blessings for the coming year.
22. During the miraculous time that is Christmas may you see with the eyes of a child, experience the wonder of love, and truly enjoy all that the season has to offer.
23. To a joyful present and a well-remembered past. Best wishes for Happy Holidays and a magnificent New Year.
24. Amidst the soulful Christmas carols, may this season grant you many uncountable wishes and may your heart be full of contentment.
25. This year I finished Christmas shopping early! I had my holiday cards completed and addressed, and I made homemade presents. I also learned it's so much easier to plan these things than actually do them.
26. Merry Christmas! May God showers your life with unlimited blessings on this day. Have a wonderful time and make some good memories!
27. May the good times and treasures of the present become the golden memories of tomorrow for your lovely family, just as our childhood memories of Holidays past are such happy recollections now. Wishing you lots of love, joy and happiness. Merry Christmas!
28. This time of year brings festivities and family fun. It is a time for reminiscing and looking forward. Wishing you wonderful memories during this joyous season.
29. You make the stars shine brighter and the winter days warmer just by being in my life. Merry Christmas to my favorite person in the world.
30. Christmas is here again. May your home be filled with laughter, contentment, harmony, peace, and abundance of mercy.
Merry Christmas Wishes Text
31. This is the time of year we reflect on how lucky and blessed we are. I hope you find yourself happy, content, and reveling in the beauty of this Happy Christmas.
32. May this Christmas be the brightest, most beautiful Christmas of your life. May you find the peace and joy you've been looking for!
33. Whatever is beautiful, meaningful. Whatever brings you happiness. May it be yours this holiday season and throughout the coming year.
34. As you celebrate the glory of this miraculous season, may your home be filled with love, peace, and joy. May these blessings follow you throughout the New Year.
35. May this Christmas end the present year on a cheerful note and make way for a fresh and bright New Year. Here's wishing you a Merry Christmas and a Happy New Year!
36. Happy Holidays. Wishing you every happiness this holiday season and throughout the coming year.
37. May you receive the greatest gift of all this Christmas, someone to share your life with, Merry Christmas!
38. May the blessings of Christmas flow into your heart and fill you with peace and hope.
39. May the magic of Christmas gladden your heart with the joys of the season and May the spirit of Christmas bless you with greater strength. May the promise of Christmas bring you and yours endless blessings.
40. Underneath all my wrapping paper, gifts, bows, wreaths, decorations and bulbs, I send you lots of love and Christmas wishes with blessings from above.
Religious Merry Christmas Wishes
41. May you receive all that you desire for and dream for. May this Christmas bring you all that you need in life. Merry Christmas!
42. May the Christmas season fill your home with joy, your heart with love and your life with laughter. Wishing you a very Merry Christmas and we look forward to seeing you in 2021.
43. During this time of faith and family, may the true meaning of Christmas fill you with joy. Wishing you a Merry Christmas and a blessed Happy New Year.
44. Christmas is about spending time with family and friends. It's about creating happy memories that will last a lifetime. Merry Christmas to you and your family!
45. Enjoy the lights on the trees, the icicles formed on the eaves, the red hue of holly, and the love and warmth you feel surrounded by family and friends. Season's greetings.
46. Wishing you the most amazing Christmas of your life and praying to the Lord to help you be a better person than ever. May God always bless you. I love you so much.
47. May your Christmas sparkle with moments of love, laughter and goodwill. And may the year ahead be full of contentment and joy. Have a Merry Christmas and we look forward to seeing you in 2021.
48. A Christmas candle is a lovely thing; It makes no noise at all, But softly gives itself away; While quite unselfish, it grows small.
49. A lovely thing about Christmas is that it's compulsory, like a thunderstorm and we all go through it together. Let's buckle up and enjoy the ride.
50. As you celebrate Christmas, make wonderful memories that will linger in your home, make great friendships that will last a lifetime and may this season be filled with peace and joy. Have a merry Christmas.
Wish You A Merry Christmas And A Happy New Year
51. Peace, love and harmony we wish for you and may love fill your home with blessings too. Happy Holidays.
52. If I could tell Santa what to give you, It would be happiness and peace Not just this Christmas, but for the entire year.
53. Your humble heart deserves a fresh start. Wishing you wisdom this Christmas and hope for a new path.
54. I look forward to Christmas every year. It is a time to reach out to those we have missed through the year. May this message find you in good health and spirits.
55. May the sparkle and joy of Christmas fill your heart. I wish you a season filled with happiness and merry-making.
56. Wishing you peace, joy, and all the best this wonderful holiday has to offer. May this incredible time of giving and spending time with family bring you the joy that lasts throughout the year.
57. Wishing you a magical and blissful holiday! Have a merry Christmas and prosperous New Year!
58. The end of another beautiful year is in sight. May the next one be just as bright, and may Christmas fill you with its shining hope.
59. Christmas is a time for nostalgia, but it is also a time for making new memories. Enjoy the fellowship of new friends, and cherish the company of family in this season of loving and sharing. Merry Christmas!
60. Sending you love, our warmest Christmas wishes and glad tiding from our family to yours. Merry Christmas and Happy Holidays! I wish you a merry christmas!!
Merry Christmas And Happy New Year Wishes
61. Wishing you a joy-filled Christmas season. May your holidays be spent in good cheers and unforgettable moments. Have a great time this Christmas!
62. It is yet another time to give and receive but blessed is he who gives then he who receives. Spread the warmth and love brought about by Christmas. Let it be savored by friends, family and the neighborhood.
63. May the blessings and happiness Of Christmas season be yours May the next year be better and happier Happy Holidays!
64. The miracle of Christmas is that God would love us enough to send an eternal King, a blessed Savior, to an earth that is weary and worn and that refuses to believe. May you believe the miracle and receive His gift this Christmas.
65. Good cheer, great hope and the best that the Christmas season has to offer for you and your family as you celebrate this time of togetherness. Merry Christmas!
66. In this loveliest of seasons may you find many reasons for happiness. Merry Christmas and lots of love from our family to yours! I wish you a merry christmas!!
67. My special wishes to you and to all those too are close to you. May you have a Christmas that is more special than it has ever been. May Baby Jesus bless you abundantly.
68. 'Tis the season to wish one another joy and love and peace. These are my wishes for you, Merry Christmas our dear friends, may you feel the love this special day. I wish you a merry christmas!!
69. This is a season filled with warmth from friendships and comfort from loved ones. Having you as my friend fills me with so much joy and the thought of you makes my heart bright. Have a merry Christmas.
70. To all the people who are dear to me, I wish all of you nothing but the joy and happiness that this Christmas brings!
Merry Christmas Wishes Quotes
71. Wish you all the best this holiday season and throughout the year, Merry Christmas! Let us forget the past and start anew, wishing to see you this Christmas!
72. May your heart be filled with the joy of giving, as it is the expression of the love in your heart and the kindness in your soul.
73. Christmas is a season of enjoying the simple things that make life beautiful. May you have great memories that will permanently touch your heart. I wish you so much joy during this season and all through to the New Year.
74. There is no greater gift this festive season than spending time with family all around the Christmas tree.
75. May this season of giving be the start of your better life. Have a great and blessed holiday! May this Christmas season bring you nothing but fond memories, Happiness and laughter.
76. The hope of Christmas lay in a manger, went to the cross, and now sits on the throne. May the King of kings bless you and keep you.
77. Christmas is the perfect season to reach out to others when laughter and good tidings are in the air. Here's hoping that your Christmas will find you among family and friends, sharing the spirit of the season.