The gift of life should be celebrated each and every day because it's indeed the starting point of our existence. A couple life celebration quotes are necessary to appreciate the life we get to have every day.
The best part of life is loving and appreciating yourself because only then can you be able to love and appreciate the people in your life.
Birthdays like any other special day should be groomed with heart-warming quotes and wishes from family and friends. But it is also worthwhile to wish yourself a happy birthday, write yourself a birthday message filled with positivity and new year affirmation.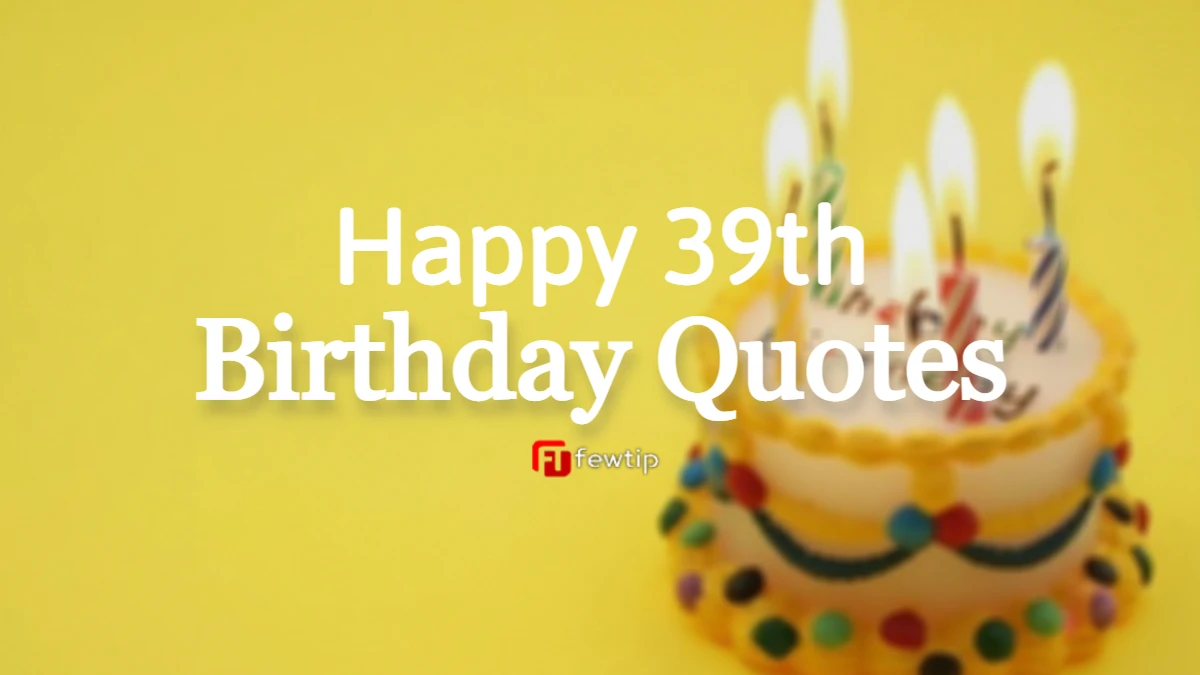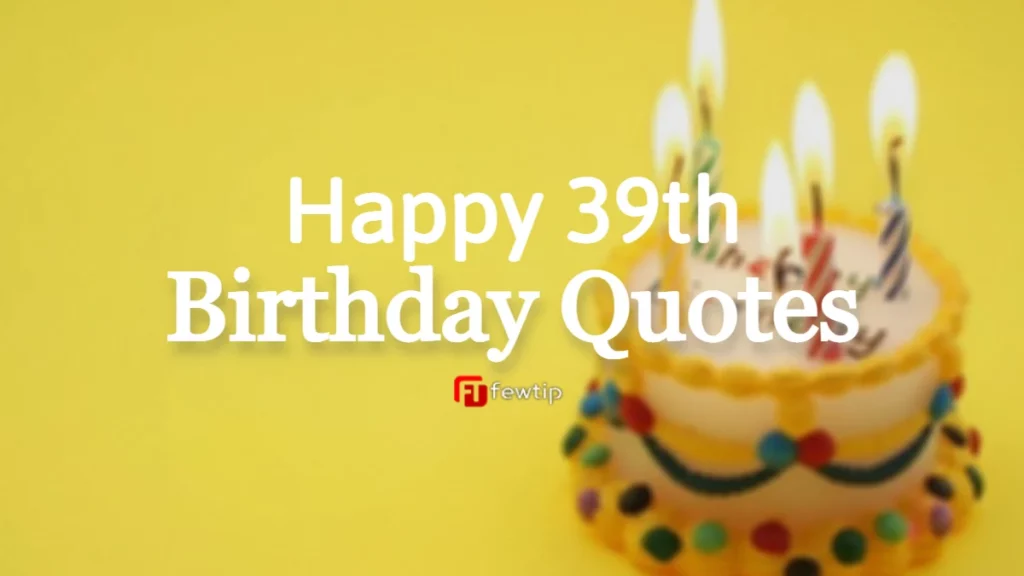 Your 39th birthday which is the last year of your thirties and a year left into your forties is a good time to reflect on the past, learn from your mistakes and think of what will happen a year from now, how you intend to go about your life.
Here are some happy 39th birthday quotes about celebrating yourself, for personal reflection, expressing gratitude for another year or prayers for a better year ahead.
Happy 39th Birthday
1. On my 39th anniversary, I want to thank God for taking good care of me all these years. I would be absolutely nothing without you, Father.
2. The world is my stage and I have played diligently so far. I hope to display a noble and fierce expression of reign in the years to come. Happy 39th birthday to me.
3. On my birthday, I wish myself to always be the best I can be, from now and till eternity. Happy birthday to me. Today, I want to thank God for granting me yet another year. Today, my heart is full of nothing but gratitude. Wishing myself a happy 39th birthday!
4. Happy 39th birthday to me. Thanks a lot, God for giving me another year of life! The most wonderful truth is, I'm not getting old, I'm just becoming experienced.
5. This is my 39th birthday, and I'm ready to begin writing a new chapter of my life. Wishing a fabulous birthday to the coolest tricenarian in the world – me. This is certainly going to be my year of greatness.
6. Happy birthday to a beautiful and strong soul, yeah you guessed right. It's my birthday. Happy birthday to me! Cheers to surviving another year and grateful for being here to celebrate with me. Happy 39th birthday to me!
7. I've spent so many years that gave me happiness and joy in abundance. I wish the same in the coming years. Happy birthday to me! Another year down, but a lot more to come! Happy 39th Birthday to me!
8. On my 39th birthday, all I wish for myself is a lifetime of true happiness and peace. Wishing the happiest of birthdays to myself as I turn 39 today. I choose to make this phase of my life an amazing one.
9. I am not just a year older but also a year better and happier. Happy birthday to me! I'll enjoy the best of the day and laugh like never before because it's my day. Happy 39th birthday to me!
10. Wishing myself the happiest birthday ever! Thank You, God, for letting me have a lovely family and celebrate my life with them! I am truly blessed! Keep calm and wish me Happy 39th Birthday!
39th Birthday Quotes
11. Now, all you really need to do is sit back and just watch the program we have made for you. I want you to understand that there is something better for you out there, something magical. Happy 39th birthday!
12. You are now only a year short of entering your forties and being counted amongst the old people. Happy birthday old buddy.
13. So today is the day you turn thirty-nine. We cannot believe that it's true. Years flew by quickly and you've made us so proud in everything that you do. Happy 39th Birthday!
14. Hang in there, you are close enough to being 40 so just enjoy today, happy 39th birthday! Your future will depend on the choices that you make now, be careful and enjoy your big day!
15. Being thirty nine years old doesn't seem to have any effect on you. You are still as crazy and sexy as you ever were. Happy 39th birthday.
16. Let your day begin with a warm wish for peace and more happiness than your heart can hold. As you move through the day's celebrations, reflect on the blessing of being 39-years-old. Today, remember that God made you special, and know just how much you are loved. You mean more to us than the moon and the stars, and for you we thank the Lord above. Happy 39th birthday!
17. There is nothing better in the world than to see you happy, I hope you are and happy birthday. Of all the things you have said, I want you to know I care for you a lot, enjoy everything now. Happy 39th birthday.
18. I have noticed something strange about you. The more you grow older in number, the more you grow younger in mind and soul. Happy 39th birthday.
19. Happy 39th Birthday to you, life is no bed of roses it is true, but count all your blessings, true devotion I am professing because I love you so much, yes I do. Happy Birthday Sweetheart!
20. Let us celebrate the fact that you made it past the worst days of your life and so keep happy. Happy 39th birthday, I hope you had the most awesome time in your life, you deserve that.
Happy 39th Birthday Funny Quotes
21. Happy 39th birthday just a year more and you will be forty, congratulations for this very day! You have too much energy even when you are at this age of your life, I wish you all the best.
22. Thirty nine years are not enough to celebrate and savor your company. I hope we get to celebrate many more years together. Happy birthday dear.
23. Today is your 39th birthday. You deserve the best of the best. Whatever you do, know I am thinking of you, and I wish you a day of sweet rest. After an evening of fun and celebration, may you reflect on the past and smile, know of my love and adoration, and a friendship that withstands the miles. Happy Birthday Dear.
24. I am so proud of who I am. I am so happy to be me! On the occasion of my 39th birthday, I pray for a long and joyful life for myself.
25. Today, one of the greatest men to walk this earth was born. Happy birthday to me and best wishes to all my endeavors. I am officially one year older. Happy 39th birthday to the great person I am becoming and cheers to a new year ahead.
26. Everything hurts except loving yourself. The best thing you can be is by being a friend to yourself. Happy birthday to myself! God has given me another year to live, laugh, and love and that is the best thing I could receive. Happy 39th Birthday to me!
27. The most special day of the year has come. Happy 39th birthday to myself! No matter what people say or think, I know that I'm the best. May God keep me like this happy and cheerful forever!
28. I believe all my dreams shall come to pass because I have an amazing God standing by me. Happy 39th birthday to me!
29. Finally, my birthday has come, and I am now ready for new heights and accomplishments. I pray for more grace and more bliss as the days go by. May I live to see the fulfillment of my days. Happy 39th birthday to myself!
30. Life itself is a beautiful gift and I cannot be more thankful to be alive, happy, and healthy! Happy Birthday to me! May God always be pleased with me. On this very day, one of the greatest humans of the world was born. Oh, and so did I! Happy 39th Birthday to myself!
39th Birthday Quotes For Myself
31. Owing to all the blessings I have received in life, I have no doubt that I'm God's absolute favorite creation. Happy 39th birthday to me.
32. Heaven has been good to me by adding another year to my age. Happy birthday to me! More than anything, I wish myself more grace, more prosperity, more happiness and more years ahead. Happy 39th birthday to myself!
33. My life is way more interesting than I could ask for at this age. I'm happy that I was born like me, not like anyone else. Happy birthday to me! Happy 39th birthday to a person who is smart, good-looking, and funny and reminds me a lot of myself.
34. As someone from your past & still in your present, I want to hope you have a great day today. I wish that you would finally realize the beauty that you have inside of you, happy birthday, love.
35. Now you have finally entered the age of gray hair and wrinkled face. Finally you have moved past being thirty eight. Happy thirty-ninth birthday.
36. You will never pass this day again, so enjoy it to the fullest. Wishing you the very best, from the youngest of us to the oldest. Happy 39th Birthday from Your love!
37. I am still going to be your friend even until you are more than fifty, until we are still alive, pal. You are in one of the best years of your life, I am sure of it, I wish you a happy 39th birthday!
38. See what I have brought you today on your thirty ninth birthday. A pack of hair colors. Isn't that incredibly sweet of me ? Happy 39th birthday.
39. There once was a boy from somewhere, who longed to find someone who cared. Then along came a pretty girl, who put his heart in a whirl, now at last their lives they do share. Happy 39th Birthday Honey!
40. We will remain each other's best friends and I will never forget to greet you with a happy birthday! Dude, who would have realized that we have made it through all obstacles, I am happy for us.
Happy 39th Birthday Funny
41. There is something in you that makes me happier on my 39th birthday. Every time I close my eyes, your face is what I see, a happy day for you, my dear! Happy 39th birthday.
42. You deserve all the happiness the world can offer because you are already way too selfless now. Happy 39th birthday, you are now on the stage that is one year shy of being four decades old.
43. Oh my thirty nine already! I don't believe it. It seems like time has really flown in your case. Happy 39th birthday my love.
44. There is nothing better than celebrating the date of birth with the people you love, I love you! You are already rich because you have a family that supports you, whatever your activity. Happy 39th birthday.
45. I wish people would try and concentrate on what is in front of them, now your birthday for sure! There is not much I can do now but tell you that things will work out after your 39th birthday comes.
46. Happy birthday my dear old fellow. You look too young for your age. Hard to believe you turn thirty nine today. Happy 39th birthday dear.
47. You are the love of my life and the man of my dreams. Not a day goes by that isn't as truly magical as it seems. You make me so very happy and put my heart in a swoon. Your 39th birthday is a time when I want to give you the moon. I love you honey, today is your day, do with it what you will!
48. You have been the guide for our meeting. I wish you a lot of success for this holiday. Spend another fantastic time today and go out and keep laughing and having fun! Happy 39th birthday!
49. Life is truly going to be hard but if you work for it, it will pay off later on, enjoy your big day! You are not a fossil just because you are older, you are just more mature and motivated to do it. Happy 39th birthday.
50. I like to celebrate your birthday with you because your eyes are lowered every time you talk, happy day. Happy 39th birthday, you still have enough fun for a smile even when I do not want it.
Happy 39th Birthday To Me
51. You illuminate my world from the first day and I'm happy to be with you. Now that you are older, you can do what makes you happy, happy and happy for your 39th birthday!
52. All I am wishing for you is that you remain true to yourself and who you really are, dearest. May I never disappoint you on purpose, I want you to know I care so much about you, dear. Happy 39th birthday!
53. You still seem so young. Once I turn thirty nine too, I would definitely come up to you for tips. Happy 39th birthday my young 'old' fellow.
54. I have never known someone as altruistic and kind as you, you are one of the best people here. Today, I admire you and wish you a happy 39th birthday, just enjoy life, my dear.
55. You have the most amazing charisma here, happy birthday, dude, give some charm to us as well. Happy 39th birthday, at this age you should look old but you are still as beautiful as ever sweetie.
56. Age hasn't spoiled you a bit. Have you got Bilbo's ring on you? For I swear it seems exactly that way. Happy 39th birthday.
57. 39 years ago you came into our lives, and we've been blessed everyday since then. You bring us such happiness and pride, in fact, you are one of our favorite men. Happy 39th Birthday.
58. What can I have for someone who has everything, but who is it? Happy 39th birthday, maybe not a lot, but I want to say that I'm so proud of you, darling.
59. I wish you would have the best that you can have coz you're always kind to other people now. I bought you a pack of hair color just for today, I wish you a really happy 39th birthday, dear.
60. It's your time and the moment to shine so that the lights come on and show them what you can. Bring your pride and happiness wherever you go and I'm so proud of what you are now. Happy 39th birthday.