As you grow older, birthdays become less important. When you enter adulthood, gone are the days when a bunch of people hold your hand and sing the birthday song in a circle.
Many guys don't want to waste a day thinking and preparing for a birthday party. For them, birthdays are just another normal day.
But we have more than enough reasons to love birthdays. For the one having a birthday, it's the time to feel special and be spoiled. For his family and friends, it's the perfect day to express their love and care.
If your boyfriend or husband is not a birthday person, here is a list of sweet birthday quotes for him to put a smile on his face. Write them down on a card and send them with your gift. These funny birthday wishes will be the cherry on top.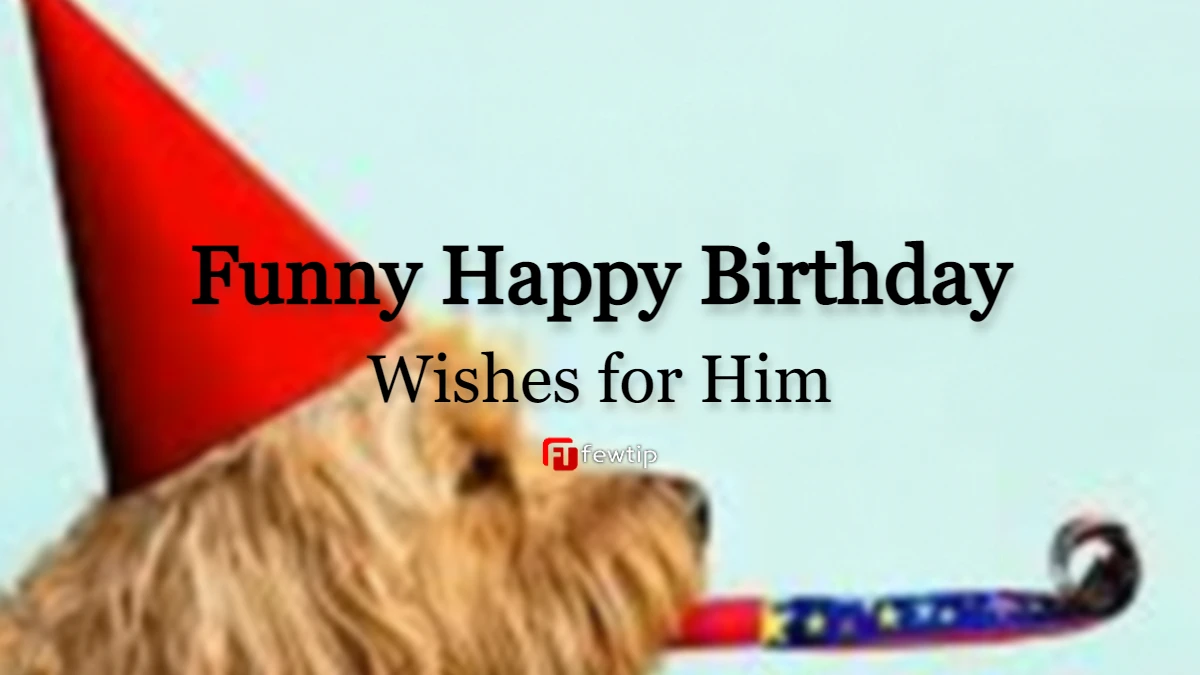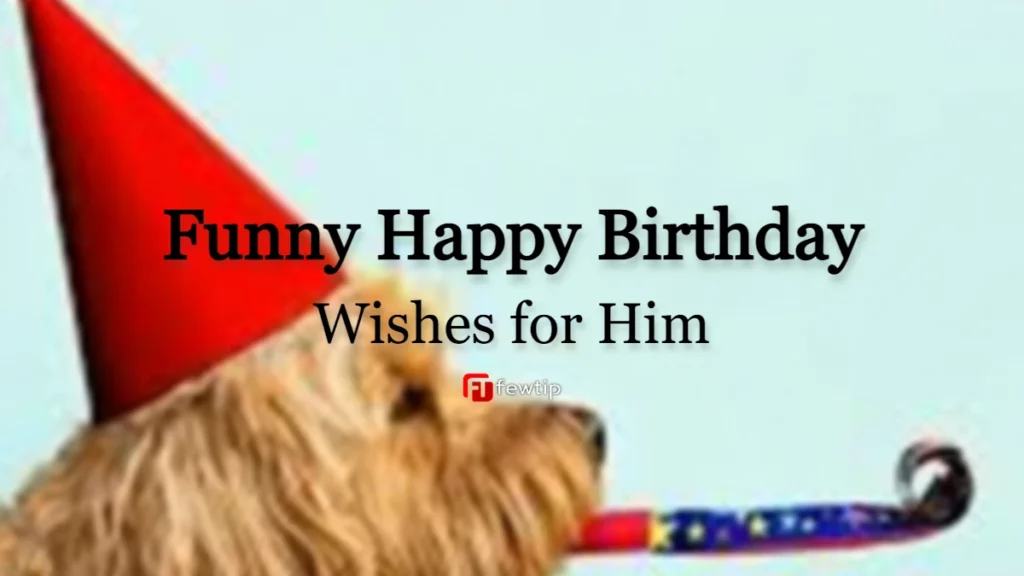 Happy Birthday Funny For Him
1. To my friend on his birthday: I want you to know that I've always looked up to you. Yes, you're taller than me, but I've always admired your style and impeccable grooming. By the way, time to trim that nose hair.
2. Don't let your age get you down, it won't be long until you are allowed to start learning to drive. But until then, on your bike! Happy Birthday!
3. All I have ever wanted in life was to meet my prince charming: a kind, gentle, caring man that would whisk me off my feet and romance me. Happy Birthday!
4. I will propose an award for the birthday of the year and I will make sure that it is won, by hook or by crook, by my birthday. Yours is second. Happy birthday, my baby.
5. Your presence in my life is more than a blessing. You make me feel complete and happy all the time. Warm wishes for your Birthday, honey!
6. Seeing you smile lights me up, and feeling your warmth gives me rest. I would never ask God for a better boyfriend. As you turn one year older, I wish you the best of luck in everything you do. Happy birthday, sweetheart.
7. My charming prince, I wish you a magical birthday, and may our love last forever. I never knew it was possible to love life so much until I started living it with you.
8. Instead of being sad because you grew up, be happy because you will not be the grumpy old geezer you will become in 10 years! Happy birthday!
9. Your life will be filled with joy and your day with money. Joy so you'll want to live forever and money so you'll celebrate today heavily. Happy birthday, baby.
10. I am a blessed girlfriend indeed! May our love grow sturdy each day. Happy birthday, my handsome prince. Among the few good things that I have ever done in my life, falling in love with you was the best of them. Happy birthday, my king.
Happy Birthday Guy Funny
11. If I have to tie you up and swing a light over your head until you talk, I will. Eventually, you'll spill the location of that Fountain of Youth you've found!
12. We thought we would get the right amount of candles to put on your cake this year but quickly ran out of space. Happy Birthday!
13. Happy birthday, my lovely boyfriend! I'm sorry that I haven't got a gift for you this year, but let's be honest, just being able to see my beautiful face every day is the best gift in itself! You're welcome, my love!
14. Hope you're not part of those claiming to be forever young? Because I can't have a boyfriend with stunted growth. Happy birthday to you, my love.
15. One of the things I learned growing up with you, is that if you have a dream, you should always chase it. I mean, you still can run at your age right? Nevertheless, happy birthday!
16. To my brother who still owes me several big ones. I didn't get you a gift this year, so let's call it even. Happy Birthday! It's about time one of us turned 18! Drinks are on you, then! Happy Birthday!
17. Happy birthday to my loving boyfriend, who is the best thing that has ever happened to me… So far! Well, who knows what the future holds!
18. I feel like I love you more today, and trust me when I say it's not because I want the lion's share of your cake. Happy birthday, my sweetheart.
19. No matter what, I will always love you. Happy birthday, my sweetheart. Many happy returns of the day! There are no words I could use to describe the love we share. I'm so incredibly thankful for you. Happy Birthday to my love!
20. You turned the saddest days of my life into the best ones, and I am forever grateful for that. I am looking forward to spending the rest of my life with you. Happy birthday, my king.
Happy Birthday Male Funny
21. I'm just a girl who loves a boy. Today is your birthday and celebrate what we'll do. Life is an adventure and I'm so glad we're sailing these uncharted seas together. Together makes it so much brighter and better. I love you to the Milky Way and back.
22. So, I always wanted to learn about dinosaurs. Could you share your knowledge with me? I mean, you have probably met them in person! Just kidding, happy birthday you fossil!
23. There's no way I'll sleep at home tonight. We must shake the city till tomorrow. Don't worry, my wallet can support it. Happy birthday to you, my darling.
24. Dear boyfriend, wish you the happiest possible birthday ever. I can never thank your mother enough to give birth to my soul mate and make me feel blessed. Happy Birthday, my love!
25. Thank you for bringing so much happiness to my life. Happy birthday to the most special person in my life! I loved you, I love you and I will love you forever. Happy birthday to the man I love!
26. Everything about you is special to me. I pray that your life turns out better than you expect and that you will be full of happiness. I love you. Happy birthday!
27. Happy birthday to the man with the craziest girlfriend. I'm crazy about you! Happy birthday to the man who has made all my dreams come true! You're the best.
28. I really hope you brushed your teeth this morning! Because of your age, I'm not sure your teeth will survive until next year.
29. I know people that have celebrated birthdays hugely and people that have celebrated birthdays slowly. Hope you're with the first group. Happy birthday to you, my heart.
30. Happy birthday, my love. Thank you for being the best part of my happiness and joy. I wish our happiness never ends. Happy Birthday my love. Many happy returns of the day. Thank you for loving me with all your heart.
Funny Happy Birthday Quotes For Him
31. For your birthday, I wanted to get you something to remind you of your youth, but they were sold out of cave art and dinosaur bones. A lighter? We're going to need a flame-thrower to light up your candles.
32. One of the best pieces of advice in life is "you have to appreciate the little things". That said, I know that spotting little things is easier said than done at your age! Happy Birthday!
33. People say that you must have the patience of a saint for putting up with me, and they're right! Thank you for always being the calm and composed person that you are, and for bringing serenity and happiness into our lives! Happy birthday.
34. When there's nothing else to do, I'll think about all I'll eat when your birthday comes next, while wishing you more prosperity. Happy birthday, baby.
35. Actually, I wanted to get you something super special, super terrific, unique, and beautiful for your birthday, but I don't fit into the envelope. Age is a high price to pay for maturity.
36. Seeing as I usually forget everyone's birthdays, you should consider it a miracle that I'm sending you this message. Happy Birthday!
37. I know that it was a tall order and I guess I could keep looking forever, but you're close enough so I'll settle for that! Happy birthday, my prince charming!
38. Today, just forget your worries. The only worry you're permitted to have is getting a cake and providing food for all. Happy birthday to you, my darling.
39. On your birthday, I hope you get whatever you desire. May you succeed wherever you go. Wishing you a very happy birthday sweetheart!
40. Happy birthday to the man of my dreams. You have always been my favorite human being. May our love and affection abound in every way. Seeing you happy makes me happy, so have a blast today.
Happy Birthday Wishes For Him Funny
41. You are like pumpkin pie to me, always welcome, and oh so sweet. Happy Birthday to my hero, who has stood by me at all times. I feel so blessed that you are mine and I am yours.
42. Just to be sure, I'm going to bring a few buckets full of water tonight before you light up the candles. I don't want to be homeless on your birthday due to an accidental fire! Happy birthday my friend!
43. While I'm hoping you overhear me every time I'm wishing you well, I also hope you get all the wishes that you and I have for you. Happy birthday, sweetheart.
44. Your presence in my life tells me how blessed I am. You completed my life with your love. Happy Birthday to you, my love. Thank you, my king, for always making sure that I am okay! Happy Birthday, dear boyfriend.
45. May your birthday bring you as much happiness as you bring me. Many happy returns of the day. Happy Birthday to the one who fills my heart with love. I love you so much!
46. Today will be one of the best days for us. On a day like this, my lovely boyfriend was born. I feel blessed to know you and to call you mine. Thank you for being the best thing to ever happen to me. Happy birthday, my love.
47. Happy Birthday, my dear. Tonight, let's do a role reversal…I'll be the designated driver for once and you can be the sloppy drunk.
48. Having you around always made me feel like we will be forever young, yet, you ended up breaking that rule, you grumpy old geezer!
49. Because I don't want you to get lost in luxury, I wish you spend more of the money I wish you get on me than on yourself. Happy birthday, darling.
50. Happy birthday to the man who lights up my world like nobody else. May you never stop beaming and the peak is just the beginning; love you lots my honeybunch.