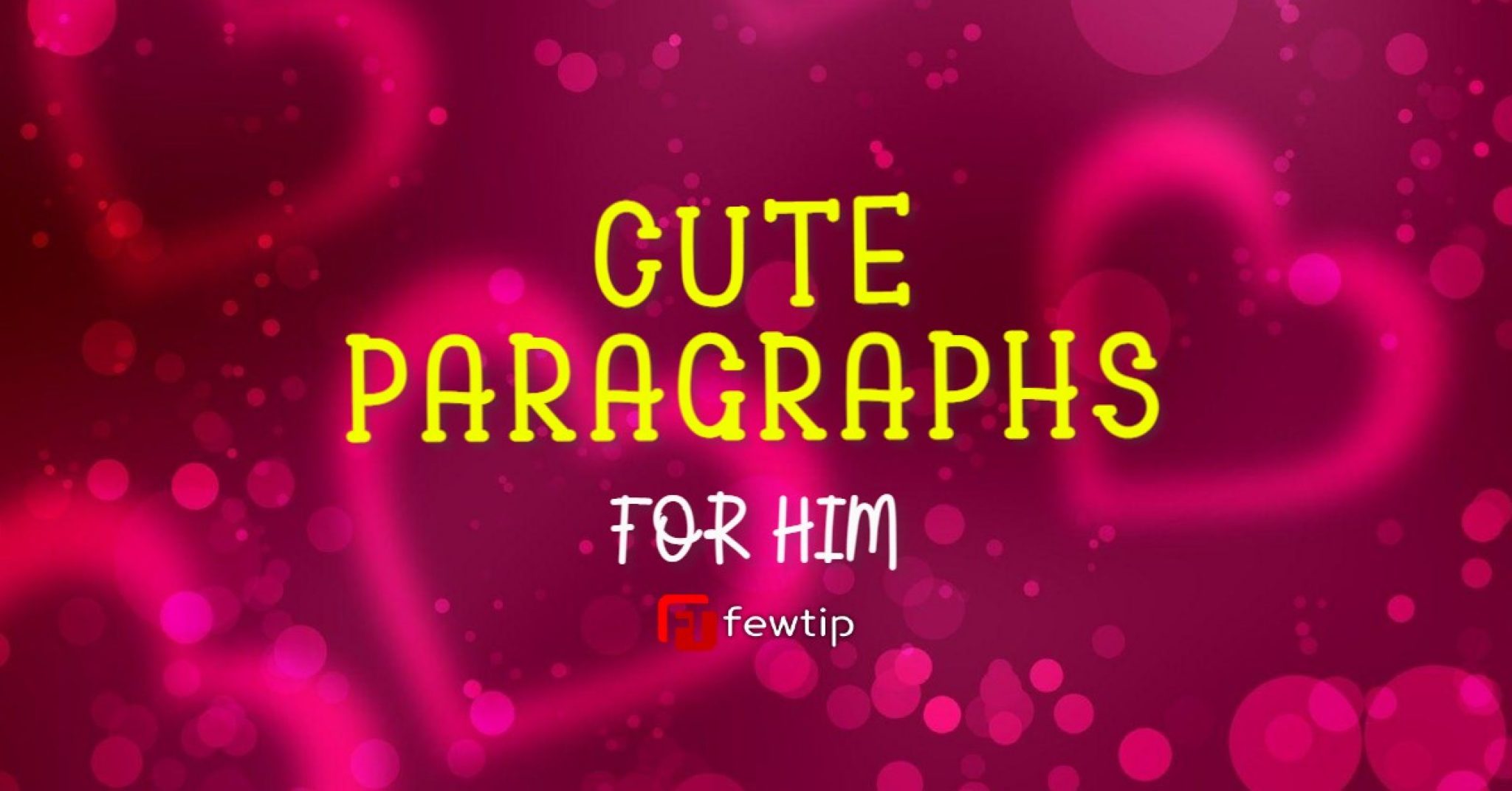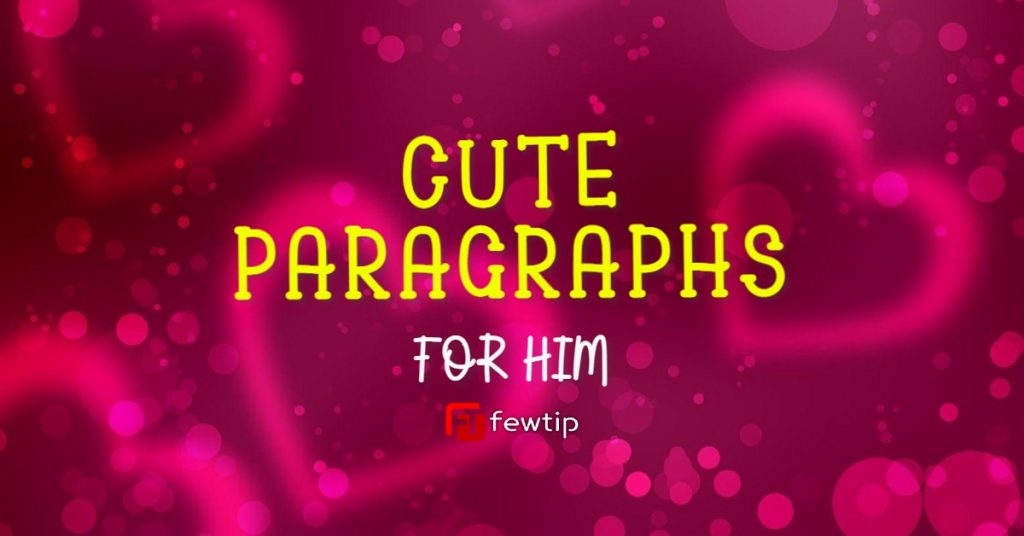 Sending some love text messages or paragraphs to someone you love is one of the best ways to show them love and make them happy. As a girlfriend who loves her boyfriend, I don't have to remind you when to send some cute paragraphs for him. It will help increase the feelings he has for you by doing this. Even if it is once in a week.
This is why I am here to help you make your boyfriend happy by providing a huge collection of long cute paragraphs that you can send to your boyfriend in the morning. You can send any of the below paragraphs for him to read before going to bed. Kindly scroll down and check them out.
Living with you is a special feeling and a great hope that can't be overemphasized. I must tell you the truth that I can't comprehend the power of your love. I will cherish you till the end of time. My love and the living star that God has chosen for me.
I didn't believe in love until I met you. I didn't even think I would be hopelessly in love with someone until you came around and turned my life upside down. Sweetheart I love you so much. And I want you to know how much you mean to me because you mean everything to me.
Thank you for showering immense love on me, pampering me to the core, and giving me your entire affection. I want us to share more laughs and more romantic days. You are the sunshine to my dark clouds. You are my world.
Much love for the one I wish to spend every time of my life with. I want to be yours all my life for you have become the most precious love of my life. I need you badly and will always do every single day and I miss you so much for you are my happiness and the true love of my life.
The love we have is greater than any of the story books we've read. You are my knight in shining armor and I am your fairy-tale princess. There is no more perfect tale of love to tell. Our love story is filled with adventure, passion and trust. We will never give up on each other. No matter what hardship comes our way. I will ensure that we will always live happily ever after.
I wish that I could shrink you down to a pocket-sized man. Then, I could carry you with me everywhere during the day. The worst part of my day is when we say good-bye, and the best moment is when I see you again. I love you.
Before I met you, I never really had major goals or dreams. From the moment we met, I started to take life more seriously. I realized that I had to accomplish great things if I wanted to ever have a chance of deserving your love. You are the greatest inspiration in my life and the reason why I wake up every day. I love you my prince charming!!
Long Cute Paragraphs For Him
I want to be with you forever second from now until our last breaths. I never believed that fairy tale love was possible until I met you. Before you, I had been burned and hurt too many times to think that true love existed. Now that I am with you, my entire perspective on life and love has changed. I know that love truly does exist because you have shown me what is possible.
Life dealt me a death blow when I discovered I couldn't conceive after years of trying. My world crashed and I offered to give you an out. You would have none of it. You stood by me through the shame, scorn and resulting depression of childlessness until God rewarded your faithfulness and presented us with a miracle baby. My love for you is eternal, my crown.
I will always be there at your side, come what may. I will be with you not only in good times to celebrate but also during the bad times. Whether you are angry, sad, or stressed out, I will help you come out of the bad zone. I will help you in any way possible to cheer you up. And surely, you will be glad later. I love you, my life.
There is no day or night that comes but your thoughts will always reign in my heart because I can't do without you. I am considered lifeless whenever you are far away from me; my breath and my sense of reasoning in the realm of love. I will always love you till the end of time.
My love for you is like a mountain, something higher than Everest. Your love is enough to win my heart, and you at my side is enough to make my world. I do not know how but you have become the drug of my life. Nothing can take me away from you, my dear.
What a nice man that came into my world. You are the best for me and the one I want to be with all my life. You don't understand the meaning of the feelings I have for you, if you do, you will not even move an inch away from me.
Am I still everything you need? When your heart beats does it beat for me? When you think about love is my love still yours? What am I worth to you? Am I still the girl you want to marry? Because you are everything to me. I think about you all the time. All I need is to be with you.
Cute Paragraphs For Him To Wake Up To
Today like every other day, I want to let you know that I'm blessed, favored and honored to be cared and loved by you. You're my special one and you've filled my life with beautiful and sweet memories, and every day with you brings about amazing moments. I love you tenderly. Good morning to you, my darling.
Everything in nature has a pinch of you. The sunrise reminds me of your charming smile, the flower reminds me of your cute eyes for me and the air reminds me of your love because your love is like the air I breathe. I love you my darling.
Whatever did I do to deserve you, your unending love and unwavering devotion? It beats my imagination. I love you, my sweetheart. You are the reason behind my smiles, the inspiration behind my achievements and the story behind my successes.
I can't believe that two years ago I started dating you, my wonderful boyfriend! It has been the best ever! I know we have had our fights over stupid stuff, but I really can't picture my life without you! You are truly my best friend. I love you so much.
You are the blessed ruby that God sent to me; my love is an ocean of passion given to me by the most powerful God. I wish you could touch my heart to feel how I really want you to dwell in my heart forever. You are my life, heart, passion and compassion.
Been with you is just the great feeling that I have been longing for. If I can always find a reason to see your smile in every second of my life, I will grab it so that my heart will always be filled with joy, my super hero. The joy that I have been searching for.
The little things you say to me always put a smile on my face. You make me want to listen to love songs, you still give me butterflies, and you still make me speechless. I don't know how I got so lucky to have such an amazing person like you in my life. You're the best boyfriend anyone could have asked for. I am truly blessed. I love you to infinity and beyond.
Related Post:
Cute Paragraphs To Send To Your Boyfriend
Our love story is more special than any story I read. You made me understand what trust is, passion is, and affection is. I would like to be your princess in every birth and share our story with everyone around me. I promise to be with you forever and face every hardship that comes our way. And, we shall live happily ever after.
Every time I wake up in the morning, I immediately look next to me to see if you are there. It feels like our entire relationship has been a dream, so I can never be quite certain that you are a part of my reality. It feels like I am living in some type of fantasy life with the man of my dreams. I am so lucky to have you.
May the lord be with you my love; sweetheart I really miss you. I miss your smile and that handsome face of yours that mesmerizes my heart like never before. You are the treasure of my heart, the flower of passion growing before my eyes.
You have been the biggest inspiration in my life. Before I met you, I was afraid to take risks and was unsure about what I wanted out of life. Now, the hard goals seem possible because they make our life together better. I am ready and excited to work for a better future because I see you in it.
Should I draw you the picture of my heart it would be what I hope you would still love though it contained nothing new. The early possession you obtained there, and the absolute power you have obtained over it, leaves not the smallest space unoccupied.
Who can make me happy as you do? You are the best man I want to be with. You are the most beloved angel of my life. Be happy always for anyone that wears a smile on his face will be happy. I love you my happiness.
I just want you to think of our good times when we selflessly share joy with each other. And, my darling, I need you to understand that bad times are also part of this journey called love and I will never let anything come in our way, let alone a trivial argument.
Long Paragraphs To Send To Your Boyfriend
You're more than a just everyday guy. You're my best friend, my adorable lover, my partner in crime, my everyday happiness and inspiration, my knight in shining armor, my world and my everything and I love you beyond the stars. I Love you Mr handsome.
A man like you is rare and near extinct. Many men would have yielded to the pressure of marrying a second wife or having children out of wedlock, apparently, you are different and unique. You stood by me and chose the high road of adoption rather than betray your love. I'm proud of the man you are. I love you, my darling.
It is amusing how you find love in an unexpected way in an unexpected time. Isn't that magical? Before I met you, I didn't even imagine that a love like this could exist for me. I found you, and I consider that my biggest blessing.
Loving you is the best thing that has happened to me in my entire life. Every day with you is one unending delightful adventure. You are romantic, mischievous and full of surprises. I love you, my dearest. There's never a dull moment with you.
You are a fantastic person who has filled my life with a lot of happiness. I cannot thank you enough for all that you have done for me. Each day you make an effort to make me smile, and I hope you know how much I appreciate that. I love you.
When I look in your eyes, it feels like I have become lost. It feels like destiny through us together. Each random twist of fate only brought us closer. I do not regret anything that I have gone through or done in life because each step brought me a little closer to finding you. I love you.
Coffee is not what I like about the mornings, being your girlfriend is what makes my mornings beautiful. Every time I see you, I realize how lucky I am to have you. I can tell you I love you every day after getting up in the morning and before sleeping in the night.
Funny Paragraphs For Him Copy And Paste
Who can give me the joy that I deserve if not you that God sent to me? In times of sadness, you were my joy and in times of weakness you became my strength, the most handsome treasure that God gave to me. I love you beyond the sky.
Small things like watching the sunset together, having a coffee date, and holding hands make me happy. Thankfully, you never fail to make such small efforts to make me smile. You are my little package of happiness that I never want to lose.
I love you, honey. Thanks for always giving me a listening ear when I need to pour out my heart. Thanks for refraining from offering unsolicited advice. And Thanks for providing a comforting shoulder to lean on. You are my Rock!
I bless the day I saw you, I bless the day I crossed your path, I bless the day you came into my heart, my life, and my world, and I will forever be grateful for having someone as special as you are in my life. Good morning, my love.
Sometimes. I want to be alone but my heart will not allow me because you are my one special man I can't do without thinking about. I love your smile, your attitude and the most important, your precious face full of smiles always. You are the best for me.